How To Make Meatballs with our easy meatballs recipe.
You've got to try these homemade meat balls! They're savoury in flavour, moist, delicious and easy to make.
These meatballs can be used for just about anything, including, Swedish meatballs, savoury meatballs, spaghetti and meatballs or even used as dippers or appetisers!
This recipe is very simple and uses just a few ingredients to create classic homemade meatballs.
They're perfect for all of your favorite recipes, including spaghetti and meatballs, sandwiches, subs, soups, and game-day snacks.


Yield: Yield: 40+
Recipe For Cocktail Meatballs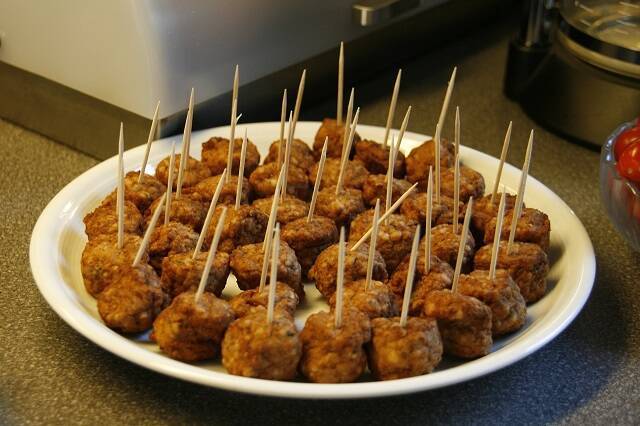 This recipe for cocktail meatballs creates meat balls that are made from scratch and they're so good, you'll never go back to store bought again!
They are great as an appetiser, perfect on the table for a main meal, used as nibbles before the meal or as a party finger food.

These are delicious served hot or cold.

Prep Time 15 minutes

Cook Time 30 minutes

Total Time 45 minutes
Ingredients
500g lean beef mince
250g sausage meat
1 egg
½ cup breadcrumbs
2 tsp curry powder
1 Tbs chopped parsley
1 Tbs chopped coriander
1 large onion
Instructions
Preheat oven to 180℃
Finely chop the onion
Lightly whisk egg in a small stainless steel bowl
Place all ingredients in a large bowl and using your hands combine together.
Form into 2½ cm (1 inch) small balls by rolling a small amount between your hands
Put the meatballs into a lightly greased roasting dish with small gaps in between.
Bake for 25-30 minutes until becoming golden brown.
Remove from oven .
Place meatballs on biscuit/cookie cooling racks to cool and drain
Notes
Tips
Do not overcook:
If overcooked the meatballs will dry out and or will form a hard crust on the outside.
Do Not Overmix:
The trick to keeping meatballs extra tender and juicy is not over mixing when you combine the ingredients.
Overmixing makes them tough so when making this meatball recipe, mix just until combined!
Size Matters:
Ensuring the meatballs are the same size will ensure they cook at the same rate.
Don't be Lean:
Making sure your meat has a bit of fat helps keep them tender.
If you're using extra lean meat, a dash of olive oil or fat can be added.
How to freeze homemade meatballs

You can freeze the meatballs either cooked or uncooked.
I prefer freezing them already cooked so they can go straight from the freezer into a pot of red sauce and then just simmer until heated through.
Cooked meatballs should be completely cooled before placing in a gallon-sized freezer bag and transferred to the freezer.

To freeze uncooked meatballs, place the raw meatballs on a parchment-lined baking sheet and freeze on the baking sheet until solid (1-2 hours)
before transferring to freezer bags for longer storage.
Thaw completely before cooking.

Dipping Sauces For Meatballs

There's nothing wrong with taking shortcuts and a jar of store-bought pasta sauce is a good one.
But, if you have some time to spare or you're looking for homemade sauce, we think you might like our easy make ahead dipping sauces for cocktail meatballs.

What Goes Well With Meatballs?
Spaghetti Bolognese
Bolognese is a "meat sauce", so makes a perfect pairing for your meat balls.

While ingredients in Bolognese consist of carrots, zuchini, brown onion, mushrooms and minced meat, imagine adding meatballs!
Use this Spaghetti Bolognese.
Cauliflower Cheese
Wow, what a pairing this is, the cheesy sauce in this is perfect with meat balls.
Here's the best Cauliflower Cheese recipe to use.
Party Finger food
Place meatballs on a serving platter and insert toothpicks in each. Serve with your favourite dipping sauce.
Big Breakfast
Substitute the sausages with meat balls in this big breakfast recipe to use.
Meatball Subs
Place meatballs in fresh hot dog rolls or tortillas, add sauce, salad and grated cheese.
Roll up and serve
Rice
Make favourite sauce and serve on a plate with steamed rice or potato salad with tossed salad.
Easy Meatballs Recipe Variations
Mix things up by substituting lean ground turkey or chicken or pork for the beef mince.
Bake until no longer pink in centre.
Italian Style Meatballs
Substitute curry powder and coriander for ½ tsp garlic powder 1 tsp Italian herbs.
Add ¼ cup shredded parmesan.
Mexican Style Meatballs
Substitute curry powder for taco seasoning and the coriander and parsley for cilantro.
Add ¼ cup shredded parmesan.
Recommended Celebrity Cookbooks
This post contains affiliate links. If you use these links to buy something we may earn a commission. Thanks.
Nutrition Information
Yield
40
Serving Size
1
Amount Per ServingCalories 59Total Fat 3gSaturated Fat 1gTrans Fat 0gUnsaturated Fat 2gCholesterol 22mgSodium 76mgCarbohydrates 2gFibre 0gSugar 0gProtein 6g