I love the crispy, crunchy bacon along with the velvety texture that this easy potato salad recipe creates.
Yum, a delicious potato salad made from scratch with lots of flavour.
It is just perfect for summertime entertaining or picnics. It's also great as an Appetiser or side dish served with sausages, grilled chicken or with anything cooked on the barbecue.
This potato salad with spring onion and bacon plus boiled egg can be made up to two days in advance, then stored in an airtight container in the fridge.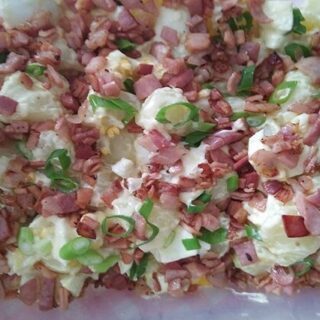 How To Make Potato Salad
Yield: 6 Serves

Prep Time: 15 minutes

Cook Time: 15 minutes

Total Time: 30 minutes

Want to know how to make potato salad? Read on to discover the secrets behind this classic side dish.

This potato salad is so tasty and will have everyone begging you for the recipe!

Hard-boiled eggs, mayo, crispy bacon, and potatoes combine for a creamy potato salad that's seasoned with spring onion.
Ingredients
1.5kg potatoes
4 eggs
2 tsp olive oil
200g bacon rashers
⅔ cup (170g) whole egg mayonnaise
3 Spring Onions
½ lemon juiced
Salt & freshly ground pepper
Instructions
Place the potatoes in a large saucepan and cover with cold water and bring to the boil.
Reduce the heat and simmer for about 10 minutes, or until just tender.
Drain well and set aside to cool.
Dice bacon, heat the oil in a frying pan over a medium heat.
Add the bacon and cook, stirring for 7-8 minutes or until golden.
Set aside in pan.
Lightly whisk the mayonnaise, lemon juice, salt and pepper together.
Peel the eggs and cut into quarters.
Thinly slice the spring onions.
Place the warm potatoes, eggs and mayo in a bowl and fold gently to combine.
Sprinkle the spring onion over the top.
Lastly sprinkle your bacon on top of everything also drizzling the bacon dripping over as well.
Chill in the fridge for an hour or so, then serve.
Notes
5 Tips for Making the Perfect Potato Salad
Spring Onion;
The white part of the spring onion is stronger in flavour than the green, use accordingly to your taste.
Mayonnaise;
Adding mayonnaise or sour cream gives the dish more flavour.

The mayo only needs to be a thin coating on the potatoes.
Too much may make it gluggy.

Make sure the potatoes are warm when folding the mayo through.
This helps the potato absorb a bit of the mayonnaise.
Wash Potatoes;
Make sure to use potatoes that have been washed thoroughly before cooking.
Use Fresh Ingredients;
Use only fresh ingredients like onions, celery, and carrots.
Add Herbs;Adding fresh herbs to your potato salad will really bring out its flavour.
4 Easy Potato Salad Recipes

These are all different variations to the above recipe.

Simple Potato Salad

Following the recipe above eliminate or substitute any of these ingredients that you don't want.
Eggs, bacon rashers spring onions.

Vegetarian Potato Salad

You can certainly leave the bacon out if you would like a vegetarian potato salad, simply swap for your favourite tofu or chopped button mushrooms.
You can leave the eggs out too if desired and swap for a handful of corn kernals.
The egg mayo can be swapped for your favourite vegetarian brand.

Italian Potato Salad

For your Italian potato salad you will need;

1kg baby new potato, halved
1 tbsp olive oil
3 tbsp grated parmesan (or vegetarian alternative)
small bunch basil , roughly chopped
6 finely sliced sundried tomatoes
Boil the potatoes until tender, about 15 mins, then drain and allow to cool slightly.
Whisk together the olive oil, Parmesan and a little seasoning.
Toss through the potatoes with the basil and sundried tomatoes.
Serve warm.
Potato Salad With Chorizo

To create your potato salad with chorizo, use chopped cooked chorizo sausage in place of bacon.

5 Ways to Serve Potato Salad

There's nothing like a good potato salad on a hot summer day.

Here are five easy ways on what to serve with potato salad.
Potato is a fairly light dish that can go well with any of these ideas.

Potato salads are often paired with meat dishes like barbecue, grilled pork and chicken, or a good meatloaf.
Aside from the meat dishes I mentioned earlier, you can also pair with chicken nuggets, cashew crusted chicken, pork chops, battered chicken, and the like.
I personally love serving with with barbecued ham steak and pineapple.
It's a very flavourful and appetizing combination with a tropical flavour.
Even simple foods like hot wings, hamburgers, sausage and hotdogs would go well with potato salad.
It is wonderful alongside any mixed or tossed salad.
But what if you're tired of too much meat?
Well, you can also serve alongside seafood.

From pan seared fish to breaded fish fillets, any fish recipes would go well with potato salad such as Salmon Salpicao.
You can also serve with fresh or smoked salmon or tiger prawns.
Recommended Celebrity Cookbooks
This post contains affiliate links. If you use these links to buy something we may earn a commission. Thanks.
Nutrition Information
Yield 6 Serving Size 1
Amount Per ServingCalories 463Total Fat 18gSaturated Fat 6gTrans Fat 0gUnsaturated Fat 11gCholesterol 158mgSodium 694mgCarbohydrates 55gFibre 6gSugar 3gProtein 22g