Craving a creamy and cheesy dish that comes together in no time? Look no further than this delicious cauliflower cheese! This simple yet comforting recipe is easy to make and perfect for a weeknight meal.
Creamy, Cheesy Cauliflower – The Perfect Comfort Food
Cauliflower cheese is a classic dish that's typically made by baking cauliflower florets in a milky, cheesy sauce.
It's the perfect comfort food and is delicious served with hot crusty bread or on its own as part of a main meal.
It can also be served with pasta, rice, or quinoa for an extra-filling dinner.
Cauliflower cheese is the perfect meal for busy families and those looking for a delicious, filling comfort food that doesn't take too long to prepare.
It's also great served with salads, or works well as a side dish with any classic roast dinner.
This dish is deliciously creamy and cheesy, with a velvety sauce that clings to the fluffy cauliflower.
As it bakes in the oven, the top of the dish forms a bubbly golden crust that adds texture and crunch to this comforting side dish.
Is cauliflower cheese healthy
Despite the amount of cheese and creamy sauce, cauliflower cheese is relatively healthy.
Cauliflower is packed with essential vitamins and minerals that are essential for good health.
When cooked properly, the cheese will add a creamy richness to the dish which complements the cauliflower's natural flavours.
Plus, you can use low-fat cheese or yoghurt to make it even healthier.
Yield: 6 Serves
The Ultimate Cauliflower Cheese Recipe for You To Try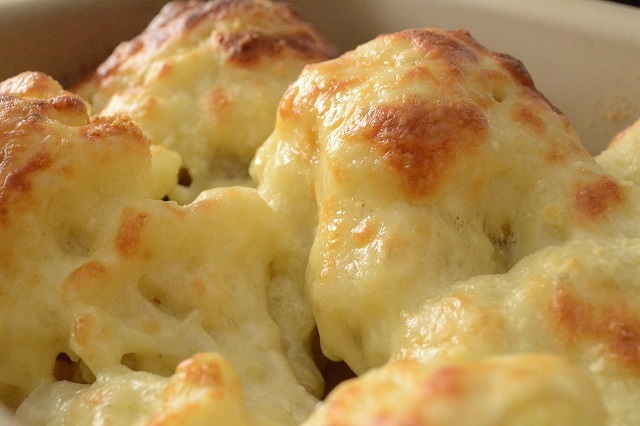 Discover a crowd-pleasing dish with this delicious recipe for cauliflower cheese - rich, creamy and full of flavour.
Get cooking now!
Ingredients
1 large cauliflower
500 ml milk
4 Tbsp flour
½ tsp salt
50 grams butter
100 grams tasty cheese
Instructions
Preheat oven to 200℃/400F
Prepare cauliflower by by removing the leaves then cutting the head in to florets.
Bring a large saucepan of water to the boil, then add the cauliflower and salt. Bring to boil and simmer for 5 mins.
Lift out a piece to test, it should be cooked, still firm but not mushy.
Drain the cauliflower, then place into an oven dish.
Grate cheese.
Put the saucepan back on the heat and add the milk, flour and butter.
Whisk fast as the butter melts and the mixture comes to the boil.
The flour will disappear and the sauce will begin to thicken. Whisk for 2 mins while the sauce bubbles and becomes nice and thick.
Take off the heat, stir in ⅔ of the cheese.
Pour over the cauliflower. Scatter the remaining ⅓ cheese over the top.
Place in the pre heated oven and bake for 20 mins until bubbling.
Remove and serve.
Notes
To prevent cauliflower cheese from becoming watery, be sure to drain the cooked cauliflower as much as possible and use a good quality grated cheese. Additionally, cooking ingredients with some fat such as butter or oil can help to create a thick sauce without needing too much cream or milk.

Can you make cauliflower cheese in advance?
Yes, you can make cauliflower cheese in advance.
To do so, assemble the dish and bake it as instructed, then set aside to cool completely, once cooled wrap the dish tightly and store in the refrigerator for up to 2 days.
When ready to enjoy simply reheat until piping hot throughout.

Can you freeze cauliflower cheese?
Yes, you can freeze homemade cauliflower cheese!
To do so, make the dish and bake it as instructed,let cool, then transfer to an airtight container or freezer bag and freeze for up to 3 months.
When ready to enjoy, thaw overnight in the fridge and heat in the oven until golden and bubbly.

How to reheat cauliflower cheese

Reheating cauliflower cheese is easy and can be done two ways - in the oven or in the microwave.
The oven method requires preheating the oven to 175°C/350°F, lightly covering the dish with aluminum foil and baking for 15-20 minutes (or until heated through).

Alternatively, you can reheat cauliflower cheese by microwaving it on high for 3-5 minutes (depending on portion size), stirring halfway through to ensure even heat distribution.

7 Delicious Cauliflower Cheese Recipe Variations

Get creative in the kitchen with these delectable cauliflower cheese recipe variations!
From classic comfort to modern delicacies, we guarantee you'll be smitten.

Bacon and Spinach Cauliflower Cheese:
This classic variation combines the smoky taste of bacon with the mild richness of cheese for a satisfying comfort-food dish. To top it off, you can also add spinach for extra nourishment.
Roasted Red Pepper and Feta Cauliflower Cheese:
Imagine roasted red peppers swimming in a pool of melted feta and creamy cheese sauce over roasted cauliflower.
This is the perfect budget-friendly meal for any weeknight dinner!
Ranch Style Cauliflower Cheese:
Add a hint of zesty ranch flavour to your ordinary cauliflower cheese with this creative recipe!

Combine ranch dressing with hot cheddar cheese and top it all off with crispy croutons for some added crunch.
Buffalo Cauliflower Cheese:
Spice up your dinner table by adding an element of heat to your cauliflower cheese!
Toss the florets in some buffalo sauce before baking them in a cheesy cream sauce for an extra kick of flavour.
Mediterranean Cauliflower Cheese Bake:
Create a delicious Mediterranean-style vegetarian dinner with this easy cauliflower cheese bake!

Top your cheesy mix with olives, capers, tomatoes, herbs, garlic and vegan parmesan to give it an extra flavour boost.
Mexican Street Corn Cauliflower Cheese:
Turn up the heat with this Mexican twist on classic cauliflower cheese that takes inspiration from Mexican street corn!

Mix traditional cheeses like cheddar, parmesan and Parmesan together with cilantro, chili powderand fresh lime juice for extra zingy flavour.
Mushroom and Thyme Cauliflower Au Gratin:
Give your ordinary cauliflower cheese dish an earthy spin by adding mushrooms and fragrant thyme into the mix!

Plus, using Greek yoghurt instead of milk will keep it light and healthy but still creamy enough to delight anyone at the dinner table without fail!
7 Perfect Sides to Balance Out Your Cauliflower Cheese

Let cauliflower cheese shine!
Accompany it with these flavoursome side dishes for the complete meal experience – whip up a unique plate tonight!

Pasta:
Cauliflower cheese goes great with virtually any type of pasta dish. It's the perfect topping for classic mac and cheese, as well as a delicious addition to cheesy lasagna and baked ziti.

For a lighter option, try tossing your favourite pasta with roasted cauliflower florets, melted gruyere cheese, and fresh herbs for an easy but elegant weeknight meal.
Roasted Vegetables:
Roasted vegetables are one of the best side dishes to pair with cauliflower cheese. The rich creaminess of the sauce perfectly balances out the crunchy texture of roasted carrots, brussel sprouts, and sweet potatoes. Plus, it adds extra flavor and depth that you won't find in plain steamed vegetables.
Salads:
Cauliflower cheese is great for adding creaminess and flavour to simple veggies like broccoli or green beans.
It also pairs wonderfully with leafy greens like kale or spinach for a more substantial salad dish.

Add crispy bacon bits for a savoury touch or dried cranberries for some sweetness!
Soup:
Make an extra creamy version of your favourite soups by adding in some cauliflower cheese after your ingredients have cooked together!

Stir it into curries, chowders, or minestrone soups to bring an extra level of richness to the dish that will please any palate!
Rice:
For a budget-friendly meal that combines all those comforting flavors we love in cauliflower cheese – think lots of buttery garlic crumbles on top – try making it with steamed white rice!

This is sure to be a hit at potlucks and holiday gatherings alike when paired with crowd-pleasing proteins like ribs or chicken!
Mashed Potatoes:
We can't talk about comfort food without bringing up mashed potatoes – but don't forget about its trusty partner: cauliflower cheese!

Instead of just buttering them up, add this cheesy surprise wallop so your guests keep coming back for more spoonfuls! Ka-pow!
These snacks will really take things up several notches for some elevated noms time!
French Fries:
If you're looking for even more indulgence than mashed potatoes offer (which seems nearly impossible), just double down and switch over to French fries topped off with a heaping helping of gooey cheddar and smoked Gouda cheese sauce all over them - yummo!.
That way each bite is dripping ooey gooey goodness that makes every blanched potato cauli combo even tastier than before.

It's sure to be a hit no matter how you serve it up if you top it off with this easy condiment upgrade!
Recommended Celebrity Cookbooks
This post contains affiliate links. If you use these links to buy something we may earn a commission. Thanks.
Nutrition Information
Yield
6
Serving Size
1
Amount Per Serving
Calories

222
Total Fat

15g
Saturated Fat

9g
Trans Fat

0g
Unsaturated Fat

5g
Cholesterol

41mg
Sodium

422mg
Carbohydrates

15g
Fibre

3g
Sugar

3g
Protein

10g