Ranch dressing is a creamy, tangy condiment that adds flavour to salads and other dishes.
With a few simple ingredients, you can make your own ranch dressing at home with ease.
Here's a couple of easy homemade ranch dressing recipe ideas to get you started.
The first, Buttermilk Ranch, is one of the most popular ranch dressing to make. It is tangy but not too sweet.
The second, Sweet Onion Ranch, is a ranch dressing without buttermilk and is slightly sweeter.
Discover new ways to use ranch dressing as a dip, glaze, or even an ingredient in recipes!
Ranch dressing isn't just a tasty condiment – it can be incorporated into healthy recipes as well!
From salads to dips, find out the top 10 ways to incorporate ranch dressing into your diet for delicious and nutritious meals.
What is Ranch Dressing?
Ranch dressing is an American condiment traditionally made with a combination of buttermilk, garlic, onion, herbs and spices.
It's often used as a dip or salad dressing and can also be used in recipes or as a topping on sandwiches.
The creamy texture of ranch combined with its savoury flavour makes it an excellent accompaniment to vegetables, potato chips, chicken wings and pizza.
History and Origins of Ranch Dressing
Ranch dressing was first created in the 1950s by Steve Henson, a plumber from California.
It quickly became popular due to its unique combination of ingredients, and its creamy texture that allowed it to be used as a dip or dressing.
Over time, ranch dressing has become even more popular, with people finding new ways to use it in recipes or as a topping.

Yield: 2-3 cups
Ranch Dressing Recipes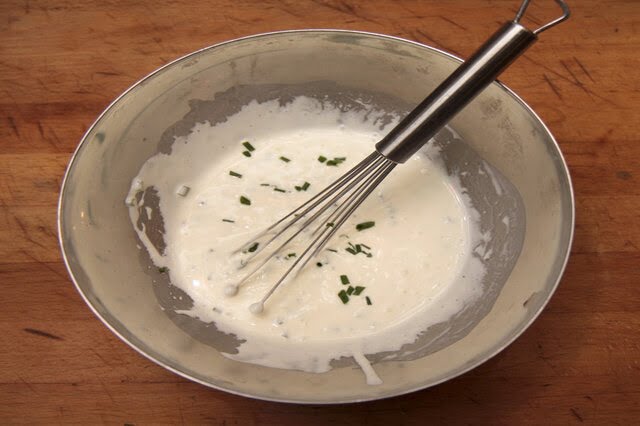 These Ranch dressing recipes create a versatile condiment that can add flavour to salads, sandwiches and more.

Whether you're cooking something from scratch or heating up leftovers, adding ranch dressing can be the cherry on top of a delicious meal.

Prep Time 10 minutes

Total Time 10 minutes
Ingredients
Buttermilk Ranch Ingredients for 2 ¾ cups
2 tbsp lemon juice
1 cup buttermilk
1 cup mayonnaise
¾ cup sour cream
2 cloves garlic, minced
1 tsp oregano
2 tsp onion powder
½ tsp black pepper
Sweet Onion Ranch Ingredients, makes 3 ½ cups
3 cloves garlic, minced
½ cup minced onions
¼ cup sugar
¼ cup red wine vinegar
½ cup olive oil
2 cups mayonnaise
Salt
Black pepper
2 tsp dry mustard
1 tbsp fresh oregano, minced
1 tbsp fresh basil, chopped
Instructions
Add all the ingredients in a large glass,ceramic or plastic) bowl.
Mix ingredients until smooth.
Notes
Homemade ranch dressing should be stored in an airtight container, such as a mason jar, and refrigerated.
With proper storage, your homemade ranch will last in the fridge for up to two weeks.


Buttermilk Ranch Variations
For a thicker ranch;
For a thicker consistency, replace buttermilk with plain Greek yoghurt.
For a hot ranch;
Add 1 teaspoon Tabasco sauce for a touch of heat.
Vary the flavours;
Use different herbs to vary the flavour. Try basil or parsley.
Where To Use Ranch Dressing

Ranch is a popular dressing choice, and it can be enjoyed in delicious and healthy ways.
Here is the top 5 ways to enjoy ranch the healthiest!

Add to Vegetable Dishes;
One of the healthiest and most flavourful ways to enjoy ranch dressing is by adding it to vegetable dishes.
Try adding a few tablespoons of ranch to your roasted vegetables for a tasty twist!

This can help add flavour without adding extra fat or calories, making it a great way to jazz up any meal.
Use as a Dip for Veggie Sticks and Crackers;
Enjoy ranch dressing in a healthier way by using it as a dip for vegetable sticks and crackers.
One of the healthiest ways to enjoy ranch dressing is by dipping carrots, celery, bell peppers or other vegetables.

You can also dip whole grain crackers into the ranch dressing for extra flavour.
This is a great way to have fun snacking while getting added nutrition from vegetables!
Use in Salads and Sandwiches to Enhance Flavour;
Add ranch to your salads and sandwiches to add extra flavour without adding too many calories.

For salads, try making a lower fat version of ranch with more yoghurt or olive oil in place of mayonnaise.
For sandwiches, adding just a tiny bit of ranch can enhance the flavour without drenching the sandwich in dressing.

This is an easy way to enjoy ranch while still keeping portions in check so you can enjoy it regularly.
Create a Healthy Spin with Greek Yoghurt Ranch Dip;
Create a delicious and healthy spin on ranch dressing by mixing Greek yogurt with ranch.
Greek yoghurt is low in calories and high in protein and calcium, making it a great substitute for mayonnaise when trying to make healthier condiments.

Combine one cup of Greek yogurt with one tablespoon of ranch seasoning mix, adding garlic powder, salt, pepper, and fresh herbs for added flavour.
Enjoy this dip with fresh vegetables or as a topping for grilled chicken and fish!
Spice Up Quinoa Bowls with Mango Lime-Ranch Dressing;
Enjoy a delicious yet healthy ranch dressing by combining fresh, diced mango with freshly squeezed lime juice and a teaspoon of olive oil.

This flavourful and colourful sauce will instantly bring life to any dish!
Drizzle it over quinoa bowls or salads for an added kick of tangy flavours.
You can also use this dressing as a marinade for grilled chicken or fish!
What else can ranch be used for?

Ranch dressing is a classic and tasty condiment, but it can also spice up the typical dishes that you have been making.
Discover new ways to use ranch dressing!

Avocado Ranch Pita Pocket;
This easy and delicious pita pocket recipe is perfect for a light lunch or dinner.

Start by preheating your oven to 375°F.
Take a large pita pocket and stuff it with cooked chicken, diced avocado, grated/shredded cheese, and lots of ranch dressing.
Bake in the oven for 20 minutes until cheese is melted and bread is lightly browned.

Enjoy your hot and zesty Avocado Ranch Pita Pocket!
Spicy Ranch-Crusted Chicken Nuggets;
Give your chicken nuggets a delicious spicy kick with this fun ranch-crusted recipe.

Start by mixing together 2 tablespoons of ranch dressing, ¼ cup of hot sauce, and ½ teaspoon of garlic powder.
Then dip each individual chicken piece in the mixture until fully coated.
Next, roll the chicken pieces in bread crumbs until lightly coated.
Finally, bake in the oven at 425°F for 18 minutes or until cooked through.

Enjoy your spicy ranch-crusted chicken nuggets!
BLT Salad with Buttermilk Ranch Dressing;
Give your BLT salad a zesty twist with this delicious buttermilk ranch dressing.

Add the desired amount! to your BLT salad and savor the flavour combination of crispy bacon, lettuce, tomato and zesty ranch dressing.
Enjoy!
Southwestern Ranch Quesadilla;
Make a classic quesadilla with a southwestern twist by adding ranch dressing!

Start by preheating your oven to 375 degrees and greasing a large baking sheet.
Spread softened cream cheese on 4 flour tortillas, and top with ½ cup of cooked chicken, 1 diced jalapeño, ¼ cup of diced onion and ¼ cup of grated/shredded/cheddar cheese.

Drizzle each quesadilla with 2 tablespoons of ranch dressing then top each quesadilla with another flour tortilla.

Cut the quesadillas into trianges using a sharp knife and bake for 15 minutes.
Enjoy your southwestern-ranch-flavoured dinner!
Creamy Bacon & Ranch Potato Salad;
Potato salad is a great meal for any event, but you can make it even better with ranch dressing!

In a large bowl, add the cooked potatoes of your choice and top with crumbled bacon, 1 diced red onion, and ¼ cup of chopped dill pickles.
Mix together 1 cup of ranch dressing and ¼ cup mayonnaise in another bowl before adding to the potato mixture.

Mix everything until well combined and season using salt and pepper.
Serve cold or at room temperature.
Recommended Celebrity Cookbooks
This post contains affiliate links. If you use these links to buy something we may earn a commission. Thanks.
Nutrition Information
Yield
1
Serving Size
1
Amount Per ServingCalories 1973Total Fat 200gSaturated Fat 45gTrans Fat 2gUnsaturated Fat 145gCholesterol 204mgSodium 1928mgCarbohydrates 30gFibre 2gSugar 20gProtein 16g

"These values are automatically calculated and offered for guidance only. Their accuracy is not guaranteed."