This simple yet flavourful recipe for grilled ribs will result in a delicious and tender grilled rib that's sure to have your taste buds singing.
Using just a few ingredients and this method of bbqing ribs, you can have this meal ready in no time.
For a meal you won't forget, try out this delicious grilled rib and coleslaw recipe – it's so good you'll never want to eat any other way.
It's not always that pork needs to be cooked for hours to be delicious.
This recipe will prove this, and you will be able to try one delicious and unique rib that is very simple to make.
Plus, served with coleslaw makes it the ideal lunch meal.

Yield: 1 serve
Recipe For Grilled Rib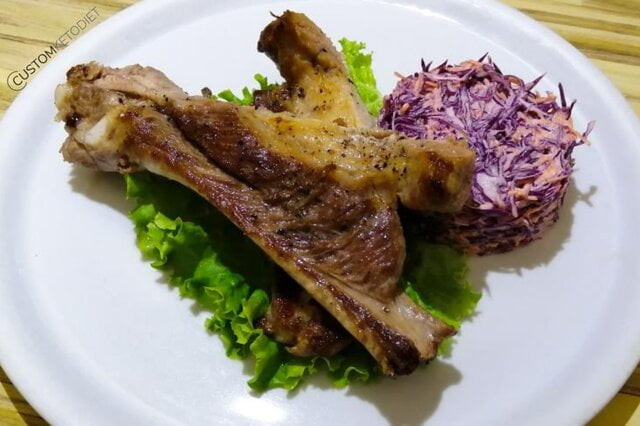 Enjoy a delicious feast of tender, juicy, flavourful rib without hours of prepping! Try this failproof grilled rib recipe today!
This version is keto diet suitable, low carb friendly and gluten free.

Prep Time: 5 minutes

Cook Time: 20 minutes

Total Time: 25 minutes
Ingredients
1 Pork rib, sliced (opened) along the bone
Black pepper
Salt
Garlic powder (optional)
Smoked paprika (optional)
Brown sugar (optional)
Cayenne pepper (optional)
1/2 Tbsp Oil
1/2 cup red Cabbage, shredded
2 Tbsp Carrots, shredded
1 1/2 Tbsp Mayonnaise
Instructions
Preheat a grilling pan over medium heat.
Prepare your rub by combining garlic powder, smoked paprika, brown sugar, cayenne pepper, salt, and black pepper in a small bowl.
Rub this dry mixture over all sides of the ribs until they are covered evenly.
Add oil to the grilling pan. place the rib in.
Cook for 5 minutes and turn. Cook for 5 more minutes.
Increase heat and cook for 5 minutes per side.
In the meantime, combine the cabbage, carrot and mayonnaise, season with salt and black pepper and stir to combine.
Now that your ribs are cooked and cooled, it's time to taste the deliciousness!
For a truly stunning presentation, you can serve the meat with coleslaw on dinner plates, or wrap them up and save for later in the refrigerator.

No matter what eating choice you pick- your guests will be drooling at the dinner table. Enjoy!
Notes
Keeping Grilled Ribs Fresh in the Fridge

If properly stored, cooked ribs will keep for 3-4 days in the refrigerator.
To maximize the shelf life of cooked ribs, cool them quickly before storing in covered airtight containers or wrap tightly with heavy-duty aluminum foil or plastic wrap.

How to Reheat Grilled Ribs without Losing Flavour

To reheat ribs, preheat your oven to 190 °C (375 °F). Place the ribs on an aluminum-foil lined baking pan, cover it with another piece of foil, and bake for 20-30 minutes until heated through.
Alternatively, use a slow cooker to achieve a more tender texture after reheating.


5 Delicious Side Dishes to Serve with Grilled Ribs

Looking to spice up your next backyard BBQ? Make the perfect accompaniment to your grilled ribs with these five delicious side dishes.
From salads and potatoes to couscous and grilled vegetables, you're sure to find something for everyone.

Roasted Potatoes with Garlic and Thyme;
Roasted potatoes are a great way to spruce up a classic grilled meal like ribs.

Combine potatoes with garlic, thyme, rosemary and olive oil and bake them in the oven until they're golden brown.

The perfect accompaniment to your ribs!
Creamed Spinach with Shallots and Mushrooms;
Creamed spinach is a delicious side dish loaded with flavour, texture, and nutrition!

Fresh baby spinach is cooked in butter with sautéed diced shallots and mushrooms.
The whole mixture is then slathered in a creamy sauce made from thickened cream and grated Parmesan cheese.

Rich, creamy, and sure to please your guests!
Three-Cheese Macaroni Salad;
This side dish is sure to be a hit!

It's made by combining macaroni, red onion, three kinds of cheese (Edam cheese, white cheddar, and feta), mayonnaise, and seasonings.

The combination of creamy mayo and cheese make this a delicious comfort food side that is perfect for pairing with grilled ribs.
So good you won't want to share!
Cucumber, Tomato, Feta, and Herb Salad;
This light and refreshing salad is the perfect complement to a hearty plate of ribs.

Start by combining tomatoes, cucumbers, and feta cheese in a bowl.
Add your favourite herbs, such as oregano or dill, along with some freshly squeezed lemon juice.
Mix to combine and enjoy!
Grilled Asparagus Bundles with Lemon-Garlic Butter Sauce;
Make a statement with this delicious side dish!

Pre-heat your grill to medium-high before getting started.
Tie several stalks of asparagus together, slice off the woody bottom parts first.
Then brush them lightly with olive oil and season generously with salt and pepper.
Grill for about 8 minutes, or until tender, flipping occasionally.

Once finished, prepare a swirl of a lemon-garlic butter sauce to top your bundles off perfectly!
Nutrition Information:
Yield: 1 Serving Size: 1
Amount Per Serving:Calories: 350Total Fat: 29gSaturated Fat: 5gTrans Fat: 0gUnsaturated Fat: 20gCholesterol: 43mgSodium: 738mgCarbohydrates: 16gFibre: 5gSugar: 7gProtein: 10g

"These values are automatically calculated and offered for guidance only. Their accuracy is not guaranteed."