Whether you're firing up the grill for a game-day party or just want to make something special for dinner, these pork skewers are sure to please.
These juicy morsels of pork are seasoned in a blend of savoury spices and then cooked up quickly on the grill for a delicious meal that will have your family coming back for more!
Enjoy the delicious combination of vegies and boneless pork rib pieces. Skewers are always a fun idea.
Pork skewers are great for any occasion, but they especially make a tasty and easy meal when you're short on time.
Because they only take a few minutes to cook, pork skewers can be your go-to dish for when you want something delicious but don't have much time to prepare it. Additionally, they make a great appetiser or light meal that your family or guests will love!
Why is boneless pork rib good for skewers?
Boneless pork rib is one of the best proteins to use for making pork skewers because it has just the right amount of fat and is tender and juicy when cooked.
The extra fat helps it stay juicy, while also adding an incredible amount of flavour to the finished product.
Plus, boneless pork rib is especially good for pork skewers because it comes in long pieces that can easily be cut into bite-sized chunks so you don't have to do any additional work or preparation.
Are these pork skewers gluten free and keto friendly?
Yes! These Pork skewers are gluten free and keto friendly.
The ingredients used to make pork skewers are typically made with gluten-free items such as boneless pork rib and various no-carb vegetables.
Not using any breadcrumbs makes them completely gluten free.
And since they're high in protein, low in carbohydrates, and have no added sugar or preservatives, they're a great option if you're following a ketogenic diet.

Yield: Yield: 1 serve
Delicious Pork Skewers to Try At Home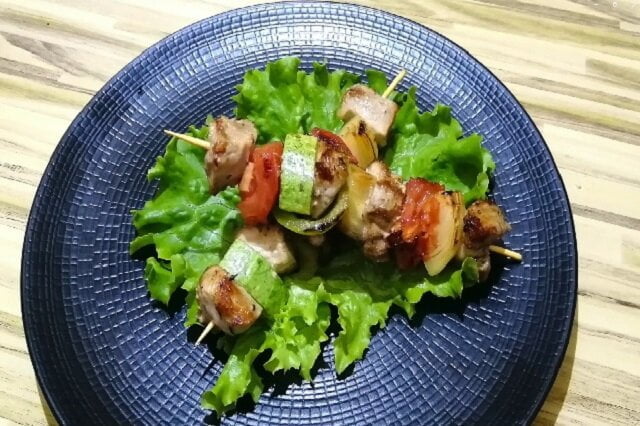 Tender, juicy, and flavourful pork skewers just minutes away! Here's my ultimate guide for making delicious pork skewers quickly and easily.

Prep Time 10 minutes

Cook Time 10 minutes

Total Time 20 minutes
Ingredients
100 grams (3.5oz) boneless pork rib, cut into 8 pieces
2 zucchini pieces
2 eggplant pieces
2 onion pieces
2 capsicum (bell pepper) strips
4 tomato pieces
Salt
Black pepper
Thyme
Lettuce leaf
Instructions
Place the meat pieces in a bowl and season with black pepper, salt, and thyme to taste.
On two skewers equally put the ingredients, meat, onion, tomato, pork, eggplant, pork, zucchini, bell pepper, tomato and pork.
Actually, you can layer it as you like.
Add oil on a grill pan or Barbecue grill/hotplate and cook the skewers over medium heat for 10 minutes turning every 3 minutes.
Increase heat and cook for 5 more minutes on all sides. Cook until the meat and vegies are well done.
Serve over a lettuce leaf.
Notes
If using wooden skewers, soak them in water for 30 minutes beforehand
Can pork skewers be made in advance?

Yes, your pork skewers with vegetables can be made in advance.
All you need to do is assemble the skewers as instructed in the recipe and store them in an airtight container in the refrigerator for up to 1 day before cooking.

What to eat with pork skewers

Take your pork skewers to the next level by serving them with tasty side dishes!
This guide offers helpful tips and recipe ideas for a memorable meal.

Coleslaw;
Coleslaw is a classic side to enjoy with pork skewers. A creamy mayonnaise based dressing, tossed together with crisp cabbage and carrots makes for the perfect crunchy and tart complement to the salty flavour of grilled pork skewers.

This popular side dish pairs perfectly with any kind of pork skewers, from teriyaki to plain grilled.
Steamed rice;
Adding steamed Rice to your pork skewer meal can make all the difference in creating a flavourful and balanced meal.

Choose from different types or colours of steamed rice like jasmine, brown or even purple, for an added touch of visual interest.
Potato Salad;
Potato salad is another great side to serve alongside barbecued pork skewers.
It's always a crowd pleaser due to its delicious creamy texture, made possible by a combination of mayonnaise, vinegar and seasonings usually found in grandma's secret recipe!

This creamy potato salad also adds bacon bits for extra flavour, or throw in some vegetables if you please – either way you're sure not to go wrong with this classic side dish!
Fresh Herb Salad;
Fresh herb salads are always welcome at any summer BBQ gathering- and they're definitely worth trying out when it comes to serving up your pork skewers!

Simply mix two or three fresh herbs like parsley, chervil and mint into a bowl of dark green leaves such as rocket or lettuce for a light yet flavourful addition to your party tray!
Baked Beans;
Baked beans are one of our favourite sides when it comes time for grilling up something special – particularly if it is pork-skewers we're talking about here!

These comforting legumes come in several varieties but work just as well no matter whichever recipe you decide to opt-in for; simply serve them hot alongside the freshly cooked bbq treats!
Potato Fries;
No barbeque feast would be complete without potato fries – and when served alongside juicy seasoned skewers they provide an even greater indulgence factor than usual!
Baked, deep-fried or pan fried whichever way they're prepared - they give off that perfect crispy crunch which will surely make your guests lick their fingers after every bite (or forkful…)! Just make sure you have plenty ketchup on hand too.
Fresh Vegetables;
Fresh vegetables are always recommended as the ideal accompaniment whenever you're cooking up some form of barbecued delicacy like those porky snacks we mentioned earlier, particularly because their delicate flavours can often be enhanced by the smoky seasoning that usually comes along with every single skewer bite..

Try your best at mixing up as much variety (roasted peppers zucchini slices etc) onto your tray before sticking them on heat source – that way everyone has something else fresh 'n sweet waiting on wait once those succulent morsels begin running low.
Recommended Celebrity Cookbooks
This post contains affiliate links. If you use these links to buy something we may earn a commission. Thanks.