For a delicious, savoury dinner, look no further than this delectable garlic & butter shrimp recipe.
With succulent shrimp cooked in a creamy butter and garlic sauce, this dish is sure to tantalize your taste buds!
What is garlic & butter shrimp?
Garlic & butter shrimp is a classic dish made with large succulent prawns cooked in a garlic and butter sauce.
It is especially popular among seafood lovers for its distinct flavors and for being incredibly easy to make.
Garlic & butter shrimp has a delicious, savory taste that comes from the combination of succulent shrimp cooked in a creamy garlic-butter sauce.
The garlic adds a subtle kick and deepens the flavour.
This dish is so succulent, with a tender texture from the shrimp and a smooth, silky sauce.
The butter and garlic combine nicely to form a creamy, flavourful coating that's sure to be devoured by everyone.
It's an incredibly easy dish to prepare; takes only minutes to make and cooks in one pan!
This is the perfect recipe for anyone looking to make an impressive dish with minimal preparation and effort.
Not only is it incredibly easy to make, but its distinct combination of flavors will leave your friends and family wanting more.
It's a great meal to serve at special occasions or as a midweek dinner option when you're short on time.
Serve with your favourite sides like steamed vegetables or crusty bread for a scrumptious dinner ready in no time.
Is buttered shrimp healthy?
Buttered shrimp is a low-calorie, nutrient-dense meal that can be included in any well-balanced diet.
Depending on the amount of butter used, this dish can provide beneficial vitamins and minerals like vitamin A and C, as well as omega-3 fatty acids. Additionally, shrimp are an excellent source of low-fat protein which helps to keep you full longer while providing essential nutrients.


Yield: Yield: 1 Serve
Quick & Easy Garlic Butter Shrimp Recipe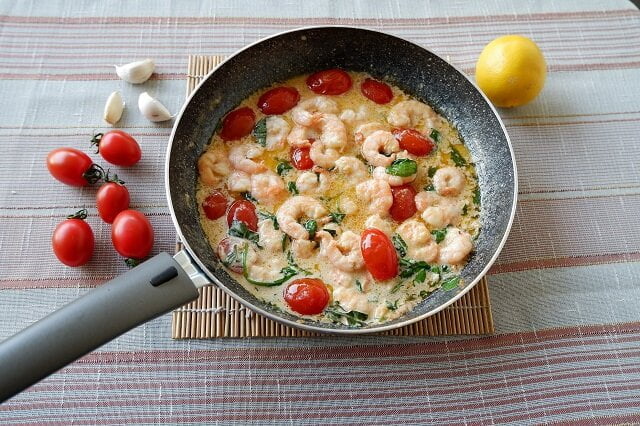 Garlic and Butter Shrimp - Quick and Delicious Dinner
Satisfy your tastebuds with this simple yet delicious garlic & butter shrimp recipe.

Perfectly cooked shrimp in an aromatic butter garlic sauce create a heavenly dish!

Prep Time 5 minutes

Cook Time 5 minutes

Total Time 5 minutes
Ingredients
Instructions
Over medium heat, heat the skillet and add the olive oil.
Add shrimps and cook until the colour turns into light orange, about 2 minutes.
Remove from skillet and set aside.
Lower the heat to low and add butter.
When butter has melted, saute the garlic and cook until fragrant, about 1 minute.
Add cherry tomatoes and arugula. Then, sprinkle with salt and pepper.
Cook until tomatoes are tender and arugula is just wilted.
Add in heavy cream, parmesan and fresh basil.
Add the shrimps back to the skillet and stir to combine.
Bring the mixture to simmer.
Lastly, squeeze lemon before serving.
Notes
Can garlic butter shrimp be made in advance?

Yes, garlic butter shrimp can be made in advance! Simply prepare the dish as usual, cool it to room temperature and then store it in an airtight container in the refrigerator for up to two days. Reheat gently in a skillet before serving.

Can garlic butter shrimp be frozen?

Yes, garlic butter shrimp can be frozen. To freeze it correctly, make sure the shrimp is cooked first and cooled to room temperature.
Place the cooked shrimp in a freezer-safe bag or container and seal it tightly.

It will keep in the freezer for up to 3 months.
When ready to eat, it should be defrosted in the refrigerator overnight and cooked until heated through before serving.

How to reheat garlic butter shrimp?

To reheat garlic butter shrimp, preheat your oven to 350 degrees F. Place the shrimp in an oven-safe dish and cover with foil.
Bake for 15-20 minutes, or until the shrimp is heated through.

You can also warm the shrimp up in a skillet over medium-low heat, stirring occasionally until heated through.

For best results, add additional garlic butter while reheating!

What goes with garlic butter shrimp

Take your garlic butter shrimp to the next level by serving them with tasty side dishes!
This guide offers helpful tips and recipe ideas for a memorable meal.

Rice;
Rice makes a great accompaniment to garlic butter shrimp.

You can choose any type you like, from white to brown or long-grain wild rice to savoury jasmine rice for a delicious side dish.
The nutty flavour of the rice will pair perfectly with the garlicky butter sauce of the shrimp!
Fresh Veggies;
Fresh vegetables will add colour, texture, and taste to your garlic butter shrimp dinner.
Try blanched green beans or steamed Asparagus Spears for a light and healthy veggie side dish.

If you're looking for something heartier, roasted veggies such as brussels sprouts or sweet potato cubes are also delicious options that'll pair nicely with the shrimp.
Salad;
A tasty salad can complete your garlic butter shrimp dinner!

Choose whatever greens you prefer, add some crunchy toppings such as walnuts or pumpkin seeds, and toss them in an olive oil and lemon vinaigrette for a burst of fresh flavour that will compliment the richness of the garlic butter sauce on the shrimp perfectly.
Garlic Bread;
What goes better with garlic than more garlic?
Garlic bread is a great choice if you're looking to really accentuate all of those delicious garlicky flavours while also adding another layer of texture to your seafood dish!

Plus it's incredibly easy to make – just brush your favourite kind of bread with olive oil, minced garlic, salt and pepper before popping it into the oven until golden brown perfection!
Corn on Cob;
Corn is an excellent side dish to serve alongside your garlicky seafood entrée –its sweetness provides balance that greatly complements the robust flavour of sautéed shrimps in garlic butter sauce.

Whether you prefer grilled corn cobs slathered in spicy basil pesto or steamed ears boiled in salted water for added richness –this delicious veggie is sure to be a hit at your dinner party!
Fries/Chips;
Fries are always a great option no matter what you're serving!

Be it thick-cut steak fries served crispy from the oven seasoned with oregano and parmesan cheese or salty chips lathered with malt vinegar -these sides will make sure all those garlicky notes don't go unnoticed!
Sweet Potato Mash;
Sweet potatoes are packed full of nutrition – not only are they low in fat but they also boast incredible levels of vitamin A, vitamin C and fibre which our bodies need daily intake of.

When combined with rich creamy butter these root vegetables turn into an unbelievably indulgent mash that pairs seamlessly with any seafood dishes (especially when spiced up with smoked paprika powder!).
Recommended Celebrity Cookbooks
This post contains affiliate links. If you use these links to buy something we may earn a commission. Thanks.
Nutrition Information
Yield
1
Serving Size
1
Amount Per ServingCalories 723Total Fat 54gSaturated Fat 26gTrans Fat 1gUnsaturated Fat 24gCholesterol 526mgSodium 2568mgCarbohydrates 9gFibre 1gSugar 2gProtein 51g

"These values are automatically calculated and offered for guidance only. Their accuracy is not guaranteed."