« Back to Cooking Class Index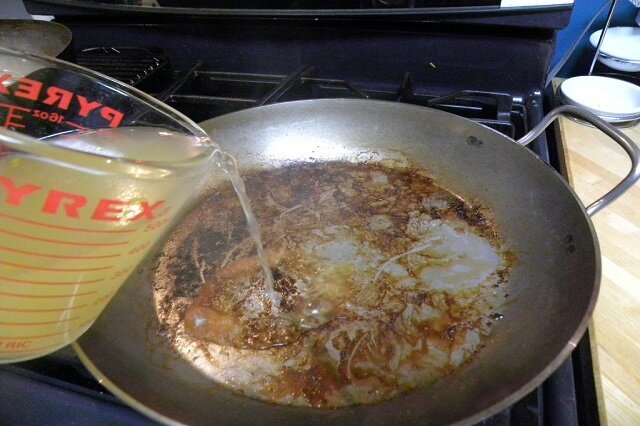 Deglaze definition
To deglaze means to pour some cold liquid into a very hot pan to get up all the brown bits stuck to the bottom of the pan.
After sautéing and removing the food and excess fat from the pan, deglazing is done by heating a small amount of liquid (typically wine or stock) in the pan and stirring to loosen browned bits of food on the bottom.
The deglazed mixture acts as a base for a sauce to accompany the food cooked in the pan
After pan-frying or sautèing, a simple yet delicious sauce or gravy can be made in the pan by deglazing.
It can be used to make a perfect gravy after roasting meats.
Deglazing a pan
Add liquid (wine, stock, verjuice or water) to a hot frying pan or baking dish after transferring the main piece of meat to the oven or to be rested.
Scrape and stir the browned bits from the pan over a moderate-high heat to melt all cooking residues into the liquid.
This method will produce a simple sauce, or the deglazed liquid can then be added to a larger pot with other ingredients to add a rich flavour to the dish.
How to Deglaze a Pan & Make a Sauce
How to deglaze a pan with stock and wine after searing steak and make a simple pan sauce.

« Cooking Class Index