If you're short on time but still want a delicious and satisfying dinner, this one-pan chicken and chorizo skillet recipe is the perfect solution.
With bold flavours and a quick cooking time, you can have a tasty meal on the table in no time.
Plus, it's a great way to use up any leftover chicken or chorizo you may have in your fridge.
Once the chicken and chorizo skillet is fully cooked, it's time to serve and enjoy!
You can serve it as is or with a side of rice or crusty bread.
This recipe is perfect for a quick and easy weeknight dinner that the whole family will love.


Yield: 1 Serve
Chicken and Chorizo Recipe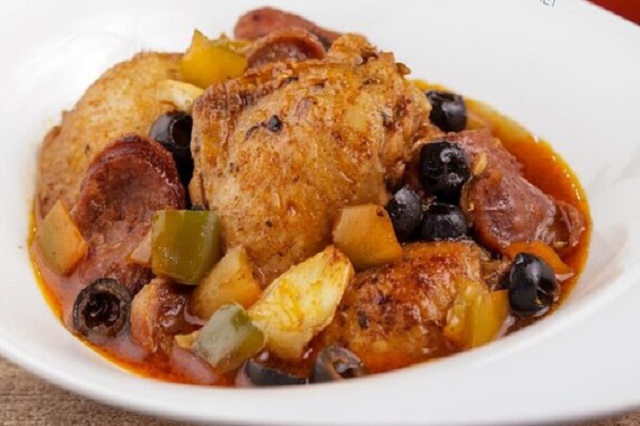 Looking for a delicious and hearty dinner recipe that the whole family will enjoy?
Look no further than this Chicken and Chorizo dish!

Packed with flavourful herbs and spices, this recipe is sure to warm you up on a chilly evening.
So why not give it a try tonight? Your taste buds will thank you!

Prep Time 5 minutes

Cook Time 30 minutes

Total Time 35 minutes
Ingredients
100 grams Chicken Thighs
30 grams Smoked Chorizo
10 grams Capsicum/Bell Pepper, diced
1 clove Garlic, crushed
3 Black Olives
1 cup Chicken Stock
¼ tsp Dried Oregano
¼ tsp Paprika
Salt, to taste
Instructions
Preheat your skillet and cook the chicken.
Sear chicken thighs in a lightly oiled Frypan.
Cook for 5-7 minutes until browned on all sides.

Make sure to stir occasionally to ensure even cooking.
Add the chorizo and cook until browned.
Add chorizo and stir until fat is rendered.

Do this by cooking for 2-3 minutes until it starts to brown and release its oils.
Add the vegetables.
Add capsicum/bell pepper, olives, and garlic. Stir until aromatic.
Add the stock and seasonings.
Add stock, oregano, and paprika.

Simmer for 20-25 minutes.
Season and serve.
Season with salt to taste.
Garnish with fresh herbs like parsley or cilantro for an extra pop of flavour.
Notes
What To Serve With Chicken and Chorizo.

Wondering what to serve with your chicken and chorizo recipe? Look no further!
These tasty side dishes will take your meal to the next level.

Crusty Bread.
A warm, crusty bread is the perfect accompaniment to a hearty chicken and chorizo stew.

Use it to soak up all the delicious juices and flavours of the stew.
Rice.
Rice is a classic side dish for stews and pairs perfectly with chicken and chorizo.

It's also a great way to stretch the meal and make it more filling.
Cheese Scones.
The rich and savoury flavours of the chicken and chorizo stew are perfectly complemented by the buttery and slightly tangy taste of the cheese scones.

The scones also provide a nice contrast in texture to the stew, adding a bit of crunchiness to the dish. Overall, it's a delicious and satisfying combination that is sure to please your taste buds.
Roasted Vegetables.
Roasted vegetables like carrots, potatoes, and capsicum/bell peppers are a great way to add some colour and nutrition to your meal.

They also complement the flavours of the stew nicely.
Salad.
A fresh, crisp salad is a great way to balance out the richness of the stew.

Try a simple green salad with a tangy vinaigrette or look at these more substantial salad ideas.
Lemonade Scones.
These fluffy Lemonade Scones are a side dish that pairs perfectly with chicken and chorizo stew.

Its slightly sweet flavour and crumbly texture are the perfect complement to the spicy, savoury flavours of the stew.
Mashed Potatoes.
Mashed potatoes are a comforting and filling side dish that go well with just about anything.
They're especially delicious with a rich, flavourful stew like chicken and chorizo.
Grilled Vegetables.
Grilled vegetables like zucchini, eggplant, and onions are a great way to add some smoky flavour to your meal.

They're also a healthy and delicious way to round out your plate.
FAQ
Does chicken and chorizo go together?
Yes, chicken and chorizo are a delicious combination! The smoky, spicy flavour of the chorizo pairs perfectly with the mild taste of chicken.
This combination is commonly used in Spanish and Latin American cuisine, and is a favorite among many foodies.
Can chicken and chorizo stew be refrigerated?
Yes, chicken and chorizo stew can be refrigerated.
Allow it to cool to room temperature before placing it in an airtight container and storing it in the refrigerator.

It should be consumed within 3-4 days.
Can chicken and chorizo stew be frozen?
Yes, you can freeze chicken chorizo stew.
Allow the stew to cool completely before transferring it to an airtight container or freezer bag.

It can be stored in the freezer for up to 3 months. When ready to eat, thaw the stew in the refrigerator overnight before reheating.
How to Reheat Chicken and Chorizo Stew?
To reheat chicken and chorizo stew, place it in a pot on the stove over medium heat.
Stir occasionally until it is heated through.

Alternatively, you can reheat it in the microwave by placing it in a microwave-safe dish and heating it in 30-second intervals, stirring in between, until it is heated through.
Recommended Celebrity Cookbooks
This post contains affiliate links. If you use these links to buy something we may earn a commission. Thanks.
Nutrition Information
Yield
1
Serving Size
1
Amount Per ServingCalories 493Total Fat 30gSaturated Fat 9gTrans Fat 0gUnsaturated Fat 19gCholesterol 162mgSodium 1557mgCarbohydrates 20gFibre 2gSugar 7gProtein 38g

"These values are automatically calculated and offered for guidance only. Their accuracy is not guaranteed."