Our 3 ingredient lemonade scones recipe is foolproof and will create the perfect batch of light fluffy scones every time.
These easy lemonade scones are wicked straight out of the oven with a slathering of butter (yum!).
The scones recipe using lemonade adds a touch of pleasant sweetness to this non-traditional scone recipe, which uses thickened-cream instead of butter, so is very quick and easy to make.
Bake a batch of these easy lemonade scones to serve for afternoon tea. Pair them with plenty of whipped cream and jam for a classic NZ and Aussie treat.
This one recipe will show you how to make;
Lemonade scones with cream.
Lemonade scones without cream.
Lemonade scones with milk.
So let's get started! I'll do all three recipes at once because the process is the same, it's just the ingredients are a little different.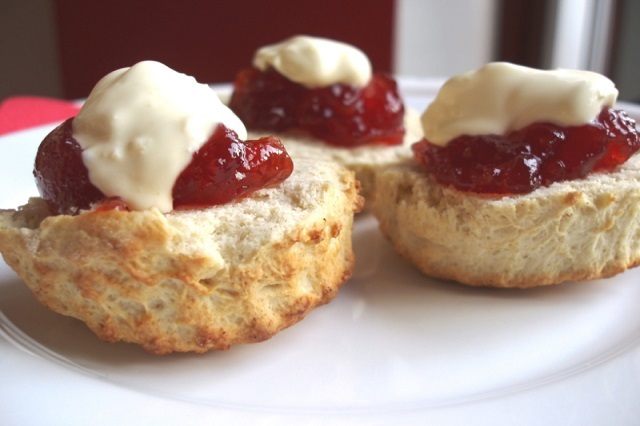 Yield:

Yield: 12 Lemonade Scones
Lemonade Scones Recipe
If you like Scones, you are going to LOVE this easy 3 Ingredient Lemonade Scones Recipe!
These light and fluffy Scones are made using just lemonade, thickened-cream and self-raising flour.
It takes less than 10 minutes to prepare this recipe and have your scones ready to go into the oven.
These lemonade scones are incredibly light and fluffy and are super quick to make as the recipe uses cream instead of butter.
Ingredients
Lemonade scones with cream
1 cup lemonade (fizzy)
1 cup thickened cream
3½ cups self-raising flour
Lemonade scones with milk
1 cup of lemonade (fizzy)
½ cup of full cream milk
3½ cups self-raising flour
Lemonade scones no cream
1 cup of lemonade (fizzy)
1 cup of natural yoghurt
3½ cups self-raising flour
Instructions
Preheat oven to 220°C/425℉.
Add flour, cream and lemonade to a bowl and mix with your hands until well combined and a thick dough has formed.
Mixture will be soft.
Place on a lightly floured board. Pat down the dough until it is 2½cm thick. Do not roll.
Use a round cookie cutter or a glass to cut scones.
Place them on a lined baking tray approximately 1cm apart.
Brush tops with milk or a lightly beaten egg.
Bake for about 10 minutes, or until tops are golden.
Notes
When making these easy lemonade scones (along with any other scone recipe) it's really important to make sure you don't mix the ingredients too much.

If you wish, you can brush a little milk over the top of the scones before baking, however this isn't essential.

You can freeze your cooked scones for up to three months.
Defrost and re-heat in the microwave in a brown paper bag.

Lemonade Scone Serving Suggestions
These scones are best served warm but MUST be served with copious amounts of cream and jam.
There's just really no getting around that part. It's like having a grilled cheese sandwich without cheese.

Serve warm halved and buttered.
Serve halved, topped with with jam and whipped cream.
Lemonade Scones Recipe Variations
Although these aren't really variations you could try these traditional Aussie scones or these tasty cheese scones are well worth a try.

Unsweetened Lemonade Scones
OK, we can go two ways here. We've got scones that still taste sweet but contain no sugar and the other doesn't taste sweet at all.

For a sugar free version you can use a sugar free lemonade.
The result will not end up tasting quite as sweet as using full sugar, but still works well.
For unsweetened Lemonade scones that don't taste sweet, but are still light and fluffy, substitute the lemonade with soda water.
Lemonade Fruit Scones
Create lemonade fruit scones by adding ½ cup of dried fruit and 2 tbsp sugar to the dry ingredients.
Here's some suggestions;

Sultanas.
Raisins.
Blueberries.
Chopped dates.
>
Also add 1 tsp vanilla extract with the lemonade and cream.
Brush with lightly beaten egg and sprinkle with a little extra sugar before baking.

Recommended Products
This post contains affiliate links. If you use these links to buy something we may earn a commission. Thanks.
Nutrition Information
Yield
12
Serving Size
1
Amount Per Serving
Calories

186
Total Fat

7g
Saturated Fat

5g
Trans Fat

0g
Unsaturated Fat

2g
Cholesterol

22mg
Sodium

379mg
Carbohydrates

26g
Fibre

1g
Sugar

3g
Protein

4g
"These values are automatically calculated and offered for guidance only. Their accuracy is not guaranteed."