3 lemonade scone recipes that require only three ingredients.
Make from scratch 3 ingredient scones that are incredibly fluffy, moist and have a touch of pleasant sweetness.
Quick and easy scones are just a few steps away!
Check out this amazing guide to making the perfect 3-ingredient scones right at home.
The Best Guide To Making Delicious 3-Ingredient Scones Fast
Make from scratch 3 ingredient scones that are incredibly fluffy, moist and have a touch of pleasant sweetness.
Our 3 ingredient lemonade scones recipes are foolproof.
Using lemonade in scones creates the perfect light fluffy scone every time.
These easy lemonade scones are wicked straight out of the oven with a slathering of butter (yum!).
Bake a batch of these easy lemonade scones to serve for afternoon tea.
Pair them with plenty of whipped cream and jam for a classic NZ and Aussie treat.
This scones recipe using lemonade shows you how to make;
Lemonade scones with cream, Lemonade scones without cream and Lemonade scones with milk.
I'll do all three recipes at once because the process is the same, it's just the ingredients are a little different.
And then with a few ingredient substitutions or additions I go on to show you variations for everyone.
Including fruit to gluten-free, sugar free and plain.
So let's get started!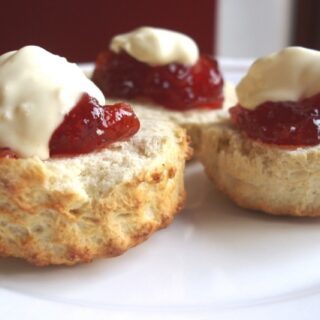 3 Ingredient Scone Recipe
Yield: Yield: 12 Lemonade Scones

Prep Time: 5 minutes

Cook Time: 10 minutes

Total Time: 15 minutes

If you like Scones, you are going to LOVE this easy 3 Ingredient scones recipe!
These light and fluffy scones are made using just lemonade, your choice of liquid and self-raising flour.

It takes less than 10 minutes to prepare this recipe and have your scones ready to go into the oven.
Ingredients
Lemonade scones with cream
1 cup lemonade (fizzy)
1 cup thickened cream
3½ cups self-raising flour
Lemonade scones with milk
1 cup of lemonade (fizzy)
½ cup of full cream milk
3½ cups self-raising flour
Lemonade scones without cream
1 cup of lemonade (fizzy)
1 cup of natural yoghurt
3½ cups self-raising flour
Instructions
Preheat oven to 220°C/425℉.
Add flour and wet ingredients to a bowl and mix with your hands until well combined and a thick dough has formed.
Mixture will be soft.
Place on a lightly floured board. Pat down the dough until it is 2½cm thick. Do not roll.
Use a round cookie cutter or a glass to cut scones.
Place them on a lined baking tray approximately 1cm apart.
Brush tops with milk or a lightly beaten egg.
Bake for about 10 minutes, or until tops are golden.
Notes
When making these easy scones (along with any other scone recipe) it's really important to make sure you don't mix the ingredients too much.

You can freeze your cooked scones for up to three months.
Defrost and re-heat in the microwave in a brown paper bag.

3 Ingredient Scone Recipe Variations for Everyone

From fruit to gluten-free, get creative with your 3-ingredient scone recipe! Learn how to create various tasty varieties to please all taste buds.

Sugar Free Lemonade Scones

For a sugar free version you can use a sugar free lemonade.
The result will not end up tasting quite as sweet as using full sugar, but still works well.

3 Ingredient Plain Scones

For an unsweetened Lemonade scone that don't taste sweet, but are still light and fluffy, substitute the lemonade with soda water.

You can also use soda water if you want to make a savoury batch of scones with cheese.

Gluten Free 3 Ingredient Scones

Substitute the self raising flour for gluten free.
Making gluten free self raising flour is easy and only requires a few ingredients.

Start by combining 1 cup of your favorite gluten free flour, 1 ½ teaspoons of baking powder and ¼ teaspoon of salt in a bowl.
Whisk together all the ingredients until they are well combined. Your gluten free self-raising flour is now ready to be used!

Lemonade Fruit Scones

Create lemonade fruit scones by using the lemonade scones without cream ingredients, then
First, substitute the natural yoghurt for vanilla yoghurt.
Second, Add ½ cup of dried fruit and 2 tbsp sugar to the dry ingredients.
Here's some suggestions;
Sultanas, Raisins, Blueberries or Chopped dates.
Finally, brush with lightly beaten egg and sprinkle with a little extra sugar before baking.

7 Creative 3 Ingredient Scones Serving Suggestions

Let your baking skills shine with these creative serving suggestions for 3 ingredient scones.
Easy and delicious ideas that will have your guests asking for more!

Butter;
Spreading real butter o your freshly-baked lemonade scones is a great way to enhance their flavour and add some extra richness to the overall dish.
The butter also helps keep the scones moist, so they can last longer when stored in an air tight container.

Consider pairing with honey or preserves for added sweetness.
Cream Cheese;
Another way to enjoy your lemonade scones is with cream cheese spread over them.
Cream cheese has a slightly tangy taste that complements the sweet and tartness of the lemonade scones perfectly.

Toast up your scone, top it with cream cheese, and you've got yourself a fantastic snack!
Jam;
A classic favourite combination with scones is pairing them with jam for added sweetness and tartness.

Go for strawberry or raspberry for fruity sweetness and apricot jam for an even richer flavour
Both are delicious options that go very well with the light flavour of lemonade scone recipes.
Whipped Cream;
Give your lemonade scones some extra fluff by topping them off with whipped cream!

Try using vegan friendly whipped creams, such as coconut cream or other plant based milks like cashew milk or oat milk, whisked together until thick and creamy.
All perfect for dolloping onto those freshly made treats!
Drizzle on some honey or chocolate sauce or a dollop of jam if desired!
Tea;
Nothing pairs better with these yummy little pastries than a hot cup of tea.
Whether it be herbal chamomile tea, lapsang souchong tea, earl grey, green tea..the list goes on!

The warmth will balance out the flavours from the treat brilliantly and make you feel like you're having a proper afternoon tea session too (minus all the other fancy stuff!).
Lemon Curd;
This delicious citrusy spread adds brightness and zest to any dessert - especially those made from lemons!
Spread some thick thickly over each scone (or melt it in between) before serving just before tucking in..you won't regret it!

Plus it's vegan friendly too if you stock up on dairy free substitutes - try those made from coconut or soymilk instead!
Yoghurt & Berries;
Finish off these fragrant delights with yoghurt and loads of colourful berries such as strawberries, blueberries raspberries etc!
This balanced mix between tartness from yoghurt & sweet juicy goodness from each berry adds another level of summer loving sunshine energy into your next kitchen creations.

Serve cold if possible but warm's just fine too depending how quickly you want to devour these tasty treats!
Other Scone Recipes

You could try these traditional NZ/Aussie scones or these tasty cheese scones are well worth a try.

Recommended Celebrity Cookbooks
This post contains affiliate links. If you use these links to buy something we may earn a commission. Thanks.
Nutrition Information
Yield 12 Serving Size 1
Amount Per ServingCalories 186Total Fat 7gSaturated Fat 5gTrans Fat 0gUnsaturated Fat 2gCholesterol 22mgSodium 379mgCarbohydrates 26gFibre 1gSugar 3gProtein 4g

"These values are automatically calculated and offered for guidance only. Their accuracy is not guaranteed."