Satisfy your cravings with a bowl of creamy asparagus soup.
This recipe uses simple ingredients to create an especially luscious and velvety Asparagus soup.
Try this simple recipe today and turn your meal into an unforgettable experience!
Asparagus is a wonderful flavour when cooked from fresh.
This recipe for Asparagus Soup is the best use of fresh asparagus!
Silky smooth and rich, it is absolutely wonderful and so easy to create a lighter, richer or vegan version.
Variations include a richer version, light, & making cream of asparagus soup vegan.
This creamy asparagus soup may be served hot or cold, and the soup may be finished with various garnishes.
This is suitable for both the keto and gluten free diets.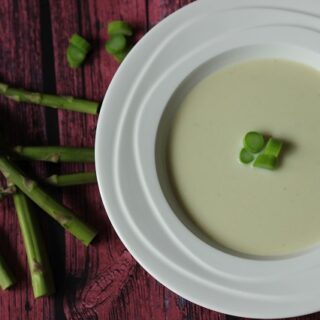 Recipe For Asparagus Soup
Yield: Yield: 4 Entree Serves

Prep Time: 25 minutes

Cook Time: 35 minutes

Total Time: 1 hour

Make a delicious and revitalizing asparagus soup that's sure to tantalize your taste buds. Try this flavourful recipe today.
Ingredients
12 thick asparagus spears
2 cups chicken or beef broth
1 medium spring onion/green onion, chopped
3 tablespoons unsalted butter
1 cup thickened cream or light cream
salt, freshly ground black pepper, and cayenne pepper to taste
Instructions
Give your asparagus spears a good wash.
Snap the tough ends off the asparagus spears and discard.
Add butter in a medium saucepan, then add the spring onions and asparagus spears.
Saute for around 10 minutes.
Add the beef or chicken broth.
Cook at a lively simmer for 5 minutes.
Add thickened cream and any extra seasonings.
Simmer for a couple of minutes.
Remove from the heat and Purée in a food processor until smooth.
Strain the purée through a sieve back into the saucepan.
Rubbing the mixture through with a flexible scraper or wooden spoon and leaving any fibrous parts in the sieve.
Discard the contents of the sieve.
Reheat gently over low heat, making sure not to let the soup boil.
Ready to serve.
To serve, top the soup with a swirl of cream, a sprinkle of Parmesan cheese and some freshly cracked black pepper.
For an added kick, add a few drops of fresh lemon juice to your bowl before serving.
Notes
Important!
Don't be tempted to omit the final straining of the soup!
If you leave the bits of fibrous asparagus skin in the soup, they give it a very unpleasant texture.

Use a sieve with a medium mesh, not too coarse and not too fine: too coarse will let too much of the fibre through, too fine will make the job of straining too difficult.

Asparagus Soup Recipe Tips
Serve hot or chilled.
As served in high-end restaurants or prepared by a master chef, heated or chilled asparagus soup is a savoury dish with subtle flavours.

If you want to serve it chilled, let it cool, then refrigerate it uncovered until thoroughly cold, then cover with plastic wrap.
You can keep it refrigerated for up to 2 days.
A richer version
For the richest version of this recipe, use a full cup of thickened cream, produces an especially luscious and velvety soup.
A lighter version
For a lighter soup with fewer calories, use the smaller amount of whipping cream or substitute light cream.
If you're planning to use only ¼ cup of cream, cook the asparagus in 3 cups of water so that you'll have enough cooking water to add to the finished soup to achieve the right consistency.
Making Cream of Asparagus Soup Vegan
To make this cream of asparagus soup vegan;
1. Cook the asparagus in 3 cups of water, omitting the cream

2. Use olive oil instead of butter to cook the spring onion.

3. To to thicken the soup and get a good consistency, you will need to add a small amount of starch such as flour, cornstarch, or potato starch.
Add the starches in a tablespoon at a time, stirring between additions until you've achieved your desired consistency.

I prefer to use potato starch.
What To Eat With Asparagus Soup

Asparagus soup is delicious on its own, but it can also be even more enjoyable when paired with other dishes.

Crusty Bread;
Not only is crusty bread a classic pairing for soups of all kinds, but it's especially delicious with creamy, full-bodied soups like asparagus soup.
Slice up some multigrain or Italian bread and cook on a skillet with a bit of butter or olive oil until crispy.

Or these breadsticks are another great option.

Serve the warm bread at the side of your bowl of soup for a knockout combination.
Baked Potato;
A baked potato doesn't just have to be an entrée — you can easily incorporate one into your soup meal by cutting into cubes and adding it to the bowl.
Not only will the potato intensify the richness, but it will also Introduce more texture and taste to your soup in each spoonful.

Sprinkle some fresh herbs on top for an extra bit of flavour!
Bruschetta;
Bruschetta makes for an excellent side in any type of meal, including asparagus soup!
Simply top baguette slices with chopped tomatoes, diced olives, garlic, basil leaves and a drizzle of good quality olive oil before heating up in the oven and serving hot.

This simple dish adds something special to every spoonful of your favourite asparagus soup recipe!
Hot Buttered Scones;
A side dish of plain scones buttered goes well with your Asparagus soup.
Crunchy, fluffy, buttery scones takes overindulgence to the next level!

Or enjoy the cheesy, buttery goodness of hot cheese scones beside a hearty serving of asparagus soup and find yourself transported in taste sensation overload!
Leafy Green Salads;
For added fiber, colour and nutrients while still keeping things light at lunchtime, pair your asparagus soup with leafy green salads like warm kale salad, which is great either warm or cold.

crunchy spinach salad is another great pairing.
The raw crunchiness against the luscious creaminess makes for great texture contrast.
French Toast;
If you want some more protein that won't weigh you down later but still gives that feeling of fullness after lunchtime rolls around then yummy french toast could be exactly what your body needs!

Try this alongside either hot or chilled asparagus soup served on hot summer days or cold winter nights, both are equally delicious ways to enjoy this zesty combination!
Bacon Bits;
Although traditionally considered unhealthy because most processed types are saturated fats-heavy (which lead to high cholesterol levels), bacon bits used sparingly make a real difference when paired up against lighter dishes such as soups.

They provide an umami punch nobody can resist due their smoky saltiness explosion.
Why not try them crumbled on top of your soup along with a sprinkle of parmesan cheese.
FAQ
How To Thicken Asparagus Soup

To thicken asparagus soup, add a small amount of starch such as flour, cornstarch, or potato starch.

Add the starches in a tablespoon at a time, stirring between additions until you've achieved your desired consistency.

You can also add cream to the soup while simmering, which will help thicken it and introduce richer flavour notes.

Can Asparagus Soup Be Frozen

Yes, asparagus soup can be frozen.

For the best results, allow the soup to cool completely and then freeze it in an airtight container and use it within a month, otherwise it will lose some of its flavour and quality.

To thaw when ready to eat, place the container of soup in the refrigerator overnight. Reheat and enjoy!

How Long Does Asparagus Soup Last In The Fridge

Asparagus soup can last in the fridge for up to 4 days.

Make sure to keep it stored in an airtight container and reheat it until it's hot before eating.

How Do I Reheat Asparagus Soup

Reheating soup safely is all about how quickly you do it.

When reheating asparagus soup, use the stovetop and on medium heat, and constantly stir until it's heated all the way through.

Or you can use the microwave by slowly stirring at one-minute intervals and testing the temperature before serving.

Why Is My Asparagus Soup Stringy

Stringy asparagus soup can often be caused by overcooking the asparagus, which causes it to break down and release more of its natural fibres that tend to thicken the soup.

Another culprit could be blending the soup for too long, which can create a strained texture instead of a smooth one.

To avoid this, blend until all large chunks are gone, but avoid over-blending.

Why Is My Asparagus Soup Bitter

To avoid a bitter tasting soup, use fresh asparagus and cook it until it is just tender.
Never overcook, as that will cause the pieces to break down and create an unpleasant texture and taste.

It also helps to add a touch of lemon juice or vinegar which will balance out any bitterness in the soup.

Recommended Celebrity Cookbooks
This post contains affiliate links. If you use these links to buy something we may earn a commission. Thanks.
Nutrition Information
Yield 4 Serving Size 1
Amount Per ServingCalories 461Total Fat 41gSaturated Fat 22gTrans Fat 1gUnsaturated Fat 15gCholesterol 158mgSodium 447mgCarbohydrates 5gFibre 1gSugar 3gProtein 20g

"These values are automatically calculated and offered for guidance only. Their accuracy is not guaranteed."