Welcome to the ultimate scone guide! If you've ever wanted to master the art of creating perfect homemade scones, you've come to the right place.
Whether you're a seasoned baker or a first-time scone maker, this step-by-step guide will walk you through everything you need to know.
In this comprehensive guide, we'll share a variety of tried-and-true scone recipes that are sure to impress your family and friends.
From classic flavours like traditional basic scones and fruit-filled scones, to more adventurous combinations like cheese and herb or chocolate chip, there's a recipe to suit every taste.
We start with our basic scone recipe that includes detailed instructions and helpful tips to ensure your scones turn out light, flaky, and absolutely delicious.
We'll cover the basic scone-making techniques, including how to achieve the perfect texture and consistency, how to properly mix and shape the dough, and the best baking methods for beautiful golden results.
So grab your apron, dust off your rolling pin, and get ready to discover the joy of making your own homemade scones. Let's dive in and create some truly scrumptious treats!
History and origins of scones
Scones have a rich history that dates back centuries.
While the exact origins of this beloved baked good are a bit murky, scones are believed to have originated in Scotland, where they were traditionally made with oats and cooked on a griddle.
Over time, scones spread throughout the British Isles, Australia, New Zealand and beyond, becoming a staple in afternoon tea and breakfast menus.
The word "scone" itself comes from the Dutch word "schoonbrot," meaning beautiful bread.
In the early days, scones were made without any leavening agents, resulting in a dense and heavy texture.
However, as baking techniques evolved and ingredients like baking powder became more readily available, scones transformed into the light and fluffy treats we know today.
Different types of scones
Scones come in many different flavours and variations, making them a versatile treat that can be enjoyed in various settings.
Here are some popular types of scones you can try:
Traditional Plain Scones:

These classic basic scones are made with simple ingredients like flour, butter, sugar, and milk.
They have a tender crumb and a mild, buttery flavour that pairs well with a variety of toppings.

Fruit-Filled Scones:

Adding dried or fresh fruits to your scone dough can take your scones to the next level.
Popular fruit options include raisins, cranberries, blueberries, or even chopped apples.
The burst of flavour from the fruits adds a delightful sweetness to the scones.

Cheese and Herb Scones:

If you're looking for a savoury option, cheese and herb scones are a fantastic choice.
Sharp cheddar cheese, combined with herbs like rosemary or chives, creates a savoury and aromatic scone that pairs perfectly with soups or salads.

Chocolate Chip Scones:

For those with a sweet tooth, chocolate chip scones are a delightful treat.
The combination of buttery scone dough and melty chocolate chips is simply irresistible.

Lemonde Scones

The lemonade in lemonade scones adds a subtle sweetness and tartness to the scones, which complements the flavour of the jam and cream that they are often served with.
They are known for being light, fluffy, and moist.
These are just a few examples, but the possibilities are endless when it comes to scone flavours.
Don't be afraid to get creative and experiment with different ingredients to find your favourite flavour combination.
Tips to remember when baking your scones
Here are some tips to keep in the back of your mind to ensure your scones turn out perfectly every time:
Use cold butter:

Cold butter is essential for creating a flaky texture in scones.
Make sure to cut the butter into small cubes and keep it chilled until you're ready to use it.

Handle the dough gently:

Overmixing or kneading the dough too much can result in tough scones. Handle the dough as little as possible to keep it light and tender.

Don't skip the resting time:

Allowing the scone dough to rest for about 10-15 minutes before baking helps relax the gluten and ensures a more tender texture.

Use a sharp cutter:

When cutting out the scones, use a sharp knife or biscuit cutter to create clean edges.
Avoid twisting the cutter, as this can seal the edges and prevent the scones from rising properly.

Bake at the right temperature:

Preheating your oven and baking the scones at the recommended temperature is crucial for achieving the perfect rise and golden colour.
By remembering these tips, you'll be well on your way to baking the most delicious scones you've ever tasted.
Now lets get started with the basic scone recipe:


Yield: Yield: 12 Scones
Basic Scone Recipe for Delicious Results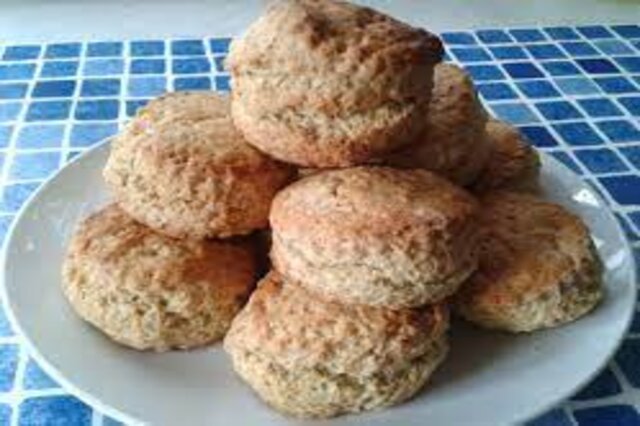 Get ready to indulge in the perfect scone with our basic recipe!
Easy to follow and guaranteed to deliver delicious results. Try it now!

This basic scone recipe is popular because they are simple to make, versatile, relatively inexpensive, and delicious.
Additionally these scones are light, fluffy, and moist, with a slightly sweet flavour that is perfect for any occasion. They are a comfort food that is enjoyed by people of all ages.

Before we dive into the step-by-step instructions, let's first go over the basic ingredients you'll need to make scones:

Prep Time 5 minutes

Cook Time 15 minutes

Total Time 20 minutes
Ingredients
2 cups plain (all-purpose) flour
1/4 cup granulated sugar
2 and 1/2 teaspoons baking powder
1/2 teaspoon salt
1/2 cup unsalted butter, cold and cut into small cubes
1/2 cup milk
1 teaspoon vanilla extract
Optional add-ins (such as dried fruits, chocolate chips, or herbs)
Instructions
Now that you have your ingredients ready, let's move on to the step-by-step instructions for making perfect scones:
Preheat your oven to 220°C (425°F) and line a baking sheet with parchment paper.
In a large mixing bowl, whisk together the flour, sugar, baking powder, and salt until well combined.
Add the cold butter cubes to the flour mixture and use a pastry cutter or your fingertips to cut the butter into the flour until the mixture resembles coarse crumbs.
The small pieces of butter will create pockets of air in the dough, resulting in a flaky texture.
Make a well in the centre of the mixture and pour in the milk and vanilla extract.
Use a fork to gently mix everything together until just combined. Be careful not to overmix, as this can lead to tough scones.
If you're adding any optional ingredients, such as dried fruits or chocolate chips, gently fold them into the dough at this stage.
Turn the dough out onto a lightly floured surface and gently knead it a few times until it comes together. Be gentle to avoid overworking the dough.
Pat the dough into a circle or rectangle about 2.5 cm (1 inch) thick.
Use a sharp knife or a biscuit cutter to cut out individual scones. Place the scones onto the prepared baking sheet, leaving some space between them.
Brush the tops of the scones with a little milk to help them brown and develop a beautiful golden crust.
Bake the scones in the preheated oven for 12-15 minutes or until they are lightly golden on top.
Keep a close eye on them to prevent overbaking.
Once baked, transfer the scones to a wire rack to cool slightly before serving.
Serve them warm or at room temperature with your favourite spreads or toppings.
Notes
4 Ingredient Scone Recipe

Whip up a batch of delicious scones with just 4 simple ingredients! Perfect for a quick and easy breakfast or afternoon tea.

Create fluffy, and moist scones with crisp crumbly edges following our easy steps and enjoy a tasty treat in no time.

Ingredients:
3 Cups Self Raising Flour
75 grams (2½ ounces) Butter
1½ Cups Milk
¼ tsp salt
extra flour
extra milk
Instructions
Preheat oven to 220℃/425℉
Lightly dust a large baking tray with flour.
Add your 3 cups flour and salt to a bowl.
Chop up cold butter into small pieces, toss them into the flour and rub the pieces into the flour by pressing them between your fingertips.
Do this until it resembles fine breadcrumbs.
Make a well in the centre. Add milk and quickly mix to a soft dough using a knife.
Knead 2 to 3 times.
Push the dough down into a 2.5 cm high square. Use a lightly floured knife to cut into 12 even size pieces, wiping off and flouring the knife between each cut.
Place the scones on the baking tray, nestling them up against one another.
Brush tops with a little more milk, then bake for 12-15 minutes.
The scones are ready when they feel firm when squeezed in the middle.
Fruit Scones

Turn your basic scones or 4 ingredient scones into tasty fruit scones.
If you decide to add fruit to the recipe, it's best to use dehydrated fruit.
Avoid fresh fruit, it usually contains too much water, which will change the consistency of the scones.

Simply add ½ tbsp of castor sugar or cinnamon and 1 cup of anything off the list to the dry flour mixture in the recipe.

Some of our favourite additions are:
Raisins
Sultanas
Dates
Dried cranberries
Chocolate Chip Scones

You can create your chocolate chip scones using either the basic scones or 4 ingredient scone recipes.
Mixing in chocolate chips also adds a sweet twist to the classic scone.

Simply add 1 cup of chocolate chips to the flour mix.
You can also add ½ tbsp of castor sugar if you like.

More variations and add-ins for scones

While the basic scone recipe is a wonderful starting point, don't be afraid to get creative and experiment with different flavours and add-ins.

Here are some ideas to inspire you:
Lemon Blueberry Scones:
Add fresh lemon zest and blueberries to the dough for a refreshing and tangy twist.
Cinnamon Raisin Scones:
Mix in ground cinnamon and a handful of raisins for a cozy and aromatic treat.
Maple Pecan Scones:
Drizzle maple syrup over the scones and sprinkle chopped pecans on top before baking for a decadent flavour combination.
Rosemary and Parmesan Scones:
Add finely chopped fresh rosemary and grated Parmesan cheese to the dough for a savoury delight.

Feel free to play around with different flavour combinations and add-ins to find your personal favourite.
The beauty of homemade scones is that you can customise them to suit your taste preferences.

Serving and enjoying scones

Scones are best enjoyed fresh out of the oven or within a few hours of baking.
They pair wonderfully with a variety of spreads and toppings.

Here are some ideas for serving and enjoying your homemade scones:
Savoury Options:
Scones always go down well as a side dish with many main meals.
They are great for mopping up any juices or gravies when serving casseroles, soups &
stews.

We often have these scones with Ki Si Min or boil up recipe for a main meal.
Traditional:
Serve your scones with whipped or clotted Cream and your favourite fruit preserves for a classic English afternoon tea experience.
Butter and Jam:
Spread some butter and your favourite jam or jelly on a warm scone for a simple yet delightful treat.
Whipped Cream and Berries:
Top your scones with a dollop of freshly whipped cream and a handful of fresh berries for a light and refreshing dessert.

Remember, scones are meant to be enjoyed with loved ones, so invite your family and friends to join you for a delightful scone feast.

Frequently asked questions about scones
Can I freeze scone dough?
Yes, you can freeze scone dough for future use.
Simply shape the dough into individual scones, place them on a baking sheet, and freeze until solid.
Once frozen, transfer the scones to a freezer bag and store them for up to three months.
When ready to bake, simply thaw the desired number of scones and bake as usual.
Can I make scones without eggs?
Yes, you can make scones without eggs.
Simply omit the eggs from the recipe, and add a bit more liquid (such as milk or buttermilk) to achieve the right consistency.
Why are my scones dry and crumbly?
Dry and crumbly scones can be the result of overmixing the dough or overbaking them.
Be sure to handle the dough gently and bake the scones just until they are lightly golden on top.
Can I use whole wheat flour instead of all-purpose flour?
Yes, you can substitute whole wheat flour for all-purpose flour, but keep in mind that the texture and flavour of the scones will be slightly different.
Whole wheat flour tends to make the scones denser, so consider using a mix of whole wheat and all-purpose flour for best results.
Conclusion and final thoughts

Congratulations! You've reached the end of the ultimate scone guide, and you're now equipped with the knowledge and skills to create perfect homemade scones.
Whether you prefer plain basic scones, fruity variations, or savoury options, there's a scone recipe for everyone.

Remember to start with a basic scone or 4 ingredient scone recipe and then let your creativity shine by adding your favourite flavours and add-ins.
Don't be afraid to experiment and make the recipes your own.
With practice and patience, you'll become a scone-making expert in no time.

So, gather your ingredients, preheat your oven, and get ready to embark on a delicious scone-making adventure. Enjoy the process, savour the aroma, and indulge in the mouthwatering results. Happy baking!
Recommended Celebrity Cookbooks
This post contains affiliate links. If you use these links to buy something we may earn a commission. Thanks.
Nutrition Information
Yield
12
Serving Size
1
Amount Per ServingCalories 90Total Fat 8gSaturated Fat 5gTrans Fat 0gUnsaturated Fat 3gCholesterol 21mgSodium 114mgCarbohydrates 5gFibre 0gSugar 5gProtein 0g

"These values are automatically calculated and offered for guidance only. Their accuracy is not guaranteed."