Create fluffy, and moist scones with crisp crumbly edges using this easy scones recipe.
Learn how to make fluffy scones without eggs with this 4 common ingredient easy scone recipe.
Traditional scones are fairly plain on their own, but are classically eaten with jam and whipped cream, making for a real treat.
They also make a perfect side dish to go alongside a main meal of soups stews and casseroles.
There are different ways you can change up these scones.
If you want fruit scones or chocolate chip scones, I'll show you how with some simple additions.
Or maybe you're looking for a lemonade scone using only 3 ingredients. This 4 ingredient cheese scone recipe is also a winner.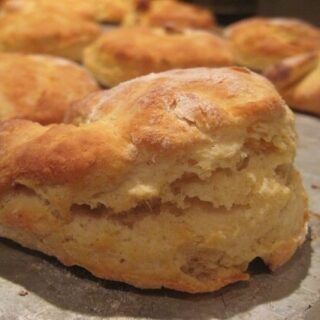 Australian Scone Recipe
Yield: Yield: 12 Scones

Prep Time: 5 minutes

Cook Time: 15 minutes

Total Time: 20 minutes

How to make scones - this has to be the best australian scone recipe and uses only 4 ingredients to create easy scones in no time.
This is the faster way to make classic scones which call for butter to be rubbed or blitzed into flour.

best australian scone recipe
Serve with jam and whipped cream for a quick morning or afternoon tea.
Ingredients
3 Cups Self Raising Flour
75 grams Butter
1½ Cups Milk
¼ tsp salt
extra flour
extra milk
Instructions
Preheat oven to 220℃/425℉
Lightly dust a large baking tray with flour.
Add your 3 cups flour and salt to a bowl.
Chop up cold butter into small pieces, toss them into the flour and rub the pieces into the flour by pressing them between your fingertips.
Do this until it resembles fine breadcrumbs.
Make a well in the centre. Add milk and quickly mix to a soft dough using a knife.
Knead 2 to 3 times.
Push the dough down into a 2.5 cm high square. Use a lightly floured knife to cut into 12 even size pieces, wiping off and flouring the knife between each cut.
Place the scones on the baking tray, nestling them up against one another.
Brush tops with a little more milk, then bake for 12-15 minutes.
The scones are ready when they feel firm when squeezed in the middle.
Notes
6 Tips for Perfect Scones
The key to making perfect scones is working quickly, so that the butter doesn't soften too much.
So don't soften your butter.
Always use butter straight from the fridge and use chilled milk as well.
Cold butter and milk helps to make the scones rise higher.
If it's hot in your kitchen, freeze your butter before making scones.
If you have a food processor process the flour, sugar, salt and cold butter until the mixture resembles breadcrumbs.
Use a round-ended table knife to stir in the milk and water.
Arrange your scones side by side on your baking tray, just touching one another, helps in making the scones rise evenly, and higher.
The heat causes the scones to rise. If they are placed side by side, the scones will be forced to rise upwards, not outwards.
Fruit Scones

Turn these traditional scones into tasty fruit scones.
If you decide to add fruit to this recipe, it's best to use dehydrated fruit.
Avoid fresh fruit, it usually contains too much water, which will change the consistency of the scones.

Add ½ tbsp of castor sugar or cinnamon and 1 cup of anything off the list to the dry flour mixture.
Some of our favorite additions are:

Raisins
Sultanas
Dates
Dried cranberries
Chocolate Chip Scones

Create your chocolate chip scones from this easy scones recipe
Mixing in chocolate chips also adds a sweet twist to this classic.

Simply add 1 cup of chocolate chips to the flour mix. You could also add ½ tbsp of castor sugar if you like.

Easy Scones Recipe Ingredient Substitutions
Plain flour instead of self-raising flour

Substitute self raising flour with 3 cups plain flour (all-purpose flour) and 3½ tsp baking powder.

Use yoghurt in place of milk

I sometimes use a mixture of water and natural yoghurt (50ml of each) in place of milk.
It depends on what I have in the fridge and what flavour I'm going for (yoghurt adds a bit more of a tangy flavour to the scones).

Dairy-Free Scones

Use a dairy free block butter instead of the butter.
Use a dairy-free milk like oat milk.

Easy Scones Serving Suggestions
Serve with jam and a dollop of whipped cream.
These always go down well as a side dish with casseroles, soups &
stews.
We often have these scones with Ki Si Min as a main meal.
Recommended Celebrity Cookbooks
This post contains affiliate links. If you use these links to buy something we may earn a commission. Thanks.
Nutrition Information
Yield 12 Serving Size 1
Amount Per ServingCalories 219Total Fat 6gSaturated Fat 4gTrans Fat 0gUnsaturated Fat 2gCholesterol 18mgSodium 488mgCarbohydrates 34gFibre 1gSugar 0gProtein 6g