Ki Si Min or Kai Si Ming is a delicious dish that has been passed down for generations.
Making Ki Si Min can seem like a daunting task, but with the right techniques and ingredients, you can serve up an authentic and delicious bowl in no time!
Learn the traditional art of making a modern, healthy yet authentic Ki Si Min/Kai Si Ming using our comprehensive, step-by-step guide.
Making a Healthy and Authentic Ki Si Min – A Complete Guide
Whatever you want to call it Ki Si Min or Ki Si Ming or Kai Si Ming, it is an Asian-inspired one-pot mince, cabbage and rice dinner.
Its like a savoury mince, come curry, come Chinesey looking stew type dish.
The good thing about this budget friendly Ki Si Min recipe is that their are some good variations and great leftover ideas.
You will probably have the ingredients in your pantry, and best of all, you can add whatever vegetables you have on hand.
It is also freezable and the more often it is reheated the better it tastes.
Ki Si Min Origin
Ki Si Min is said to originate from the central part of China and is a traditional dish shared among families.
Its origin story dates back to over two-hundred years ago when people had limited access to food ingredients due to poverty and wars.
In order to make full use of the limited ingredients at hand, these Chinese created what was then known as "Ki Si Min" – noodles cooked with whatever vegetables or meat scraps were available at the time.
Today, it is one of the most popular dishes in China and can be found across many Chinese restaurants located all around the world.
The recent history of Ki Si Ming is as much a transTasman debate as the pavlova, so I'm staying out of that arguement and going to call it an ANZAC recipe.
A bit of research online taught me that Ki Si Min hit both the NZ and Aussie dinner scene sometime in the 60s.
This is when recipes for it started popping up in women's magazines such as;
NZ Plunket newsletters and the.NZ Womens Weekly cookbook or Australias Sunbeam mix master cook book.
As well as the above mentioned, I have also seen it going by the names kai see ming, ki si mein and ki sing ming.
For many Australians and Kiwis this was their first step into the world of Asian cooking, although this dish doesn't look like any real Asian dishes I know.
Ki Si Min vs Chow Mein
Despite the similarities between Ki Si Min and Chow Mein, there are still some drastic differences.
Ki Si Min is generally much lighter in flavour, typically containing vegetables like cabbage, carrot, onions, plus rice, wheat noodles and minced beef.
Chow mein is a noodle dish made with fried egg noodles, vegetables, and meats such as chicken, pork, or beef.
The noodles are usually cooked in soy sauce and then stir-fried with the other ingredients.


Yield: Yield: 4 Large Serves
Kai Si Min Recipe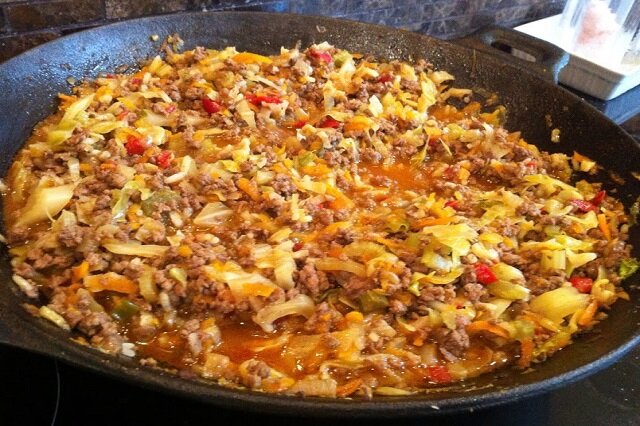 Recipe To Make Ki Si Min
You can't go wrong with this Australian & Kiwi family favourite from the 60s.

A quick & easy savoury meal with mince. Kids love mince, in fact the whole family will enjoy this lightly curried dish!
One good thing about this Kai Si Min is, the longer it sits, the better it tastes.

Prep Time 20 minutes

Cook Time 2 hours

Total Time 2 hours 20 minutes
Ingredients
500g beef mince
1 large carrot
½ small cabbage
1 small onion
1 Tbs curry powder
1 pkt chicken noodle soup
½ cup rice
Instructions
Chop the onion finely.
Dice the carrot into 1cm cubes.
Finely shred the cabbage.
Brown the meat in a large deep frypan or pot. Cook until it changes colour.
Add curry powder, onion, carrot and the contents of chicken noodle soup. Stir to combine.
Add cabbage and fold through.
Add enough water to just cover the top of the vegies, do not flood it with too much water.
Add the rice. Stir it all to combine it well.
Simmer with lid on and folding for for two hours or until the rice is done, the longer the better.
You may need to add extra water.
Notes
Can you make Ki Si Min in advance?
Yes, you can make kai si ming ahead of time.
To make it in advance, prepare the dish and cook the dish.
Cover it with foil and place it in the fridge for up to two days before re-heating.
Can Ki Si Min be frozen?
Yes, Ki Si Min can be frozen.
However, it is important to freeze the dish as soon as it has cooled after cooking in order to maintain its quality.

To thaw safely, you can place the dish in the refrigerator overnight before reheating using a microwave oven.
How long can Ki Si Min be frozen?
Ki Si Min can be frozen for up to 3 months.
For best results, transfer the kai si ming in an airtight container before freezing it.

Thaw it in the refrigerator overnight or before reheating.
How can Ki Si Min be reheated?
Simmer in your Frypan with lid on and Fold it every now and then until well re-heated through.
You may need to add extra water.

Or in the microwave;
Start by putting a portion of Ki Si Min in a microwavable bowl.
Add 1-2 tablespoons of water, then cover the bowl with wax paper or plastic wrap, being sure to leave one corner open for steam to escape.
Microwave on high for 1 minute, remove the plastic wrap carefully (it will be hot!) and stir.
Re-cover the bowl and continue microwaving for 30 second intervals until heated throughout. Enjoy!

What To Eat With Ki Si Min

Some good serving suggestions and side-dishes for this would be;

Brown Rice;
Brown rice is often served as an accompaniment to Ki Si Min alongside being great for your health.

Known for its nutty, earthy taste, brown rice helps round out the savoury flavours in curry this spiced meal.
Plus, the carbs in brown rice will help make your meal even more filling.
Scones;
Scones makes for another hearty side dish that really rounds out kai si min quite nicely.
Especially if you're looking for something filling but not overwhelmingly heavy.

Serve with buttered Plain Scones, but buttered Cheese Scones would be my favourite.
Fried Tofu;
Fried tofu is a popular side dish that can be served alongside ki si min.
This vegetarian option provides a great source of protein and fiber, as well as essential omega-3 fatty acids.

It also adds a nice texture to the meal and has a mild flavour that won't overpower the delicate taste of your dish.
Hard Boiled Eggs;
Adding hard-boiled eggs to your ki si min is an easy way to add some protein and a mild flavour to the soup without overwhelming it.

Hard-boiled eggs are incredibly easy to prepare in advance and can be stored in an airtight container in your fridge for up to 4 days without any problem.
Or for a bit of an extra zing serve with these tasty deviled eggs.
Stir-Fried Vegetables;
Stir-frying vegetables is a quick and easy way to add some colour, crunch, and nutrition to your ki si min.
A few favourite veggies to stir fry include broccoli, capsicum/bell peppers, mushrooms, carrots, and bok choy.
All these will pair nicely with the flavours of your ki si min.
Asian Noodle Salad;
Asian noodle salad makes for an interesting side dish for ki si min because it's both light and flavorful at the same time.

You can make this salad by mixing together cooked noodles (such as soba or udon) with shredded cabbage, diced red pepper, chopped green onion, sesame oil and soy sauce for an Asian twist on traditional salad recipes.
Green Papaya Salad;
Also known as som tam in Thai cuisine, green papaya salad is one of my all time favourite sides when when having kai si ming!
This spicy crunchy salad includes strips of unripe papaya combined with tomatoes, peanuts, garlic cloves, chilies and other spices.
All these flavourings are brought together by tangy lime juice which complements the light flavours already present in your bowl of Ki Si Min amazingly!
Coconut Rice;
Coconut rice is another delicious addition that you can have with Ki Si Min.
Simply mix equal amounts of cooked white or jasmine rice mixed together with coconut milk in order to get a creamy fragrant side dish perfect
for spooning into your steaming bowl of kai si min.
Ki Si Ming Recipe Variations

Swap this recipe around a bit, here's some ideas;

Kaffir Lime Leaves;
Kaffir lime leaves are the star of Ki Si Min and they provide an intense citrus-like flavor to the dish.
Kaffir lime leaves have a strong aroma and it pairs perfectly with the flavours already in this dish.

Try adding a few slices of kaffir lime leaves to your Ki Si Min at the end of cooking for extra zest and flavour!
Shiitake Mushrooms;
For extra umami flavour to your own version of Ki Si Min, you should consider adding shiitake mushrooms.
They come with a pungent aroma that will only livens up the dish's hearty texture in no time!

Just be sure to fry them first before adding them into the mix just before serving so you don't overcook them!
Fish Sauce or Soy Sauce;
Fish sauce and soy sauce pack a major flavour punch when paired with other ingredients used in Ki Si Min recipes while adding subtle depths without overwhelming or outshining any one ingredient

The saltiness also complements other elements already present in dishes like this one such as the cabbage and rice, so use generously!
Tamarind Juice (or Pulp);
If you want truly authentic tasting Ki Si Min then tamarind juice (also known as Ta Krai) is essential as it gives that signature sweet & sour taste which constitutes Asia's classic food culture.
You can get prepared bottled drinks but if you find some tamarind pulp that gives a richer flavour!

Substitute the curry powder with some Tamarind juice or pulp.
Red Chillies & Coriander Leaves Topping It Off;
To top off all these tasty ingredients why not add some som Takhrai (ginger), red chillies, green bird's eye chillies sliced on top for added visual appeal along with sprinkling some chopped coriander leaves when serving?

The vibrant pop of colour along with fragrance and moreish heat from these two makes for irresistible finishing touches for an amazing bowl of kai si ming when dining out at home!
Vegetables;
Adding fresh vegies to your bowl of Ki Si Min can greatly enhance its overall flavor and texture.
For example throw in some cubed pumpkin, cubed potato, sliced celery, frozen peas, corn or broccoli.

That nutritional punch complements the light yet tasty ingredients found in this comforting dish.
Be sure to add vegetables in the last half hour of cooking since they cook fast!
Substitute the rice;
Swap the rice for Pasta noodles if you prefer for a slightly creamier texture.
Ki Si Min Leftovers

Here are some great ideas for using leftovers -

Use as a topper;
This is great reheated and served on buttered toast or an open sandwich.
It also makes an ideal bread roll or sloppy joe filling.
Curry Puffs;
Who doesn't like a good curry puff? Here's how to create them using leftovers.

Start by cutting a puff pastry sheet into four squares. Next place about a tablespoon of mix in the centre of each piece of pastry.
Now fold over to make parcels and seal the edges. Cook in hot oven till golden brown.
Serve and enjoy.
Wrap or Tortilla Filling;
Another great idea is to use it as a filling for tortillas.
You could either reheat and roll up in wraps or tortillas and eat.
Or roll up and toast in a sandwich press to reheat and give it a bit of extra crunch.
Frozen Meal;
Makes the perfect frozen meal and is great to keep in the freezer for a quick meal or snack.
Just defrost and re-heat and serve with your favourite side-dish.
Recommended Celebrity Cookbooks
This post contains affiliate links. If you use these links to buy something we may earn a commission. Thanks.
Nutrition Information
Yield
4
Serving Size
1
Amount Per ServingCalories 417Total Fat 23gSaturated Fat 9gTrans Fat 1gUnsaturated Fat 11gCholesterol 117mgSodium 556mgCarbohydrates 14gFibre 2gSugar 2gProtein 37g