Whatever you want to call it Ki Si Min or Ki Si Ming or Kai Si Ming is an Asian-inspired one-pot mince, cabbage and rice dinner.
Its like a savoury mince, come curry, come Chinesey looking stew type dish.
The good thing about this budget friendly Ki Si Min recipe is that their are some good variations and great leftover ideas.
You will probably have the ingredients in your pantry, and best of all, you can add whatever vegetables you have on hand.
It is also freezable and the more often it is reheated the better it tastes.
The origins and history of Ki Si Ming are as much a transTasman debate as the pavlova, so I'm staying out of that arguement and going to call it an ANZAC recipe.
A bit of research online taught me that Kai Si Ming hit both the NZ and Aussie dinner scene sometime in the 60s.
This is when recipes for it started popping up in women's magazines such as;
NZ Plunket newsletters and the.NZ Womens Weekly cookbook or Australias Sunbeam mix master cook book.
As well as the above mentioned, I have also seen it going by the names kai see ming, ki si mein and ki sing ming.
For many Australians and Kiwis this was their first step into the world of Asian cooking, although this dish doesn't look like any real Asian dishes I know.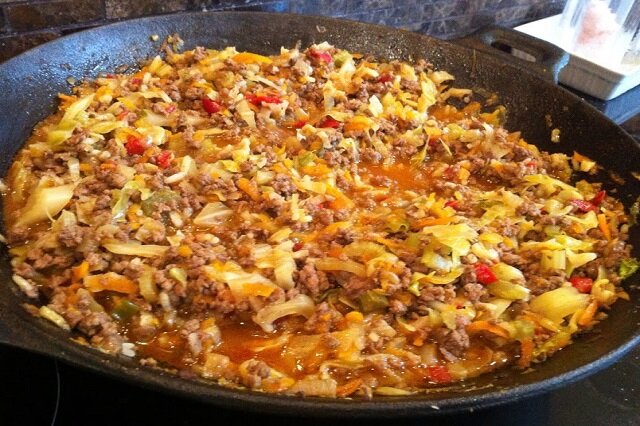 Yield: Yield: 4 Large Serves
Kai Si Min
Prep Time: 20 minutes

Cook Time: 2 hours

Total Time: 2 hours 20 minutes

Recipe To Make Ki Si Min
You can't go wrong with this Australian & Kiwi family favourite from the 60s.

A quick & easy savoury meal with mince. Kids love mince, in fact the whole family will enjoy this lightly curried dish!
One good thing about this Kai Si Min is, the longer it sits, the better it tastes.
Ingredients
500g beef mince
1 large carrot
½ small cabbage
1 small onion
1 Tbs curry powder
1 pkt chicken noodle soup
½ cup rice
Instructions
Chop the onion finely.
Dice the carrot into 1cm cubes.
Finely shred the cabbage.
Brown the meat in a large deep frypan or pot. Cook until it changes colour.
Add curry powder, onion, carrot and the contents of chicken noodle soup. Stir to combine.
Add cabbage and fold through.
Add enough water to just cover the top of the vegies, do not flood it with too much water.
Add the rice. Stir it all to combine it well.
Simmer with lid on and folding for for two hours or until the rice is done, the longer the better.
You may need to add extra water.
Notes
See serving suggestions, recipe variations plus ideas for using leftovers below.
Recommended Celebrity Cookbooks
This post contains affiliate links. If you use these links to buy something we may earn a commission. Thanks.
Nutrition Information
Yield
4
Serving Size
1
Amount Per ServingCalories 417Total Fat 23gSaturated Fat 9gTrans Fat 1gUnsaturated Fat 11gCholesterol 117mgSodium 556mgCarbohydrates 14gFibre 2gSugar 2gProtein 37g
What To Eat With Ki Si Min
Some good serving suggestions for this would be –
Rice;
Serve with steamed rice and flavour with soy sauce.
Scones;
Serve with buttered Plain Scones, but buttered Cheese Scones would be my favourite.
French bread;
Slices of French bread and butter make a good side-dish.
Ki Si Ming Recipe Variations
Swap this recipe around a bit, here's some ideas –
Use any vegetables that you have on hand;
For example throw in some cubed pumpkin, cubed potato, sliced celery, frozen peas or corn or broccoli.
Substitute the rice;
Swap the rice for Pasta noodles if you prefer.
Swap the meat around;
Substitute the beef with pork or go ½ and ½.
Rice Types;
Use any rice Basmati, Brown or plain white.
Ki Si Ming Leftovers
Here are some great ideas for using leftovers –
Use as a topper;
This is great reheated and served on toast.
Curry Puffs;
Using puff pastry sheets cut into four.
Place about a tablespoon of mix on each piece of pastry.
Fold over and seal the edges.
Cook in hot oven till brown.
Wrap or Tortilla Filling;
Reheat and roll up in wraps or tortillas
Frozen Meal;
Great to keep in the freezer for a quick meal or snack.
Just defrost and re-heat in the microwave.