This is a smooth and creamy, slightly tangy cocktail sauce that adds to the flavour of foods without being overpowering.
It's the perfect accompaniment for seafood, chicken plus other appetisers and finger foods.
Made using simple ingredients, this is super easy to make, delicious and ready in minutes.
This cocktail sauce takes fresh prawns or seafood to another level.
It's really worth making your own dipping sauces when you've invested in fresh juicy seafood such as prawns, crayfish/lobster, shrimp, crab and mussels.
The stuff in jars lacks the fresh flavour of homemade cocktail sauces and just doesn't do your foods justice!
A must try cocktail sauce recipe with mayonnaise that goes with much more than just seafood.


Yield: Yield: 175 ml
Cocktail Sauce Recipe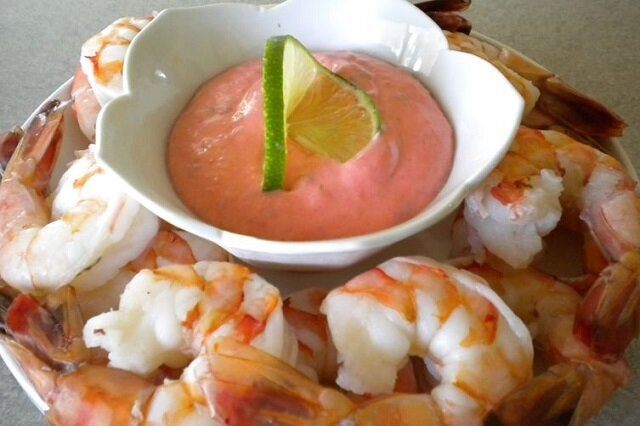 A delicious cocktail sauce, mild yet tangy and can be created in no time at all.

Add to a prawn cocktail. or use as a dipping sauce with chicken, fish, crayfish/lobster, mussels, shrimps or oysters.
It's the perfect marriage of flavours.

Prep Time 5 minutes

Additional Time 15 minutes

Total Time 20 minutes
Ingredients
¼ cup thickened/whipping cream
¼ cup tomato sauce (ketchup)
⅛ cup Worcestershire sauce
¼ cup mayonnaise
1 tsp Tabasco sauce
2 tsp Lemon Juice
Instructions
Whip cream lightly.
Combine remaining ingredients in a bowl.
Fold whipped cream through the sauce gently.
Put in a bowl and refrigerate.
Notes
If you need to make this seafood cocktail sauce in advance, store the sauce in a jar or airtight container in the fridge for up to 3 or 4 days.
Bring back to room temperature and use.
Recommended Celebrity Cookbooks
This post contains affiliate links. If you use these links to buy something we may earn a commission. Thanks.
Nutrition Information
Yield
1
Serving Size
1
Amount Per ServingCalories 224Total Fat 22gSaturated Fat 4gTrans Fat 0gUnsaturated Fat 17gCholesterol 16mgSodium 503mgCarbohydrates 6gFibre 0gSugar 3gProtein 1g
Cocktail Sauce Recipe Variations
Brandy

Adding brandy will really give it more depth.
Substitute the lemon juice with 2 tsp Brandy.

Sweet N Sour

Make a light sweet n sour sauce by adding ⅛ cup of orange marmalade.
What Is Cocktail Sauce Used For
Serve as a cocktail or dipping sauce with chicken, fish, crayfish/lobster, mussels, shrimps or oysters.
Add to nacho chips and cheese, warm in microwave or oven.
Add to a good meatloaf recipe or use as a topping.
Add to cream cheese and make dip.
Use as a dipping sauce for arancini risotto balls.
Make sweet n sour sauce by adding orange marmalade or sweet juices and bake on pork or beef.
Dollop on top of your ham and cheese omelette.
Serve deep-fried mushrooms on toothpicks dipped in sauce.
Use as a dipping sauce for chicken nuggets.
Smear on fish cakes.
This cocktail sauce is great on burgers or hot dogs.
Dollop on the top of deviled eggs as a fingerfood or appetiser.
Use as a dip for these bacon wrapped oysters.
Drizzle on avocado toast for unique flavours.
Cocktail Sauce For Prawns
This is a fantastic cocktail sauce for both prawns and shrimp.
You can create a prawn cocktail by tossing your cold prawns or seafood through sauce and serve on a bed of lettuce as an appetiser.
If you are using whole prawns, remove heads and peel them.
Leave a few whole for decorative purposes, if you wish.
I find that with medium size already cooked prawns, deveining is usually not necessary.
Make your seafood cocktail sauce as per the recipe in a small bowl.
Toss prawns with Sauce.
You only want a thin coating, not dripping.
Place a bit of lettuce in serving dishes. You can use any small serving vessel, or even small lettuce cups.
Fill with prawns. Serve, garnished with lemon wedges.
Prawn Dip
This creamy seafood cocktail sauce makes a great prawn dip.
It is ideal to serve as a prawn dipping sauce with the prawns on toothpicks.
Using whole prawns, remove heads and peel them.
Make your seafood cocktail sauce as per the recipe in a small bowl.
Skewer the prawns with toothpicks and arrange on a platter on a layer of fresh lettuce leaves.
Serve alongside your bowl of prawn dip.