« Back to Glossary Index
Check out this comprehensive guide to selecting the ideal frying pan! Learn which materials and features work best, so you can pick the perfect one for all your cooking tasks.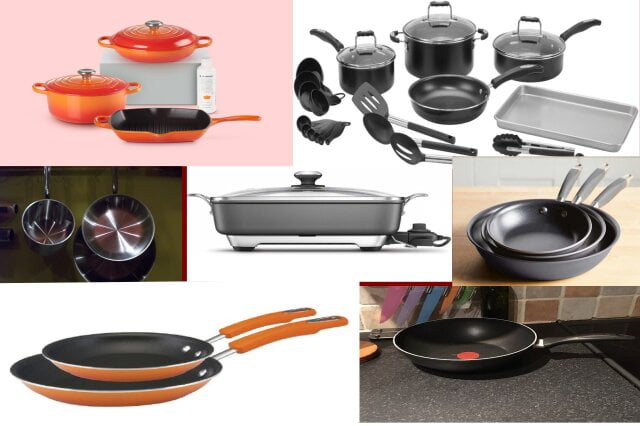 The Definitive Guide to Choosing the Right Frying Pan
Cooking up delicious dishes at home can be a breeze when you have the right tools.
That's why having the best frying pans matter!
What is a Frying Pan?
A frying pan is a flat-bottomed shallow cooking pan used for frying, sautéing, searing, and browning foods.
It is typically round or circular in shape but can also come in different shapes and sizes.
Frying pans often have a long handle to allow them to be easily moved between the stove and countertop.
Is a Frying Pan the Same as a Skillet?
Frypan vs skillet, while traditionally a frying pan and skillet were two separate pieces of cookware, in today's kitchen they can be used almost interchangeably.
A frying pan is usually shallower, with sloped sides that are good for flipping and tossing food, while skillets tend to be deeper and have straighter sides, perfect for searing or browning meats.
Is an Omelette Pan the Same as a Frying Pan?
An omelette pan is a type of frying pan that is specially designed with low edges, allowing you to easily slide omelettes out onto a plate.
It usually has slanted sides that are more curved than those of a regular frying pan, so the egg mixture can be easily folded in half.
Although it is technically still a frying pan, due to its unique designit is better suited for making omelettes than other types of fried dishes.
Is a Wok a Frying Pan?
A wok is a round-bottomed, deep frying pan with sloping sides.
It is mainly used for stir-frying, steaming and deep-frying food.
Woks provide a larger surface that provides more efficient heat transfer than a typical frying pan, making it an essential part of preparing Chinese cuisine.
What's The Difference Between a Wok and a Frying Pan?
Although both are used for cooking, woks and frying pans have different characteristics.
A wok is usually shallow with sloped sides and a rounded bottom, while a frying pan is generally deeper with straight sides and a flat bottom.
Woks are ideal for stir-frying and cooking food quickly over high heat, while frying pans are better suited for sautéing or shallow-frying with lower temperatures.
Is a Griddle Pan a Frying Pan?
A griddle pan is not technically a frying pan, as it has ridges, bumps, or grooves to give each item you are cooking an ideal texture.
Frying pans typically do not have these features and are used for frying food in oil.
What's the Difference Between a Griddle Pan and a Frying Pan?
A griddle pan is a flat, wide cooking surface that is often made of cast-iron and can be heated either on the stove top or over an open flame.
It is used to fry and cook food quickly, usually in minimal amounts of oil, butter, or other fat.
A frying pan, however, has deeper sides than a griddle pan and has a flat bottom with no ridges.
It is often also made of cast-iron but can also be made from stainless steel or nonstick material.
8 Types of Frying Pans that Every Home Cook Needs
From classic cast iron skillets to revolutionary non-stick varieties, here are the 8 essential types of frying pans for aspiring home chefs.
Cast Iron Frying Pans;

Cast iron frying pans are a classic staple in the kitchen.
They are is not only incredibly durable and virtually indestructible, but it also retains heat better than other pans, giving you a nice even sear when cooking.

A well-seasoned cast iron pan conducts heat evenly, making it great for searing meats, sautéing vegetables, making omelets and even perfect desserts like peach cobbler.
Cast iron also becomes a non-stick surface and can also be used in the oven.
A well-seasoned cast iron pan will last you decades, if not a lifetime!

However, be aware that they heat up slowly, but will hold their temperature well and conduct heat evenly.

The enamelled version will protect the iron and cut down on the maintenance.

Cast Iron Frypan Uses

sautéing
pan-frying
searing
baking
braising
grilling/broiling
slow cooking
roasting.

Non-Stick Frying Pans;

Non-stick frying pans are a distinguished upgrade from cast iron or stainless steel, as they're designed specifically for cooking delicate items such as crepes and omelettes.

This cookware is a common application, where the non-stick coating allows food to brown without sticking to the pan.
As long as you don't overheat them on too high of a temperature, nonstick fry pans are one of the most beginner friendly cookware pieces as they are simple to clean and use every day for your meals.

Nonstick frying pans are essential for those who want to enjoy healthier meals without extra oil needed and without the mess of food sticking to the bottom of the pan.

Non-sticks are coated with a non-toxic synthetic material that won't react with food so you can fry an egg without any extra oil or butter.
The generally smooth surface also makes them easier to clean than traditional frying pans.

Non stick pan tip
Always use wooden, bamboo, silicone or plastic utensils on them to protect the surface, avoid scratching and prolong their life.

Non stick pan uses

Ideal for cooking –

egg dishes
delicate fish
cheesy foods like quesadillas
stirfried rice noodles
poaching
shallow frying

Carbon Steel Frying Pans;

Carbon steel frying pans offer many of the benefits of cast iron with better heat control and ability to moisten food in a more delicate manner.
Carbon steel frying pans shine with their combination of heat retention and lightweight construction.
They have a texture similar to cast iron and react similarly, so they long lasting, good at browning and searing food yet easy to handle.

Like its heavier counterpart, carbon steel skillets must be seasoned which gives the surface no-stick properties while also deepening their flavours over time.
Since carbon steel tends to season over time, use it frequently for best results and get delicious meals every time!

As an added bonus these types of non-stick frying pans are naturally free from the toxins found in some synthetic coatings.

sear meats
vegetables
eggs
pancakes
stir fry dishes
cooking omelets
bake pizza
bake desserts like crêpes.

Ceramic Coated Frying Pans;

Corningware's ceramic coated pans boast an advanced non-stick surface with a tough, durable finish.
This type of frying pans comes pre-seasoned which helps with making them quick and easy to clean.

They retain heat well for consistent cooking and superior browning, plus their scratch-resistant construction also makes them safe for use with metal utensils.
Ceramic coated frying pans are perfect for low-fat cooking as little to no additional grease is needed when preparing your favorite meals.

Ceramic fry pans are perfect for

dishes that require low levels of heat
high-heat cooking such as searing meats and veggies
searing and browning foods
stir-fries
one-pan meals

Hard Anodized or Aluminum Frying Pans;

Hard anodized frying pans are made of aluminum that has been hardened for added durability.
They are perfect for high heat cooking such as searing, browning and sautéing.

The hard anodization process also makes them resistant to scratches and easy to clean, while their special texture provides a better grip when handling hot pans.

Aluminum frying pans are lightweight, require little oil and can withstand higher temperatures than some other types of pans.
They quickly and evenly distribute heat which ensures even cooking making them perfect for pancakes, omelettes and grilled sandwiches.

Aluminum fry pan uses

Perfect for cooking

omelettes
scrambled eggs
seared chicken breasts
grilled vegetables
sauces
curries, and stir-frys.

Stainless fry pan;

Made of durable stainless steel makes these heavy-duty pans require very little maintenance.
Stainless steel can be a poor heat conductivity relative to other materials unless reinforced with aluminum or copper.

Stainless fry pan tip
Choosing one with heavy aluminium or copper in the base is best, this makes them a great conductor of heat and helps reduce burning.

Stainless fry pan uses

Perfect for cooking

stir-fries
sautééd vegetables
seared meat
chicken and seafood
sauces
firmer fish like tuna and salmon

Copper Frying Pans;

Copper frying pans offer some impressive benefits when preparing your meals in the kitchen such as improved heat conductivity during cooking thanks to their thin walls that won't retain too much heat at once,
It has faster preheating times due to increased uniformity across whole surface area so food doesn't stick easily either!

And lastly copper cookware is also rustproof meaning it should stay looking brand-new for years on end even after regular washing cycles from home cooks all around house without fading!

Copper fry pan uses

Perfect for cooking

delicate items such as fish and crepes
sautéing vegetables
stir-frying meats and vegetables
browning meat
searing steaks

Electric frying pan;

An electric frying pan is an electrical appliance used for frying and browning food.
It usually consists of a shallow metal pan – either round or square – and an electric heating element to heat the bottom of the pan.
Accordingly, it has heat insulated legs for standing on a benchtop.

They offer a fast and convenient way to cook food.
Electric frying pans are often easier to use than conventional frying pans because they have an adjustable thermostat for controlling the temperature of the pan.

Most are designed with straighter sides, include a lid and most have a non stick surface.

Electric Frypan Uses

simmering
slow cooking
shallow frying
boiling
searing
What Frying Pan Should I Buy
It's important to consider the type of cook you are and what kind of dishes you plan on creating when choosing a frying pan.
Different materials like stainless steel, non-stick, cast iron and aluminum require different levels of maintenance and heat.
Additionally, grooved or flat bottoms can make a difference in how food cooks.
Here's some tips from chefs on finding the best frying pan to buy.
Understand the Different Types of Frying Pans;
There are many types of frying pans available and it's important to understand the different materials they come in.
Non-stick pans provide an easier cooking experience with less clean-up time.
They also reduce the time spent oiling before use.

Cast iron frying pans have excellent heat retention and durability, making them perfect for long-term use.

Stainless steel frying pans offer excellent heat conduction, while copper frying pans feature enhanced heat distribution with great temperature control.

Consider Size, Shape and Weight When Choosing a Pan;
When it comes to choosing the right frying pan, size and shape are important features to consider.
If you're a beginner, look for one with a flat bottom and low sides so that food can easily be turned or removed.

Heavy pans are good at distributing heat evenly, so if your budget allows, choose heavier options over lightweight pans.
However, make sure the handle isn't too heavy – you should be able to lift it comfortably while cooking.

Consider Non-Stick Technology for Easy Cleaning;
Many of the top frying pans now come with a non-stick coating, which makes clean up much easier.
The majority of chefs prefer Teflon-coated pans for their non-stick properties, however there are ceramic and scratch-resistant coatings on the market as well.

Non-stick cooking surfaces make it easier to cook delicate foods, reducing the chance of burning or sticking to the pan.
They also have minimal fat requirements, making them a healthier alternative compared to other pans.

Choose High Quality Ingredients for Durability and Longevity;
When choosing a frying pan, look for one made with high quality materials such as aluminum or stainless steel.
Pans with thicker walls usually have better heat conduction and hold heat more evenly for use over longer cooking periods.

Thicker-gauge metals are also easier to keep clean and are less likely to warp under high temperatures.
In addition, pans with heavy-weight lids properly trap moisture and steam, sealing in all the juices and flavors of the food.

Look for Stay Cool Handles on Your Frying Pan;
When searching for a frying pan, one of the most important features to look for is a stay cool handle.
Stay cool handles come in many shapes, sizes and materials but are designed with two goals in mind; safety and comfort.

Ceramic or silicone-coated metal handles remain cool to the touch even when exposed to high heat so you won't need potholders or oven mitts when removing them from the stove.
They also prevent burned hands while helping preserve the integrity of your cookware.
What frying pan do chefs use?
Cooking enthusiasts know that the right frying pan can make a big difference in the way your meals turn out.
From non-stick to stainless steel, there's a wide range of frying pans on the market, each with its own unique features to help you create delicious culinary masterpieces.
Learn about some of the best brands of fry pans that chefs use and find out which one is perfect for your cooking needs.
Le Creuset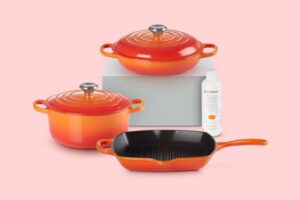 Le Creuset is a premium French cookware company that offers exceptionally high-quality frying pans.
Cook perfectly prepared meals with the help of this three-piece fry pan set from Le Creuset.
Easy-to-clean, non-stick interiors make for quick meal prep and easy clean-up.
The expertly crafted pans feature superior heat retention for even cooking, ergonomic handles for a secure grip, deep frying walls for high volume frying and prevent spilling onto stovetops.
With its vibrant design, Le Creuset pans provide a bright pop of colour to any kitchen and make dish preparation easier than ever before.
Features and benefits:
Non stick interior surface
Superior heat retention
Ergonomic extendable handle
Triple enamel coating
Cook better tasting food more easily with less effort and less fat required
Superior heat resistance eliminates uneven cooking and ensures great results.
The Le Creuset frying pan even has a lifetime warranty, so you know you're getting quality when you invest in this brand.
All-Clad Fry Pans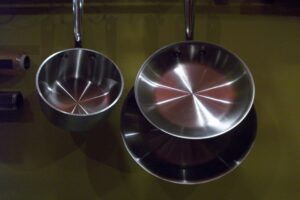 All-Clad is another top-of-the-line brand of cookware that is known for their excellent construction and design.
All-Clad Pans are the top choice for professional chefs and home cooks alike.
These frypans feature a three-ply bonded construction with a pure aluminum core that efficiently transfers heat from the stovetop to your food.
The stainless-steel cooking surface is stick resistant and safe for use with all types of utensils.
And its stylish yet durable design makes it perfect for any kitchen!
Features and benefits:
Three-ply bonded construction with an aluminum core
Nonstick stainless steel cooking surface
Efficiently transfers heat from the stovetop
Safe for use with all utensils
Cooks food evenly and efficiently
Easy clean up – no scrubbing required!
Durable design, built to last a lifetime
Perfect companion piece for your cookware set
Tefal Fry Pans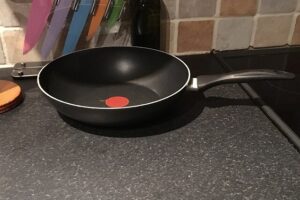 Tefal is a brand of non-stick cookware made with a special non-stick coating developed by Tefal called Thermo-Spot.
Cook up a storm with Tefal's five-piece frying pan set.
This set includes three sizes of fry pans, one deep skillet and one griddle pan.
All pieces are made from durable stainless steel with an aluminum core for faster heat distribution.
The non-stick coating reduces sticking while cooking, and make it easy to clean.
Features and benefits:
Set of 5 pans (3 fry pans, 1 deep skillet and 1 griddle pan)
Made of durable stainless steel with an aluminium core
Non-stick coating
Silicon handles remain cool to touch
Cook fast and well using the faster heat distribution properties of the aluminium core
Easy to cook and clean non-stick surface
Keep safe while cooking thanks to the cool silicon handles
Anolon Titanium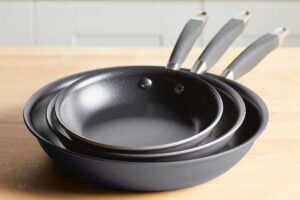 For professional chefs or dedicated home cooks who want some extra durability out of their frying pan;
The Anolon Titanium Frying Pan Set creates a luxurious gourmet cooking experience.
This three-piece set is the perfect set to whip up scrumptious sides and decadent desserts with confidence and comfort.
Manufactured with titanium-reinforced construction, these forged pans offer superior strength, unrivaled performance and maximum heat conduction for best culinary results.
Features and Benefits:
Durable stainless steel construction
Triple layer nonstick titanium PFOA-free coating
Heat resistant handles for improved safety
Oven safe to 450 degrees F/232 degrees C
Enjoy healthier cooking with less fat or oil needed for frying
Clean up easily without scrubbing thanks to the triple layer nonstick surface
Quickly monitor during food preparation with stay cool stainless steel handles
Achieve excellent kitchen convenience with oven safe performance
Cuisinart Professional Chef Collection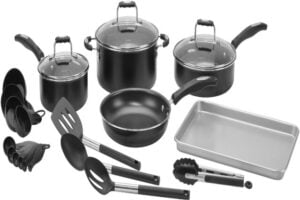 Cuisinart Professional Chef Collection features impressive construction that ensures even heat distribution throughout your cooking experience!
Made from hard anodized aluminum, these pans offer enhanced durance yet remain lightweight enough that transferring dishes around should not be difficult either!
Cook like a pro with the Cuisinart Professional Chef Collection Frying Pan Set.
Featuring 3 professional pans crafted from hard-anodized aluminum – 8″, 10″ & 12″ sizes – this set is ready for your creative kitchen concoctions.
Each pan has a triple-layer nonstick interior coating and stainless steel core, giving you perfectly cooked food quickly & easily without sticking.
Plus, it's oven safe up to 500°F for finishing up dishes and preparing multiple ones at once.
Features and benefits:
Triple-layer nonstick interior coating
Stainless steel core
Hard-anodized aluminum construction
Heat resistant silicone handle grips
The triple layer PFOA free nonstick interior ensures effortless cooking and effortless cleaning
Durable hard anodized material is 5x harder than stainless steel, helps evenly distribute heat and is oven safe to 260°C (500°F)
Rachael Ray Cucina Nonstick Skillet Set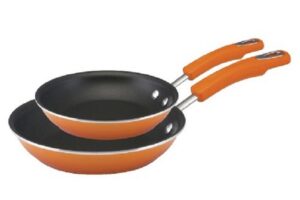 The Rachel Ray Cucina Skillet set offers both great fashion sharpness plus superior performance!
This Rachael Ray® Cucina Nonstick Skillet Set is an essential addition to your everyday kitchen, whether you're cooking for yourself or your family.
The set includes two nonstick skillets in 8-in. and 10-in. sizes, perfect for sautéing vegetables or searing a steak.
They feature sturdy aluminum construction that heats quickly and evenly, plus silicone handles that reduce slipping when in use.
Plus, the exclusive Infinity Slide Technology™ ensures effortless food release and maximum resilience against scratching, staining or warping.
Features and benefits:
Durable aluminum construction for quick heating
Innovative Infinity Slide Technology™ for effortless release
Dual riveted PFOA Free Silicone Handles offer a secure grip Benefits
Oven safe to 175°C (350°F) for added cooking versatility
Comfortable silicone handle for solid gripAlso added bonus given complimentary rubber tipped turner included.
Scanpan Fry Pan Set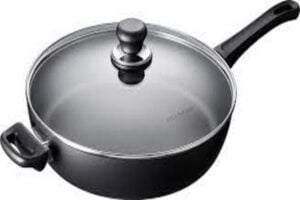 Scanpan Classic 10900024 Fry Pan Set might just perfect option anyone looking maximal control over cooking process.
The Scanpan Classic Fry Pan Set is the perfect frying pan set for culinary perfection at home.
Made of 100% recycled alloy, with patented technology to make them non-stick and durable.
An ideal gift for the eco-conscious cook, this set features a 9.5" fry pan and an 11" fry pan for full versatility even over medium heat.
Features and benefits:
100% recycled alloy construction
Non-stick surface coating
Improved stay cool handles
PFOA free & induction capable
Easy cleaning paired with complete convenience when cooking
Longer lasting product compared to traditional non-stick alternatives
Unparalleled performance over medium to high heat making it a great choice for home chefs/cooks
Intricately designed handles ensure ergonomic comfort during use
« Cooking Definitions