This is an all-time favourite turkey stuffing recipe that creates the best stuffing ever.
It never fails to get rave reviews and goes great alongside both chicken and pork as well.
This recipe for turkey stuffing is sort of a "kitchen sink" recipe because it has just about everything in it except the kitchen sink!
The thing that really make it sing is starting with some really good sour dough bread for the base.


Yield: Yield: 2kg Stuffing
How to make turkey stuffing from scratch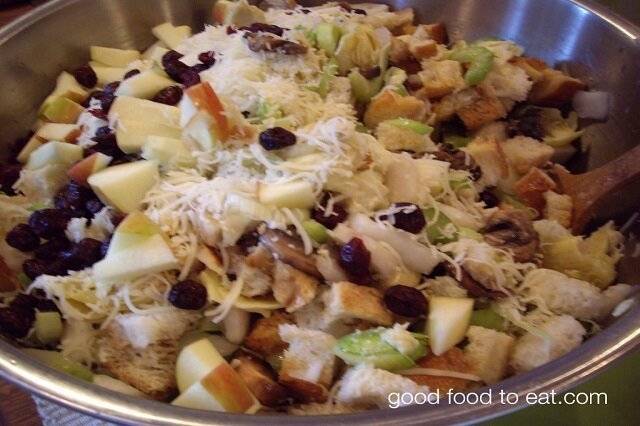 How to make turkey stuffing from scratch.
This simple turkey stuffing is the classic homemade version of your dreams. It's the best Thanksgiving stuffing recipe you'll ever try.

The Sourdough bread gives it a tangy taste to build on with the parmesan cheese and artichokes topping it off.
The apples and nuts give a nice texture change, while getting a taste of lemon in the mushrooms with a sweet, plump raisin sneaking in there.

Prep Time 20 minutes

Cook Time 55 minutes

Total Time 1 hour 15 minutes
Ingredients
Dry ingredients
2 Loaves of Sourdough bread, cut into 2cm cubes
4 -5 Tbsp Butter
Lemon juice
500 grams Mushrooms, cleaned and sliced
500 grams Ground Italian Sausage
1 Large onion, chopped
2 Cups Celery, chopped
1 Clove minced garlic
1-2 Cans artichoke hearts, drained
1 Cup Grated parmesan cheese
1 Can Water Chestnuts, drained and sliced
1-2 Tart Apples, cored and chopped
1 Cup Raisins
1 Cup Walnuts, chopped
½ Cup Parsley, chopped
½ Cup Fresh Rosemary, chopped
Salt & Pepper to taste
Wet ingredients
1 Large Turkey or Chicken
2 Large eggs, beaten
3 – 5 Cups Chicken broth
Instructions
Spread bread cubes on a jelly role pan in a single layer and toast in a 175°C (350°F) oven until dry, crisp and golden brown, about 25 minutes.
Shake pan a couple of times during baking and turn over once half-way through.
Cool and store in dry place until ready to use.
This can be done ahead of time.
Melt butter in sauté pan and add sliced mushrooms. Sauté until tender and add lemon juice. Set aside.
Cook sausage over medium heat, mincing into small pieces as you cook.
Take out of pan and set aside.
Pour some of the chicken stock into the pan over low heat to loosen all of the browned bits from the pan and reserve.
In large bowl, add bread cubes and the rest of the dry ingredients.
In smaller bowl or pitcher, beat eggs, add pan drippings and chicken broth, mix together.
Pour wet ingredients over dry ingredients and mix gently.
Add mushrooms and sausage and mix again.
Stuff bird in both cavities and cook.
Bake remaining stuffing in a covered greased baking dish at 175°C (350°F) for about 30 minutes.
This should be cooked when the turkey is almost done.
Remove stuffing from the cooked turkey immediately and put into large bowl.
Add the cooked stuffing from the baking dish and mix together gently.
Spoon into fresh serving dish and enjoy the compliments you'll be getting!
Notes
A jelly roll pan is simply a smaller version of a rimmed baking sheet or swiss roll pans.
Recommended Celebrity Cookbooks
This post contains affiliate links. If you use these links to buy something we may earn a commission. Thanks.
Nutrition Information
Yield
1
Serving Size
1
Amount Per ServingCalories 6903Total Fat 513gSaturated Fat 229gTrans Fat 10gUnsaturated Fat 266gCholesterol 1539mgSodium 22947mgCarbohydrates 370gFibre 52gSugar 178gProtein 250g