This crispy, refreshing spinach salad is easy to make with fresh ingredients, tossed with a quick ranch dressing, and is easy to customise with your favourite add-ins!
We took our favourite things to pair with spinach: crisp bacon, egg, parmesan and toasted almonds, and tossed everything together for the perfectly balanced salad bowl.
Lastly, the homemade spinach salad dressing definitely helps to pull everything together.
You can create your ranch dressing from scratch or use your store bought favourite.
This parmesan bacon spinach salad makes for the perfect side-dish for lunch or even dinner when you want to have a light meal at night.


Yield: Yield: 1 Serve
Spinach Salad Recipe With Bacon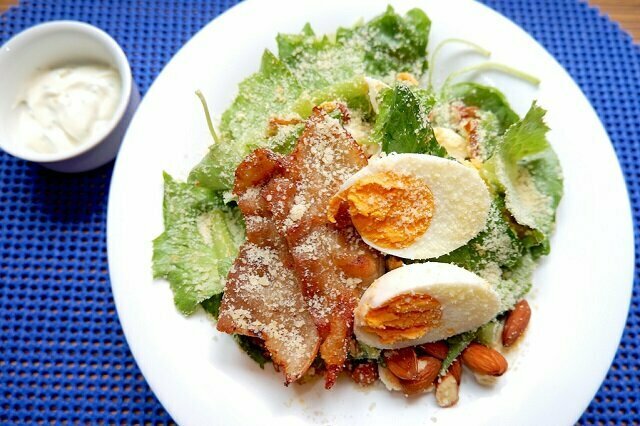 This is the best spinach salad recipe with bacon ever and I think you're going to love it!
It's loaded with crispy bacon, lettuce and spinach with a hint of cheese!

Served with crusty bread, and your own ranch dressing, this is really a meal on its own, rather than just a salad.

Prep Time: 10 minutes

Cook Time: 5 minutes

Total Time: 15 minutes
Ingredients
Spinach salad ingredients:
1 cup Romaine lettuce, coarsely chopped
1 cup fresh Spinach
¼ Spring Onion
2 Bacon slices, cooked
1 hard-boiled Egg, sliced
1 Tbsp Almonds, toasted and chopped
2 Tbsp Parmesan Cheese
Spinach salad dressing ingredients:
1 Tbsp Sour Cream
1 Tbsp Mayonnaise
2 tsp Whipping Cream
1 tsp fresh Dill, chopped
⅛ tsp Onion powder
⅛ tsp Garlic powder
¼ tsp Lemon juice
Sea salt, to taste
Instructions
For the spinach salad dressing:
Place the dressing ingredients(mayo, whipped cream, sour cream) in a bowl.
Season it with onion powder, garlic powder and salt.
Add the fresh dill.
Mix until well combined. Set aside.
For the spinach salad:
In a large mixing bowl, add the lettuce and spinach.
Add the chopped bacon.
Add the sliced boiled-egg.
Add the chopped almonds.
Add the green onions.
Sprinkle with parmesan cheese.
Lastly, add the ranch dressing.
Toss the salad with dressing until well combined. Serve.
Notes
Cooking Bacon
For this salad, we like to use our oven to cook the bacon. Baking bacon is hands-off and results in crisp bacon slices, perfect for this salad.
Bake bacon slices in a 200℃/400℉ oven until crisp, 12 to 18 minutes.

What To Serve With Spinach Salad
Butter Prawns

This salad is perfect on its own for a light lunch alongside a serve of Butter Prawns

BBQ Side-dish

It's a great side-dish for any Barbecue or take on any picnic.

Meats

It can also be a great accompaniment to some nice steak, seafood or roast chicken.

Potato Salad

Potato salad is a classic option, and it's one that's easy to prepare in advance.

You can also add your favourite vegetables here, like green beans, tomatoes, cucumber, and carrots.

Crunchy BLT Sandwich

BLT is a classic, and its name comes from the main ingredients – bacon, lettuce, and tomatoes.

So build your BLT sandwich and serve on a plate alongside your salad.
The lettuce and bacon add a bit of crunchiness alongside the spinach salad, while the soft and refreshing tomatoes keep the meal light.

A creamy pasta salad is a great option for what to serve with your spinach salad.

You can use whole wheat pasta or spiral pasta, and you can also vary the ingredients depending on your own personal preferences.
You could also try adding Julienne cut cherry tomatoes, olives, feta cheese, dried cranberries, and black pepper to your plate.

Macaroni Cheese

Macaroni cheese is a rich and creamy dish consisting of macaroni pasta mixed with a cheesy sauce making it a great pairing with this dish.

Maybe add some Julienne cut cherry tomatoes, olives, feta cheese to your plate with a side of hot garlic bread.
Spinach Salad Recipes With Bacon

Using the recipe above, you can use these ideas to jazz it up and make this recipe your own.

Spinach Salad With Feta Cheese and Bacon

Make your own spinach, feta cheese and bacon salad.
Simply toss through diced feta cheese.

Spinach Salad with Chilli

Toss a bit of chopped fresh chilli through this salad.

Bacon Salad with Tomatoes

For flavour and presentation, different-coloured cherry tomatoes are a really nice addition too.

Bacon and Spinach Salad with Cranberries

For a slightly flavour variation, substitute the almonds with dried cranberries.

Chicken and Bacon Salad

Create your own chicken and bacon salad.
For a different flavour and texture, halve the bacon and replace with shredded chicken.

Cauliflower and Bacon Salad

Substitute the spinach with diced cauliflower florets.

Jamie Oliver Style Dressing

If you fancy spicing up your dressing, try it Jamie Oliver style!

Start by peeling some ginger and grating it into a bowl.
Now stir in some sesame oil, along with olive oil, soy sauce, and lime juice.
Add a drizzle of balsamic vinegar.
Whisk the dressing together. Easy!
Nutrition Information:
Yield: 1 Serving Size: 1
Amount Per Serving:Calories: 442Total Fat: 37gSaturated Fat: 11gTrans Fat: 0gUnsaturated Fat: 22gCholesterol: 242mgSodium: 1371mgCarbohydrates: 8gFibre: 3gSugar: 3gProtein: 21g

"These values are automatically calculated and offered for guidance only. Their accuracy is not guaranteed."