The Classic BLT has to be the greatest sandwich ever created and this basic, no-frills BLT sandwich couldn't be easier to make.
What is a BLT?
A BLT is a type of sandwich, it's name comes from the initials of the main ingredients, bacon, lettuce and tomato.
The blt recipe can be made with variations according to your personal preference.
Simple variants can include using different types of lettuce, toasting or not, or adding mayonnaise.


Yield: Yield: 2 Sandwiches
BLT Sandwich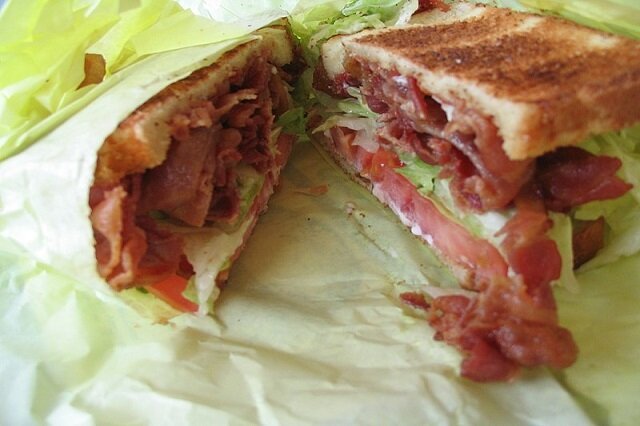 BLT Recipe.
An easy-to-make bacon, lettuce, and tomato sandwich . Bacon, perfectly ripe tomatoes, and fresh lettuce are the main components to the BLT.

The BLT sandwich (bacon, lettuce, tomato) is a true classic, great for breakfast, lunch, or dinner. Make the perfect sandwich every time with this recipe.

Prep Time 5 minutes

Cook Time 5 minutes

Total Time 10 minutes
Ingredients
4 Bacon rashers
4 Lettuce leaves
1 Tomato
4 slices of your favourite bread
Sandwich spread (butter, margarine, mayonnaise, cream cheese, etc.)
Instructions
Cut the bacon rashers into small pieces about 7cm long.
Cut the lettuce in to small pieces.
Slice tomato into thin circles.
Take the pieces of bread and put them in a toaster.
While the bread is toasting, fry the bacon in a pan. Stop frying when it looks cooked. Do not burn it.
When the toasted slices are ready, put on the sandwich spread.
Put the lettuce, tomato slices, and bacon together in the sandwich.
Cut into triangles and serve.
Notes
The slices of bread do not need to be toasted, but it makes the sandwich more crunchy.
BLT Sandwich Variations
Another type of the BLT is the BLO where you use onions not tomatoes.
Have a BLT Roll instead of a sandwich.
Use dark rye or multigrain instead of white bread.
You can mix the lettuce with mayonnaise if you want.
Try adding grated cheese or a cheese slice.
See our Ultimate BLT Sandwich Recipe.
Recommended Celebrity Cookbooks
This post contains affiliate links. If you use these links to buy something we may earn a commission. Thanks.
Nutrition Information
Yield
2
Serving Size
1
Amount Per ServingCalories 243Total Fat 10gSaturated Fat 3gTrans Fat 0gUnsaturated Fat 6gCholesterol 23mgSodium 617mgCarbohydrates 26gFibre 3gSugar 5gProtein 13g