The Ultimate Guide to Making Perfect Macaroni Cheese
Make delicious Mac n' Cheese with ease following this ultimate guide!
From tips on ingredients, variations and more, you will find everything you need to master macaroni cheese making today.
Indulge your taste buds with our delicious macaroni cheese recipe!
Featuring a creamy cheese sauce, bacon, tomatoes and onion for added flavor, our macaroni cheese is the perfect dinner for any occasion.
Enjoy this comfort food favourite with loved ones, or make a batch for yourself to savor the cheesy goodness!
We decided to take the classic macaroni cheese recipe a step further by adding some extra ingredients.
We incorporated crispy bacon, tomato and onion for a more complex yet tasty dish!
Take your meal to the next level with this twist on macaroni cheese – it's sure to be a hit!
Where is macaroni cheese from?
Even though macaroni cheese is available all over the world, it most likely originated in Italy.
Documents from the 16th century show that pasta with cheese and butter was already being prepared in those days.
The first recipe for macaroni cheese, however, was published by a French chef in 1769.
From there, its following spread and it soon became a popular dish in Northern America and Europe as well.
Today, people all over the world enjoy this comfort food, presenting their own versions of the classic recipe.
If you're looking for comfort food, macaroni cheese definitely hits the spot!


Yield: Yield: 4 Large Serves
Recipe For Macaroni Cheese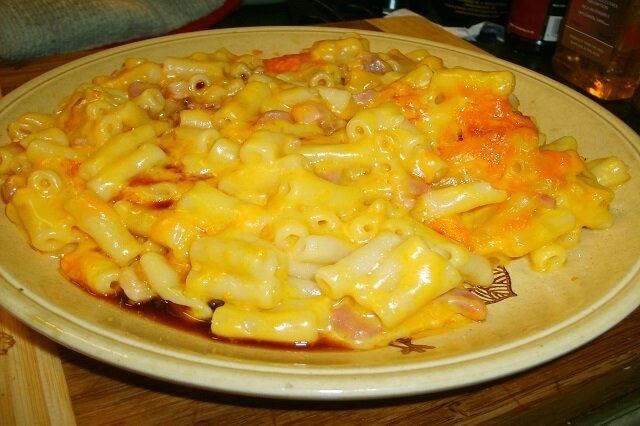 Create an indulgent and homely baked dish using this recipe for macaroni cheese.
The crunchy bacon plus onion and tomato flavours blended with the tender macaroni pasta make for a perfect flavour combination.

The cheese sauce livens up the dish and provides a delectable creamy texture, that complements the bacon and tomatoes splendidly.

Prep Time 10 minutes

Cook Time 30 minutes

Total Time 40 minutes
Ingredients
2 Tbsp butter
1 small onion
2 Tbsp plain flour
2 cups milk
2 cups grated cheese
2 cups macaroni elbows
1 x 400 gram can of diced tomatoes
200 grams diced bacon
4 cups water
salt
pepper
Instructions
Preheat oven to 190℃ / 375℉
If using tomatoes, drain them and set aside.
In a saucepan bring water to a vigorous boil and season with salt.
Add macaroni elbows and boil for 8 - 10 minutes or until Al dente.
Melt butter in a saucepan. Add onion and cook until clear, add the bacon now.
Stir in flour and cook until frothy.
Gradually add milk, stir constantly until sauce boils and thickens.
Remove from heat.
Season with salt and pepper to taste.
Stir in half the cheese.
Add macaroni noodles, if you're using tomatoes, add them now, stir in to combine.
Pour in to an oven proof dish.
Sprinkle the rest of the cheese over the top.
Cook for 20 minutes or until golden and heated through.
Notes
Can you make macaroni cheese in advance?

Yes, you can make macaroni and cheese ahead of time.
To make it in advance, prepare the dish up to the point before you bake it.
Cover it with foil and place it in the fridge for up to two days before baking.

When ready to bake, remove the dish from the fridge, uncover and bake as directed.

Can macaroni cheese be frozen?

Yes, macaroni and cheese can be frozen.
It's best to freeze it before baking, so that you can thaw and bake it when you're ready to eat.

To do this, assemble the dish according to the recipe instructions then cover tightly with several layers of plastic wrap and foil.
When ready to eat, thaw overnight in the refrigerator and then bake as usual.

Can cooked macaroni cheese be frozen?

Yes, cooked macaroni cheese can be frozen.
However, it is important to freeze the dish as soon as it has cooled after cooking in order to maintain its quality.

To thaw frozen macaroni cheese safely, you can place the dish in the refrigerator overnight before reheating using a microwave oven.

How long can macaroni cheese be frozen?

Yes, macaroni and cheese can be frozen for up to 3 months.
For best results, transfer the macaroni in an airtight container before freezing it.
Thaw the frozen macaroni and cheese in the refrigerator overnight or before reheating.

How long does macaroni cheese last in the fridge?

Cooked Macaroni and cheese will last for three to five days in the refrigerator.
To keep it at its best, be sure to store macaroni and cheese in an airtight container or wrap it well with aluminum foil or plastic wrap.

How can macaroni cheese be reheated?

Reheating macaroni and cheese in the oven is a great way to keep it crispy on the outside and creamy on the inside.
Preheat your oven to 350°F (176°C). Place the macaroni and cheese in an oven-safe dish and cover with a aluminium foil or lid.
Bake for 25 minutes, stirring every 15 minutes, until the macaroni and cheese is hot all the way through.

Or alternatively you can use the microwave oven.
Start by putting a portion of mac and cheese in a microwavable bowl.
Add 1-2 tablespoons of water, then cover the bowl with wax paper or plastic wrap, being sure to leave one corner open for steam to escape.
Microwave on high for 1 minute, remove the plastic wrap carefully (it will be hot!) and stir the mac and cheese.
Re-cover the bowl and continue microwaving for 30 second intervals until heated throughout. Enjoy!

What To Eat With Macaroni Cheese

Looking for something delicious to pair with your macaroni and cheese?
Check out this list of the top 10 ideas that can enhance your cheesy, creamy goodness.

Leafy Greens;
Leafy greens pair well with macaroni and cheese because they add a fresh, vibrant flavour to the heavy, creamy dish.
The sharp flavours of leafy greens like spinach and kale help to balance out the richness of the cheese and also provide necessary nutrients like vitamins A and C.

A tasty side dish of sauteed greens such as spinach, kale, silverbeet goes down well with this mac and cheese.
Buttered Bread;
Sometimes simple is best.

Buttered bread is the quintessential companion to macaroni and cheese.
The crunchy crust of toasted, buttered bread brings a welcome textural contrast to the creamy cheese and pasta dish, adding an extra layer of flavour and decadence.

Serve with this pancake style 90 second microwave bread
Adding it to your macaroni and cheese transforms the classic from comfort food to gourmet.
Cheese Scones;
Cheese scones are a great duo with Macaroni Cheese because they bring added crunchy texture and subtle flavour, the cheesy cheese scones contrast deliciously with the creamy mac and cheese.
The combination also brings out the richness of both dishes and make for a truly indulgent meal.

Hot, buttered cheese scones always go well with this dish.
Garlic Bread;
Garlic bread pairs well with macaroni cheese because the savoury flavour of the garlic complements the cheesy dish.

The crunchy texture of garlic bread also provides a nice contrast to the creamy pasta.
Together, they create a delightful combination of flavours and textures for a satisfying meal.
Roasted Vegetables;
Serving some roasted vegetables with your mac and cheese is a great way to balance out the richness of the dish.

You can choose any vegetable you enjoy and roast it until it's tender, then serve alongside your macaroni and cheese for an extra flavour boost.
Broccoli, cauliflower, carrots, peppers, Brussels sprouts and Asparagus Spears all work well with this tasty combination!
Beet Salad;
Fresh beets are often overlooked when looking for a side dish for macaroni and cheese but the earthy sweetness of beets pairs surprisingly well with the cheesy dish.

To make a simple beet salad, combine finely cubed roasted beets with some sliced scallions and toss in a light dressing made of olive oil and balsamic vinegar.
Cold Rice Salad;
Cold rice salad pairs nicely with a creamy and warm macaroni cheese for two reasons:
1. the contrasting temperatures of the two sides creates an interesting juxtaposition that is both pleasing to the palate
2. the neutral flavour profile of cold rice salad helps to balance out the rich flavours of the macaroni cheese.

Green Salad;
A crisp green salad is always refreshing when paired with something as heavy as macaroni and cheese.
Throw together some romaine lettuce, cherry tomatoes, thinly sliced red onions, crumbled feta cheese and serve it up with your gooey plates of elbows!
Pickled Onions;
If you're looking for something sharp to contrast against the creamy sauce of your pasta: add pickled onions!
Quickly boil thin slices of onions in brine until softened then chill before adding them to your plates alongside the cheesy pasta.

Their tartness will be sure to bring life to this classic dish!
Garlic Bread Croutons;
If garlic bread was ever involved then why not add some crispy croutons too?
All you need to do is cut thick slices buttery garlic bread into cubes then pop them into a moderately-hot oven until they attain that crunchy texture we all adore so much!

Sprinkle them onto hearty plates just before serving and enjoy!
Easy Classic Macaroni and Cheese in Just 5 Steps

Looking for something easier? This classic macaroni and cheese is creamy, cheesy, and so easy to make.

This timeless classic never goes out of style!
Serve it up as a side or enjoy it as a hearty main dish.

Ingredients
400g macaroni
50g butter
2 tbsp plain flour
2 cups (500ml) milk
2 cups (250g) grated cheese
Instructions
Preheat oven to 190℃ (375℉);
Start by preheating your oven to 190℃ (375℉) and preparing a 9-inch baking dish lightly with oil or butter.
Cook the macaroni;
Bring a pot of slightly salted water to a boil and add in the macaroni, stirring occasionally for 8 minutes or until al dente.
Drain in a colander, rinse under cold water and set aside.
Make the cheese sauce;
In a medium saucepan over medium-low heat, melt the butter.
Whisk in the flour until smooth and bubbly and then gradually whisk in the milk, stirring constantly until thickened and creamy.
Add in the salt, pepper, nutmeg and half of the shredded cheese and stir till melted into the sauce.
Combine everything together;
Add the cooked macaroni into the cheese sauce pan and mix together until well combined.
Pour this mixture onto your prepared baking dish, sprinkle with remaining cheddar cheese over top and dot with pieces of butter if desired at this point too!
Bake & Enjoy!;
Bake uncovered for 30 minutes until it's golden brown on top, bubbly around edges and cooked through completely on inside - enjoy hot from oven!
10 Unique Ideas to Make Your Macaroni Cheese Even Better

Dare to be different by making a tasty twist on classic macaroni cheese.
From exploding flavours to comfort food favorites, explore the possibilities with our selection of recipes!

Meatlovers Macaroni Cheese
If you love meat and cheese, try this delicious Macaroni Cheese variation! with bacon, chorizo, chicken, salami and a creamy sauce, it's sure to be a hit.

You need to;
1. Dice 50 grams smoky chorizo.
2. Chop up 50 grams cooked chicken.
3. Rip up 25 grams salami.
4. Then fold into your creamy cheese sauce along with the noodles before baking.

Chopped cooked and browned Italian sausage is another meat you could use.

This dish will have everyone coming back for more.
This easy dish is loaded with meaty goodness that all meat-lovers will adore.
Chicken Macaroni and Cheese
The addition of chicken makes this version luxurious and irresistible!

Start by frying 200 grams of diced chicken thigh in a fry pan or skillet.
Mix into your creamy cheese sauce along with the noodles before baking.
Spinach Macaroni and Cheese
For those looking for something a bit healthier yet still delicious, try adding fresh spinach to your macaroni dish to bump up the nutrition content.

Sautée spinach lightly in olive oil for about 2 minutes then mix it into your cheese sauce with the noodles before baking as usual.
Buffalo Chicken Macaroni and Cheese
If you love hot wings, why not mix up the flavors into a spicy mac 'n' cheese?

Pre-cook boneless chicken tenderloins then shred them after cooling down (or use pre-shredded chicken).
Prepare a simple buffalo wing sauce using hot sauce, butter, vinegar & paprika then mix with your pre-cooked chicken before combining all ingredients together before baking.
Cheeseburger Pasta Bake
If you're craving comfort food but want something other than just plain ol' mac & cheese why not spice it up a bit further?

Brown lean hamburger ground beef along with onions & garlic in a large skillet over medium heat until cooked through completely.
Drain off access fat if needed then mix into your creamy cheese sauce along with the noodles before baking.

Perhaps add sliced tomatoes on top for presentation & extra flavour if desired!
Broccoli Cheddar Macaroni and Cheese
Incorporating veggies into dishes is always a great option when trying to stay healthy yet enjoy yummy food at the same time!

Steam broccoli florets lightly in water for 3-4 minutes (until tender).
Fold into your creamy cheese sauce along with the noodles before baking.
Top off with garlic cheddar crumbs before baking as usual!
Mac and Cheese Cracker Topping
Another great option is topping your mac and cheese with whatever type of crackers you have on hand that have some cheesy flavour such as Cheds.
Or you could even use a plain cracker such as Clix or Vita Weets.
Crumbled on top after bakingh will give the dish a nice crunchy texture.
Spinach & Sundried Tomatoes Mac and Cheese
These two ingredients make a great blend together when mixed with mac and cheese, especially if you're looking for something healthier than traditional burgers, fries, or chips!
They also bring tons of flavour when cooked in butter beforehand!
Avocado Slice Mac
Avocado slices make an excellent garnish on top of any dish!
The mild flavour combined with the creaminess pairs perfectly with macaroni and allows you to enjoy all its flavours without overwhelming any one particular flavour too much!
Plus they look really pretty on top!
Mac and Cheese with Chilli Flakes;
If you like a little bit of heat then consider adding chili flakes into the mix.
They are packed full of flavour and bring out more complex tastes in whatever dish it's being served with.

Think garlic powder but spicier! It will add spice without taking over the overall dish so you still get to enjoy its rich flavours.
Mushroom Macraroni Cheese
Mushrooms are an underrated addition when it comes to adding delicious flavours into a bowl of comforting mac 'n' cheese - they work surprisingly well!

Sauteed mushrooms are the perfect addition to macaroni and cheese because they add a savoury umami flavour, while the nuttiness of sauteed mushrooms helps to create a rich and creamy base.

Plus, the earthy taste of mushroom pairs nicely with all sorts of different cheeses.
This makes them an excellent go-to topping for your next macaroni and cheese dish!

Fry mushrooms off in butter until golden brown then mix in with noodles.
Or you could add a handful of small button mushrooms when adding noodles.

Fold into your creamy cheese sauce along with the noodles before baking – you won't regret it!
Mexican Inspired Macaroni and Cheese
Get ready to fiesta this cheesy meal up by adding some extra Mexican flare

Start off by Julienne cutting some green or red capsicum.
Then saute briefly in olive oil until they're nice & fragrant
Add chunky salsa plus either canned black beans & corn (drained) OR cooked ground beef (optional).
Now mix together then fold into your creamy cheese sauce along with the noodles
Top with crushed tortilla chips prior to baking in oven!
Recommended Celebrity Cookbooks
This post contains affiliate links. If you use these links to buy something we may earn a commission. Thanks.
Nutrition Information
Yield
4
Serving Size
1
Amount Per ServingCalories 505Total Fat 28gSaturated Fat 16gTrans Fat 1gUnsaturated Fat 9gCholesterol 81mgSodium 634mgCarbohydrates 42gFibre 3gSugar 2gProtein 23g