Some recipes should be kept simple as nature intended them to be. Pumpkin Soup is one of those dishes.
The natural flavour of pumpkin is already good enough, so you need very little to make a beautiful, full flavoured easy pumpkin soup.
This pumpkin soup without cream is a comfort food that will satisfy your taste buds.
It's not just for Halloween! Pumpkin soup is a delicious and hearty dish that can be enjoyed all year long.
This recipe is the perfect way to use up any leftover pumpkin you have. It's also a great way to enjoy this seasonal vegetable while it's in season.
It's made without cream, so it's perfect for those who want to keep things dairy-free, it is also ketogenic diet compatible and gluten free.
So make sure to measure the right amount of ingredients in this recipe.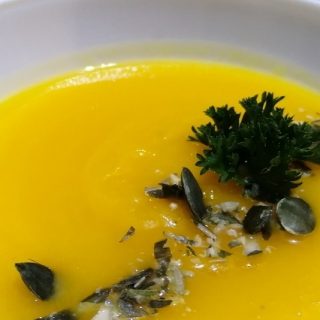 The Best Pumpkin Soup Recipe
Yield: Yield: 1 Serve

Prep Time: 5 minutes

Cook Time: 10 minutes

Total Time: 15 minutes

Using only 4 ingredients that are all thrown into a pot, boiled, blended and served makes this the best pumpkin soup recipe.
Served with buttered crusty bread, this is really a meal on its own, rather than just a soup.
It is also customisable, with some great variations and ideas!
Ingredients
1½ cups Pumpkin, cut into squares.
1 tsp Butter, unsalted
¼ cup Chicken stock
1 tsp Pumpkin seeds
Instructions
Chop the pumpkin into squares.
In a saucepan, add water and add the pumpkin.
Simmer until tender, about 5-10 minutes.
Add the cooked pumpkin in a blender and add butter.
Add chicken stock.
Blend until smooth.
If needed, return in the saucepan and heat before serving.
Top with pumpkin seeds and serve.
Notes
Use any type of eating pumpkin you want but I prefer butternut squash (which is called butternut pumpkin in Australia).

How Long Does Pumpkin Soup Last in the Fridge?

Pumpkin soup can last up to four days in the refrigerator if it is stored properly.
It is best to place the pumpkin soup in an airtight container and consume within two to three days.

how long does pumpkin soup last in the freezer

A homemade pumpkin soup can last in the freezer for up to four months if proper food safety precautions are followed.
Make sure to store your pumpkin soup in an airtight container and allow it to cool completely before freezing.

What To Serve With Pumpkin Soup

Pump up the flavour of your pumpkin soup with these easy and delicious sides.
From fresh greens to warm rolls, these dishes are sure to make your pumpkin soup a truly memorable meal!

Freshly Baked Bread;

Add a delicious side of freshly made bread to your bowl of pumpkin soup.
Whether it's rolls, sourdough, 90 second microwave bread or ciabatta bread, this warm accompaniment is sure to take your soup to the next level.
Serve with butter for an added touch of flavour.

Arugula Salad;

For an earthy and bold twist, why not try an arugula salad?
Preparing the salad is simple:

Toss together some fresh arugula leaves, chopped apples, toasted pecans, shaved Parmesan cheese, and a dressing of extra virgin olive oil, lemon juice, honey, and Dijon mustard.

Paired with a soup as rich as pumpkin puree soup, this dish has a mix of crunchy texture and bold flavour.

Roasted Root Vegetables;

Roasted root vegetables like sweet potato, carrots and parsnips are the perfect accompaniment to pumpkin soup, making it a heartier, more complete meal.

Toss peeled and cubed sweet potato, carrots and parsnips with some olive oil, salt, and pepper and spread on a large baking sheet.
Roast in a preheated oven at 200℃/400℉ for approximately 20 minutes or until visibly golden brown.

Serve these delicious roasted root vegetables alongside your pumpkin soup for the ultimate meal!

Cheese-Stuffed Mushrooms;

Looking to add a little cheese to your meal?
Cheese-stuffed mushrooms make an excellent side dish for pumpkin soup.

Slice white button mushrooms and stuff each one with a cube of cream cheese - this adds a unique flavour and texture to the soup.
Place stuffed mushrooms in the preheated 200℃/400℉ oven and cook for around 15 minutes until golden brown.

Serve these flavourful stuffed mushrooms alongside your homemade pumpkin soup for an incredible autumnal experience!

Buttered Scones;

One of the perfect accompaniments to a bowl of pumpkin soup are some fresh buttered scones.

This soup is perfect with buttered Lemonade scones.
The sweet combination will make your pumpkin soup even more delicious!

Staying with the savoury flavours, it pairs great with buttered Cheese scones.

Serve warm with your soup!

6 Extra Pumpkin Soup Recipes

These ideas are all additions to the simple pumpkin soup recipe above.
Add a mouthwatering twist to classic pumpkin soup with these accompanying recipes.

There's nothing quite like a bowl of comforting pumpkin soup on a chilly evening.
Here, find 6 simple and tasty recipes that will have you savoring every spoonful.

Pumpkin Soup and Bacon

This pumpkin soup variation makes a flavourful and satisfying dish that is sure to be a crowd pleaser.
The addition of bacon adds an extra layer of flavour that will have your taste buds dancing.

Chop 1 bacon rasher into small pieces.
Dry fry in a non-stick frypan.
Stir through after blending process.

Pumpkin Soup Curry

Give your pumpkin soup a hint of curry for a bit of pazazz.
Top with parsley to take this soup to the next level.

Once you have blended it stir in a pinch of curry powder.
add little by little according to taste.

Thai Pumpkin Soup

This pumpkin soup recipe can have a hint of Thai-style curry for a unique twist.
Top with shredded coconut to take this soup to the next level.

Saute ¼ tbsp red curry paste in ¼ tbsp oil over medium heat.
Cook for 2 minutes until really fragrant, then proceed with recipe. ie; add liquids and pumpkin etc.
Then instead of using butter, use coconut cream.
Garnish with coriander/cilantro.

Pumpkin Soup Pasta

This comforting twist on pumpkin soup gets an extra boost of flavour from spinach pasta.
Serve with a sprinkle of Parmesan cheese for even more deliciousness!

Cook ¼ cup of spinach to al-dente.
Add to the soup when blending.

Pumpkin Soup With Potato

This hearty pumpkin soup is full of cozy flavours.
Top with freshly grated Parmesan cheese for extra flavour!
For a slightly thicker soup and flavour variation, use only 1 cup of pumpkin and ½ cup grated potato.

Pumpkin Soup Herbs and Spices.

If you're looking to make an amazing pumpkin soup, the right herbs and spices can make all the difference.
Check out our simple yet flavourful tips for creating a deliciously spiced pumpkin soup that your guests will love.

Unlock the Flavour of Your Pumpkin Soup With These Herbs and Spices.

Allspice for a Rich, Warm Taste;

A pinch of allspice is the perfect way to impart a fragrant aroma and warm flavour to your pumpkin soup.

Allspice contains a mix of cinnamon, nutmeg, and clove, making it the perfect addition for an autumnal soup.

Add half a teaspoon with the chicken stock when blending and you're good to go!

Cinnamon for a Subtle Spice;

Cinnamon is a mild and flavourful spice that adds subtle sweetness and complexity to pumpkin soups.
For the perfect flavour balance, it's best added towards the end of preparation.

A sprinkle of ground cinnamon will give your soup an extra kick of warmth and flavour – try adding half a teaspoon just before serving.

Nutmeg for a Refreshing Twinge of Spice;

Nutmeg is a classic seasoning for pumpkin soups, adding an unexpected and delightful hint of spice.
A dash of freshly grated nutmeg goes great with sweet vegetables such as pumpkin, adding a warm and aromatic fragrance to your dish.

Just add half a teaspoon of grated or ground nutmeg in the last few minutes of cooking to maximize flavour.

Cumin for an Earthy, Toasty Note;

Cumin is another great herb for pumpkin soup.
This spice has a slightly toasted, earthy flavour that pairs well with pumpkin's sweetness.

Start with a teaspoon of cumin with the cooked pumpkin when blending.

Cloves to Enhance the Aroma and Flavour;

Cloves are another essential spice for making a delicious pumpkin soup. Their sweet, pungent flavour adds an aromatic complexity to the broth.

To bring out their flavour and warm spices, lightly toast cloves in a dry skillet before adding them to the soup.

Stir in a teaspoon of cloves at the end of cooking, or let them steep in the hot liquid for up 10 minutes before serving.
Recommended Celebrity Cookbooks
This post contains affiliate links. If you use these links to buy something we may earn a commission. Thanks.
Nutrition Information
Yield 1 Serving Size 1
Amount Per ServingCalories 135Total Fat 5gSaturated Fat 3gTrans Fat 0gUnsaturated Fat 2gCholesterol 12mgSodium 90mgCarbohydrates 21gFibre 4gSugar 9gProtein 4g

"These values are automatically calculated and offered for guidance only. Their accuracy is not guaranteed."