Some recipes should be kept simple as nature intended them to be. Pumpkin Soup is one of those dishes.
The natural flavour of pumpkin is already good enough, so you need very little to make a beautiful, creamy, full flavoured simple pumpkin soup.
This pumpkin soup without cream is a comfort food that will satisfy your taste buds. When used in the right amount, pumpkin can also be ketogenic diet compatible and gluten free.
So make sure to measure the right amount of ingredients in this recipe.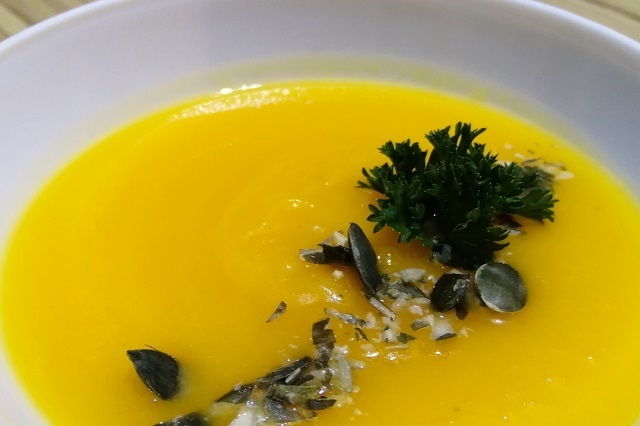 Yield: Yield: 1 Serve
Pumpkin Soup Recipe
Prep Time: 5 minutes

Cook Time: 10 minutes

Total Time: 15 minutes

Our simple pumpkin soup recipe is quite possibly the easiest soup recipe on the planet, because everything is thrown into a pot, boiled, blended and served.

Served with buttered crusty bread, this is really a meal on its own, rather than just a soup.
It is also customisable, with some great variations and ideas!
Ingredients
1½ cups Pumpkin, cut into squares.
1 tsp Butter, unsalted
¼ cup Chicken stock
1 tsp Pumpkin seeds
Instructions
In a saucepan, add water and add the pumpkin.
Simmer until tender, about 5-10 minutes.
Add the cooked pumpkin in a blender and add butter.
Add chicken stock.
Blend until smooth.
If needed, return in the saucepan and heat before serving.
Top with pumpkin seeds and serve.
Notes
Use any type of eating pumpkin you want but I prefer butternut squash (which is called butternut pumpkin in Australia).

What To Serve With Pumpkin Soup
This soup is perfect on its own for a light lunch with buttered Lemonade scones using the unsweetened variation.
Serve with hot buttered crusty bread for dunking or toasted keto bread.
It can also be a great with buttered Cheese scones.
6 Pumpkin Soup Recipes

These ideas are all additions to the simple pumpkin soup recipe above.
So make your soup and make it into something special with these winning ideas.

Pumpkin Soup and Bacon

Chop 1 bacon rasher into small pieces.
Dry fry in a non-stick frypan.
Stir through after blending process.

Pumpkin Soup Curry

Once you have blended it stir in a pinch of curry powder.
add little by little according to taste.

Thai Pumpkin Soup

Saute ¼ tbsp red curry paste in ¼ tbsp oil over medium heat.
Cook for 2 minutes until really fragrant, then proceed with recipe. ie; add liquids and pumpkin etc.
Then instead of using butter, use coconut cream.
Garnish with coriander/cilantro.

Pumpkin Soup Pasta

Cook ¼ cup of macaroni elbows to al-dente.
Add to the soup when blending.

Pumpkin Soup With Potato

For a slightly flavour variation, use only 1 cup of pumpkin and ½ cup grated potato.

Pumpkin Soup Herbs and Spices.

1. Lightly Spiced – stir in a good pinch each cumin, coriander and smoked paprika.
or
2. Turmeric – stir in a good pinch each ground turmeric, coriander and cayenne pepper.
Recommended Celebrity Cookbooks
This post contains affiliate links. If you use these links to buy something we may earn a commission. Thanks.
Nutrition Information
Yield
1
Serving Size
1
Amount Per ServingCalories 135Total Fat 5gSaturated Fat 3gTrans Fat 0gUnsaturated Fat 2gCholesterol 12mgSodium 90mgCarbohydrates 21gFibre 4gSugar 9gProtein 4g

"These values are automatically calculated and offered for guidance only. Their accuracy is not guaranteed."