This homemade sausage patties recipe can be made using beef, pork or chicken sausage meat and has a good list of variations and serving suggestions.
These patties will give you all the taste you're used to from the commercial stuff, without the preservatives and shockingly vast amounts of salt.
You can double the recipe and freeze some for next time.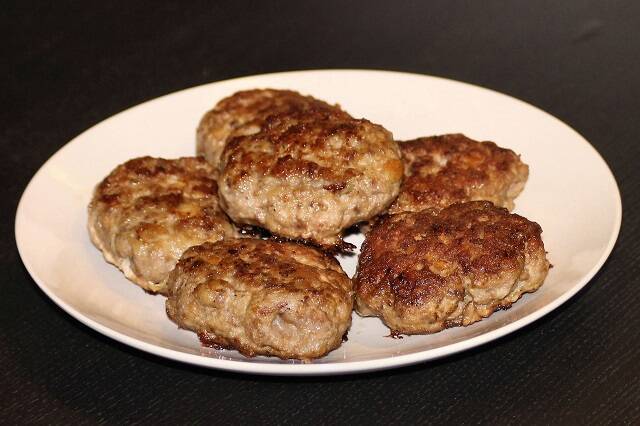 Yield: Yield: 8 Sausage Patties
How To Make Sausage Patties
Prep Time: 10 minutes

Cook Time: 10 minutes

Total Time: 20 minutes

How To Make Sausage Patties. We are talking about a homemade sausage meat patties recipe that is budget friendly, has hidden veges and everyone loves them.

These breakfast sausage patties are also great for a lunchtime sandwich filling, as a hamburger patty or as part of a meal.
Ingredients
500 grams Sausage Meat (Beef)
3 large potatoes
1 Onion
4 eggs
1 cup self raising flour
½ tsp salt
¼ tsp Pepper
Instructions
Peel and grate potatoes
Peel and chop onion
Beat eggs
Add sausage meat, potato, onion, egg, flour, salt and pepper to a large bowl.
Mix all ingredients together.
Roll into balls and flatten out.
Notes
Sausage patties can be fully cooled, wrapped, and frozen for microwave reheating.

Variations for your Sausage Patties
Sausage patties with extra veg;
Use only 2 potatoes and add 1 large grated carrot.
Sausage patties with pork;
Substitute the beef sausage meat with pork.
If using pork replace the onion with an apple.
Sausage patties with chicken;
Substitute the beef sausage meat with chicken.
If using chicken, add 125g sweetcorn kernels.
Transform Sausage patties into hamburger patties;
Create a more hambuger style patty by halving the amount of sausage meat and adding 250 grams of minced/ground beef.
Herb Sausage patties;
Substitute the pepper with 1 tsp italian herbs or mixed herbs.
Sausage patties with chilli;
Add some red chilli flakes to make them spicy.
Sausage Patties Serving Suggestions
These patties make a great hot breakfast with bacon, eggs, baked beans and mushrooms.
Sausage muffins;
Create your own sausage muffins by simply splitting an english muffin, then lightly toasting it.
Place your sausage pattie between the halves. You can add your favourite sauce or mayo if desired.
Sausage and egg muffins;
How to make your own sausage and egg muffin.
1.Cook your patties.
2. Fry your eggs using an egg ring.
3. Split an english muffin and toast it lightly.
4. Build your muffin. Patty on the bottom, then egg. You can add your favourite sauce or mayo or cheese if desired.
Make into meatballs and serve with dipping sauce as a finger food at your next event.
Sausage Patty Burgers;
Create a sausage patty burger with the lot.
Put all your favourite burger ingredients together in your buns.
eg. Patty, bacon, egg, lettuce, tomato, sauce or mayo.
Sausage Patty Sandwich or sub;
Great as a cold sandwich or sub filling with cheese and tomato.
BBQ Sausage Patties;
Serve with potato salad and summer salads as a meal or at your next family Barbecue.
Recommended Products
This post contains affiliate links. If you use these links to buy something we may earn a commission. Thanks.
Nutrition Information
Yield
8
Serving Size
1
Amount Per Serving Calories 426Total Fat 22gSaturated Fat 7gTrans Fat 0gUnsaturated Fat 12gCholesterol 144mgSodium 906mgCarbohydrates 37gFibre 3gSugar 3gProtein 19g

"These values are automatically calculated and offered for guidance only. Their accuracy is not guaranteed."