This home made sausage meat patties recipe can be made using beef, pork or chicken sausage meat, let's show you how.
Check out the sausage patty recipe ideas, there's a good list of easy variations to play with the flavours of your sausage meat burgers.
See the recipes with sausage patties section for serving suggestions and instructions on building things like;
Sausage muffins.
Sausage and egg muffins.
Sausage Patty Burgers.
Sausage Patty Sandwich or sub.
BBQ Sausage Patties.
These patties will give you all the taste you're used to from the commercial stuff, without the preservatives and shockingly vast amounts of salt.
You can make this recipe and prepare meals ahead of time.
You will be thanking yourself in the future if you double the recipe, cook half, and save the rest as frozen raw patties.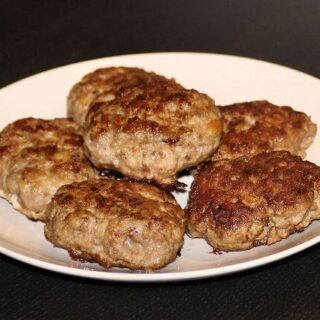 Sausage Patties Recipe
Yield: Yield: 8 Sausage Patties

Prep Time: 10 minutes

Cook Time: 10 minutes

Total Time: 20 minutes

How To Make Sausage Patties. We are talking about a homemade sausage meat patties recipe that is budget friendly, has hidden veges and everyone loves them.

These breakfast sausage patties are also great for a lunchtime sandwich filling, as a hamburger patty or as part of a meal.
Ingredients
Instructions
Peel and grate potatoes
Peel and chop onion
Beat eggs
Add sausage meat, potato, onion, egg, flour, salt and pepper to a large bowl.
Mix all ingredients together.
Roll into balls and flatten out.
Notes
You can keep the cooked leftovers in the fridge, in an airtight container, for 3-4 days.
Reheat them gently, covered, in the microwave on 50% power.

How to make sausage patties from sausages

Remove the meat from sausages by running a knife down the length of them, then peeling the skins off.
Use the meat as per the recipe above.

How To Freeze Sausage Patties

You can freeze the patties either cooked or uncooked.
I prefer freezing them already cooked so they can go straight from the freezer, defrosted, then reheated in the mocrowave.
Cooked meat patties should be completely cooled before placing in freezer bags and transferred to the freezer.

To freeze uncooked patties, place on a parchment-lined baking sheet and freeze on the baking sheet until solid (1-2 hours) before transferring to freezer bags for longer storage.
Thaw completely before cooking.

Sausage Patty Recipe Ideas

This recipe is quite versatile and can be easily changed to suit different needs and tastes.
Here are some simple variations for this recipe;

Sausage patties with veg

Add extra vegies to your patty, instead of using 3 potatoes, use 1 potato, 1 medium sweet potato and 1 large grated carrot.

Pork sausage patties

To create a pork sausage patty you need to follow the recipe and substitute the beef sausage meat with pork.

Chicken sausage patties

To create a chicken sausage patty you need to follow the recipe and substitute the beef with chicken sausage meat.
If using chicken, add 125g sweetcorn kernels.

Create hamburger patties

Create a more hambuger style patty by halving the amount of sausage meat and adding 250 grams of minced/ground beef.

Herb Sausage patties

Substitute the pepper with 1 tsp italian herbs or mixed herbs.

Sausage patties with chilli

Add some red chilli flakes to make them spicy.
Sausage Patty Condiments

In this page I often mention using your favourite sauce or mayo as a sausage patty condiment if desired.
If you are feeling a bit adventurous you could make your own beforehand.

Sauce Condiments

Try this simple barbecue sauce, it has a honey bbq sauce base that is packed with flavour.
honey bbq sauce

Or this classic bbq sauce is well worth a try.
It is a well balanced, rich & smooth sauce with some sweet, a bit of heat and a hint of smoky flavour.

But not forgetting those that appreciate a bit of spice.
This one is perfect if you like a good spicy tomato sauce, it's slightly sweet and spicy sauce that is easy to make.

Mayo Condiments

If you are after your own special white sauce or mayo to go with your patties, here you go.
Even McDonalds have their own mayo or special white sauces.

Give this cooked mayo a go for a mild, clean flavour, it has a nice tart-salt balance along with only slight hints of mustard, and a custard type texture.
Get the recipe cooked mayo, you can even add a bit of garlic for extra flavour.

Use this Spanish inspired mayonnaise recipe to create your own special mayo.
The result will be a thick, smooth mixture.
Using the variations you can play with the flavours and make garlic, chilli or herb mayo.
Recipes With Sausage Patties

Here are some recipes with sausage patties to create a tasty, filling breakfast, brunch, lunch or light dinner.

Breakfast Sausage Patties

This recipe creates an ideal breakfast sausage patty.

One of my favourite breakfasts is two of these tasty patties with fluffy scrambled eggs or a cheese omelette with a side of sliced tomoto and toast..
It's a delicious meal that will keep you full for hours.

These patties make a great hot breakfast with bacon, eggs, baked beans and mushrooms, you can use in this English breakfast recipe instead of sausages.

Sausage Muffins

If I'm ever going to eat a fast food breakfast it will be a sausage muffin. I love the peppery meat patties.
Create your own sausage muffins by simply -

Starting by splitting an english muffin, then lightly toasting it.
Place your cooked sausage patty between the halves.
You can add favourite sauce or or mayo.

Sausage and egg muffins

How to make your own sausage and egg muffin.

Cook your sausage patties.
Fry your eggs using an egg ring.
Split an english muffin and toast it lightly.
Build your muffin.
Patty on the bottom, then egg. You can add your favourite sauce or mayo or cheese if desired.

Sausage Burger Patty Recipe

Looking for what to make with sausage patties for dinner?
Create a sausage patty burger with the lot.
Put all your favourite burger ingredients together in your buns.
For example;

sausage patty
bacon
cheese
egg
lettuce
tomato
sauce or mayo

Sausage Patty Sandwich or Sub

These sausage patties go great as a cold sandwich or sub filling with cheese and tomato.

BBQ Sausage Patties

Serve with potato salad and a nice Caesar salad as a meal or at your next family barbecue.
Recommended Celebrity Cookbooks
This post contains affiliate links. If you use these links to buy something we may earn a commission. Thanks.
Nutrition Information
Yield 8 Serving Size 1
Amount Per ServingCalories 426Total Fat 22gSaturated Fat 7gTrans Fat 0gUnsaturated Fat 12gCholesterol 144mgSodium 906mgCarbohydrates 37gFibre 3gSugar 3gProtein 19g

"These values are automatically calculated and offered for guidance only. Their accuracy is not guaranteed."