Grab your tastebuds, and let me show you how to make a killer Caesar salad with garlic croutons.
This Caesar salad recipe with garlic croutons and a homemade Caesar dressing makes an excellent meal or side salad for a crowd.


Yield: Yield: 2 Serves
How To Make Caesar Salad with Garlic Croutons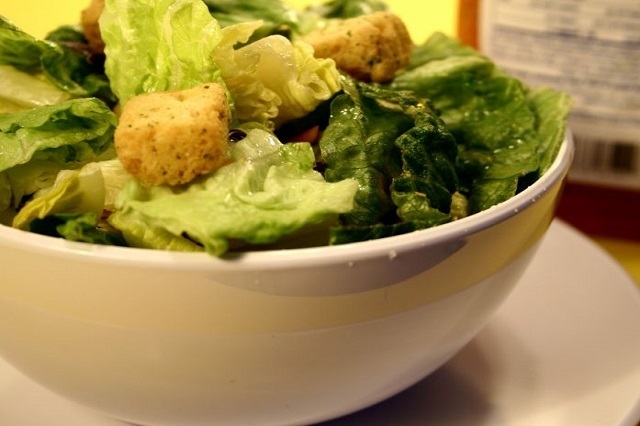 Learn how to make Caesar salad with garlic croutons from scratch.
The Caesar dressing is old school, thin and more oily than creamy.
This is not the mayonnaise based supermarket style, but more like what you get at a decent Italian restaurant.

Prep Time 10 minutes

Cook Time 10 minutes

Total Time 20 minutes
Ingredients
Caesar Dressing
¼ cup (about 50ml) extra-virgin olive oil
Heavy pinch of sea salt
Freshly ground black pepper
Drizzle red wine vinegar
1 tsp Worcestershire sauce
Garlic Croûtons
1 stale loaf sourdough or white bread
¼ cup (about 50ml) olive oil
2 tsp garlic powder
½ tsp salt
½ tsp black pepper
Caesar Salad
Instructions
Caesar Dressing
Add all of the ingredients to a small container with a fitted lid.
Shake well to combine.
Or, add to a medium size bowl and whisk to combine.
Garlic Croûtons
Preheat oven to 200°C/400°F.
Cut the bread into 5cm/2" cubes.
Place the bread cubes in a large bowl and set aside.
Heat the olive oil and garlic in a small saucepan over medium heat until the garlic begins to turn fragrant.
This should take about 4-5 minutes.
Drizzle the oil over the bread cubes in the bowl and toss to coat.
Place cubes, single layer, on a greased baking sheet.
Bake for 10 minutes or until the bread cubes are golden, flipping the cubes occasionally.
Remove from the oven and add back to the bowl.
Toss with the salt and pepper and set aside to cool.
Remove and set aside until needed.
You can store in an airtight container for up to 2 weeks.
Caesar Salad
Chop or tear the cos lettuce into bite-sized pieces and place in a large serving bowl.
Drizzle with the the Caesar dressing and toss to coat.
Crack eggs over salad along with 1 cup of the croutons and toss again.
Top with garlic croûtons and serve.
Notes
Important!
Lettuce - Make sure you wash lettuce well in advance to let it dry properly.

Your dressing won't stick to wet lettuce, so make sure it's dried!
You can also chop, wash then dry using a spinner.

Store the remaining dressing in the refrigerator for up to 2 weeks.
Store the leftover croutons in an airtight container for up to 2 weeks or freeze for up to 2 months.
Serving Suggestions

Your Caesar salad with garlic croutons will go well with:

As a main;
Serve as a main dish for lunch or dinner with sliced, freshly buttered french stick as a side dish.
As a side dish;
Serve as a side dish at your next barbecue, or great to take on a picnic.
Roll in a wrap, croutons & all for any meal.
Make a healthy Caesar salad with garlic croutons sandwich using a nice dark rye bread.
Caesar Dressing Variation
I know some people might scrunch up their faces at the thought of anchovy in a dressing, but seriously!
It is the secret ingredient that will turn a "pretty good" dressing into a restaurant quality one!

Eliminate the sea salt and add 1 tsp mashed anchovies (or anchovy paste) to the Caesar dressing ingredients.
Caesar Salad Variation
Add 150g, cooked and chopped streaky bacon to the Caesar salad ingredients.
Recommended Celebrity Cookbooks
This post contains affiliate links. If you use these links to buy something we may earn a commission. Thanks.
Nutrition Information
Yield
2
Serving Size
1
Amount Per ServingCalories 826Total Fat 13gSaturated Fat 3gTrans Fat 0gUnsaturated Fat 8gCholesterol 93mgSodium 2244mgCarbohydrates 145gFibre 13gSugar 16gProtein 35g