Looking for a tasty and convenient meal option? Look no further than chicken salad wraps!
These wraps are perfect for any time of day and are sure to leave you feeling satisfied.
Plus, you can easily prepare them ahead of time by making the filling and storing it in the fridge until you're ready to assemble.
With minimal assembly required, these wraps are a quick and easy meal solution.


Yield: Yield: 2 Large Wraps
How To Make Chicken Salad Wraps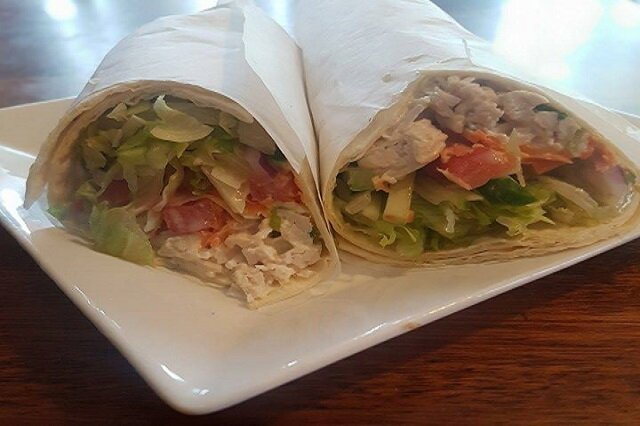 If you're in need of a tasty and hassle-free meal idea, why not whip up some chicken salad wraps?
Follow this simple recipe for a step-by-step guide on how to make them.

Prep Time 10 minutes

Cook Time 5 minutes

Additional Time 5 minutes

Total Time 20 minutes
Ingredients
2 soft flour tortillas or other wraps
Mayonnaise
1 chicken breast or leftover roast chicken.
2 tomatoes
¼ iceberg lettuce
1 ripe avocado
1 small cucumber
salt and ground black pepper, to taste
Instructions
Poach chicken breast and rip into pieces when cold.
(this can be done the night before).
If using leftover roast chicken, shred it into bite size pieces.
Slice or Chop tomatoes.
Slice or chop cucumber.
Shred lettuce.
Scoop the avocado flesh into a bowl and mash with fork
Lay tortillas on a flat work surface.
Spread half with with mayonnaise then spoon and spread avocado on other half.
Arrange lettuce, chicken, cucumber and tomato in a line off center (do not overstuff).
Season with salt and pepper.
Roll into snug cylinders as tight as possible to avoid the filling becoming loose.
For best results, cover in plastic wrap and refrigerate for at least 30 minutes to allow the filling to firm up a little.
Notes
When To Serve Chicken Salad Wraps.

Chicken salad wraps are a versatile and tasty option for any occasion.
Whether you're hosting a party or packing a lunch, these wraps are sure to please.

Finger food at a party;
Cut into 3-4 cm. long rolls and arrange on a plate, seam side down. Cover with cling wrap, refrigerate and and serve.
You may need to stick with a toothpick to keep rolls together.
Lunch or Dinner;
Cut each wrap in half and have yourself for lunch or dinner!
Lunchbox or Picnic;
Cut each wrap in thirds, wrap in plastic wrap for the lunchbox or picnic item.
What to serve with chicken salad wraps.

Don't settle for boring sides with your chicken salad wraps. These creative and flavorful options will take your meal to the next level.

Fresh Fruit Salad;
A light and refreshing fruit salad is the perfect complement to a chicken salad wrap.

Choose a variety of colourful fruits such as strawberries, blueberries, kiwi, and pineapple for a burst of flavour and nutrition.
Sweet Potato Fries;
Swap out traditional potato chips for sweet potato fries for a healthier side dish.

The sweetness of the fries pairs well with the savory chicken salad wrap.
Grilled Vegetables;
Grilled vegetables such as zucchini, bell peppers, and onions add a smoky flavour and a boost of nutrients to your meal.

Plus, they're easy to prepare and can be cooked alongside your chicken on the grill.
Quinoa Salad;
A quinoa salad is a great way to add some protein and fibre to your meal.

Mix cooked quinoa with chopped vegetables such as cucumber, tomato, and avocado, and dress with a simple vinaigrette for a delicious and nutritious side dish.
Roasted Chickpeas;
Roasted chickpeas are a crunchy and flavourful snack that can be seasoned with a variety of spices such as garlic, paprika, and cumin.

They're a great alternative to chips or crackers and provide a good source of protein and fibre.
Hummus and Pita Chips;
Hummus and pita chips are a simple and satisfying side dish that can be easily prepared at home.

The creamy hummus pairs well with the crunchy pita chips and provides a good source of protein and fibre.
Chicken Salad Wrap Variations.

Chicken salad wraps are a classic favourite, but why stick to the same old recipe?
Try these tasty variations and elevate your lunch game.

Classic Chicken Salad Wrap;
The classic chicken salad wrap includes diced chicken, mayonnaise, celery, and onion.

Add some lettuce and wrap it up in a tortilla for a quick and easy lunch.
Buffalo Chicken Salad Wrap;
For a spicy twist, mix buffalo sauce with the chicken and add some blue cheese dressing.

Top it off with some shredded carrots and celery for a crunchy kick.
Greek Chicken Salad Wrap;
Mix diced chicken with feta cheese, cucumber, tomato, and olives for a Mediterranean-inspired wrap.

Add some avocado hummus for a creamy finish.
BBQ Chicken Salad Wrap;
Mix shredded chicken with a good BBQ sauce and top it off with some coleslaw for a sweet and tangy wrap.

Add some avocado for a creamy texture.
Cranberry Chicken Salad Wrap;
Mix diced chicken with dried cranberries, walnuts, and a little bit of honey mustard dressing for a sweet and savoury wrap.

Add some spinach for a healthy twist.
Ranch Chicken Salad Wrap;
Mix diced chicken with ranch dressing and top it off with some bacon bits and shredded cheddar cheese.

Add some lettuce and tomato for a classic flavour.
Caesar Chicken Salad Wrap;
Mix diced chicken with Caesar dressing, croutons, and parmesan cheese for a Caesar salad-inspired wrap.

Add some romaine lettuce for a crunchy texture.
Recommended Celebrity Cookbooks
This post contains affiliate links. If you use these links to buy something we may earn a commission. Thanks.
Nutrition Information
Yield
2
Serving Size
1
Amount Per ServingCalories 621Total Fat 28gSaturated Fat 5gTrans Fat 0gUnsaturated Fat 21gCholesterol 54mgSodium 801mgCarbohydrates 64gFibre 12gSugar 5gProtein 30g