This avocado hummus is one of those appetisers is very smooth and creamy. The combination of flavours is superb and is definitely a must-try.
It's probably one of the easiest to make since you just combine everything and bang, it's ready for consumption.
This tasty avocado hummus without tahini combines some of the healthiest fats from both avocado and macadamia nuts.
Both are fantastic sources of heart-healthy monounsaturated fatty acids.
Avocado and macadamias are also high in electrolytes, especially magnesium and potassium.
Your avocado hummus certainly fits in to the healthy keto diet appetisers category, so go for it.


Yield: Yield: ¾ cup
Avocado Hummus Recipe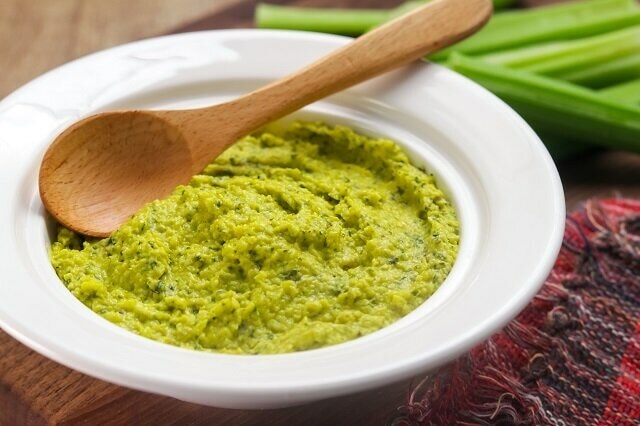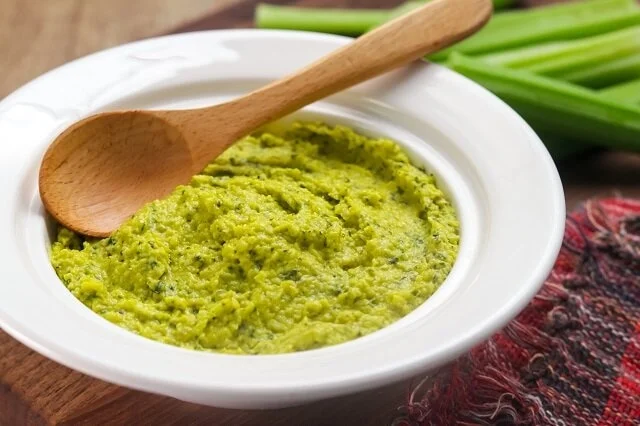 This Healthy Avocado Cilantro Hummus is creamy and also extremely smooth.

The mix of taste in this keto avocado hummus recipe is excellent as well as is absolutely healthy.

Prep Time 10 minutes

Total Time 10 minutes
Ingredients
¼ cup Macadamia Nuts
¼ cup Avocado
½ tsp minced Garlic
2 tsp fresh Lime Juice
¼ cup fresh Cilantro (loosely packed)
pinch of Salt and Pepper
Instructions
Combine all ingredients in a food processor.
Pulse until smooth.
Notes
Is cilantro and coriander the same?

Cilantro is a herb that is used in many different cuisines around the world and has a very distinct taste.

However;
While both cilantro and coriander come from the same plant, they have different uses and tastes.
Cilantro is the the leaves and stems of the coriander plant.
When the plant flowers and turns seed the seeds are called coriander seeds.

Due to their different taste profiles, cilantro and coriander cannot be used interchangeably.
What To Eat With Avocado Hummus

Here is a list of 5 popular ideas on what to eat with avocado hummus.

Avocado Hummus Toast

You will need;

1 slice medium toasted seeded bread
1 tablespoon avocado hummus
2 to 4 slices tomato
2 to 4 slices avocado
Instructions
Spread hummus on toast.
Top with sliced tomato and avocado.
Sprinkle with salt and pepper.
Enjoy!
Avocado Hummus Sandwich

Use as an alternative to mayo or mustard in your favourite sandwiches.
Hummus is creamy and very flavourful, it will make any bread or sandwich taste even more amazing.

Give your next salad sandwich a try with this Keto microwave bread.

Avocado Hummus Dressing

You can even thin it out using water to turn it into a creamy avocado dressing, or as a topping for tacos and burritos.

Avocado Hummus Pita Chips

Dunk some pita chips into that rich and creamy dip!
Pita chips have the perfect thickness and crunch, which makes these two a perfect combo.

Avocado Hummus Wrap;

You will need;

1 flour tortilla
3 tablespoons avocado hummus
2 to 3 lettuce leaves
2 to 4 slices tomato
2 slices tasty cheese
2 slices ham
Instructions
Bring flour tortilla to room temperature.
Spread hummus down the middle of the flour tortilla.
Spread the hummus down the middle of a flour tortilla.
Arrange lettuce, cheese, tomato, and ham (if using) on top of hummus and fold up into a sandwich wrap.
How To Make Spicy Avocado Hummus
Spicy avocado hummus;
Create your own spicy avocado hummus by adding ½ jalapeno and ½ teaspoon of cumin before blending.
It gives a bold and tangy twist to this classic dip.

Note that I only suggest ½ of a jalapeno.
I think this combo works best when there is just a hint of heat, but of course you are welcome to add the other half to amp it up.
Recommended Celebrity Cookbooks
This post contains affiliate links. If you use these links to buy something we may earn a commission. Thanks.
Nutrition Information
Yield
5
Serving Size
1
Amount Per ServingCalories 63Total Fat 6gSaturated Fat 1gTrans Fat 0gUnsaturated Fat 5gCholesterol 0mgSodium 16mgCarbohydrates 2gFibre 1gSugar 0gProtein 1g

"These values are automatically calculated and offered for guidance only. Their accuracy is not guaranteed."