This easy and flavourful Chinese cabbage stir fry recipe takes only 10 minutes to prepare.
Cabbage in Chinese stir fry is perfect for a quick dinner meal, but still a healthy dish loaded with nutrients.
This cabbage stir-fry is savoury, tangy, and very quick to prepare.
Plus, it's CHEAP.
The cabbage in Chinese stir fry is so inexpensive, filling, and healthy, but many people don't always know how to prepare it in a way that actually tastes good.
So here you go, make the best chili-blackbean pork and cabbage stir-fry.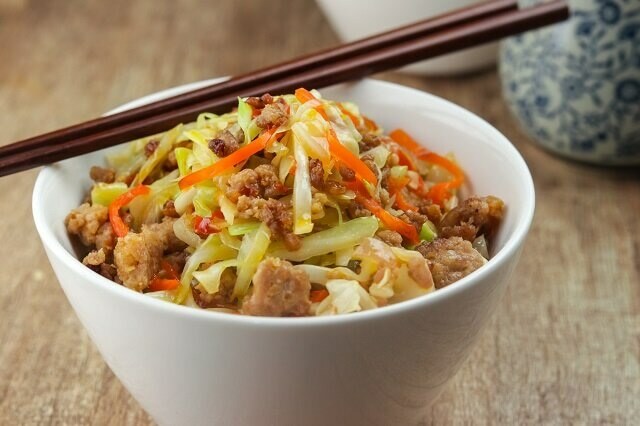 Yield: Yield: 1 Serve
Cabbage Stir Fry Recipe
Prep Time: 10 minutes

Cook Time: 2 minutes

Total Time: 12 minutes

Our simple recipe for cabbage stir fry is quite possibly the easiest stir fry recipe on the planet.
This tasty Chinese cabbage stir fry with pork is an aromatic blend of flavours and textures - best of all, it is low-fat and quick to prepare!

It is also keto diet friendly, low-carb and very customisable, with some great variations and ideas!
Ingredients
150 grams minced Pork
20g Red Capsicum/Bell Pepper
20g Shallots
1 Tbsp Chilli-Blackbean Paste
75g Cabbage
Instructions
Cut Capsicum/Bell Pepper into thin strips.
Thinly slice shallots.
Hand tear the cabbage into bite size pieces. (see notes below)
Sear pork in a non-stick pan until brown and fat is rendered.
Add shallots and capsicum/bell peppers. Saute until aromatic.
Add chili-blackbean paste. Stir well.
Add cabbage and toss for 1-2 minutes.
Serve hot.
Notes
Preparing the cabbage
Hand tearing makes it easier to remove the stem of each cabbage leaf.
Since this is a quick stir-fry, the hard, thick stems wouldn't cook through when tender, thin leaves are ready to be dished out.
When cut by a knife, several layers of the cabbage tend to stay together. Hand tearing will make sure each piece is separated.


Cabbage Stir Fry serving suggestions
This stir fry is perfect for a lunch with a side dish of Pork Wontons.
If you want a slightly heavier meal serve with some Cold rice salad.
Cabbage Stir Fry recipe Variations
Chinese cabbage stir fry chicken
Create your own Chinese chicken and cabbage stir fry by substituting the minced pork with minced chicken.
Chinese cabbage stir fry with beef
Make a Chinese beef and cabbage stir fry. Simply substituting the minced pork with beef mince will do the trick.
Fold in when the cabbage is done.
Chinese cabbage stir fry with bacon
Make a Chinese bacon cabbage stir fry. Simply chop 1 bacon rasher into small pieces and dry fry in a non-stick frypan.
Fold in when the cabbage is done.
Vegetarian Chinese cabbage stir fry
To make this Chinese cabbage stir fry vegetarian, simply substitute the pork with ¼ cup of diced mushrooms.
Add the mushrooms when sauteing shallots and capsicum.
Recommended Products
This post contains affiliate links. If you use these links to buy something we may earn a commission. Thanks.
Nutrition Information
Yield
1
Serving Size
1
Amount Per Serving Calories 446Total Fat 22gSaturated Fat 8gTrans Fat 0gUnsaturated Fat 12gCholesterol 135mgSodium 159mgCarbohydrates 18gFibre 4gSugar 8gProtein 44g

"These values are automatically calculated and offered for guidance only. Their accuracy is not guaranteed."
More recipes you may be interested in: