This pork Wonton recipe will create the perfect entree for your home made chinese meal.
They also make a great appetiser or finger food for your next party.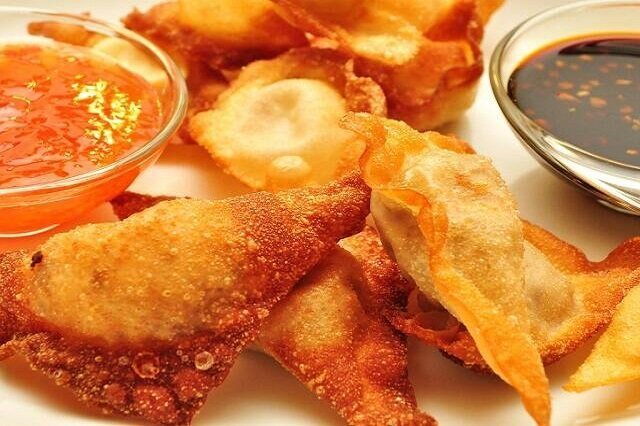 Yield: 10
How to make Chinese pork wontons
Prep Time: 20 minutes

Cook Time: 5 minutes

Total Time: 25 minutes

These Chinese Won Tons are so easy to make.
They have awesome authentic flavours especially when served with a good dipping sauce.

This pork Wonton recipe will create the perfect entree for your home made Chinese meal.

They also make a great appetiser or finger food for your next party.
Ingredients
10 Wonton wrappers
300 grams ground pork mince
30 grams mushrooms
1 onion
1 x 70 gram egg
½ cup fried egg noodles
1 tsp salt
pepper
1 tsp soy sauce
Instructions
Hard boil the egg, let cool and chop into smallish pieces. Add to a mixing bowl.
Break rice noodles up and cook. Add to the mixing bowl.
Chop mushrooms into smallish pieces. Add to the mixing bowl.
Chop onion into smallish pieces. Add to the mixing bowl.
Add pork mince, soy sauce, salt and a pinch of pepper to the mixing bowl.
Mix all ingredients evenly, using your hands.
Using a teaspoon place the pork mixture into the centre of each square.
Lightly brush edges with water.
Bring edges together and using your fingers, press to seal.
Deep fry in deep hot oil until golden.
Notes
Pork Wontons Recipe Serving Suggestions
Serve with sweet plum marinade or Stir-fry sauce.
Divide between bowls. Pour over hot clear chicken soup and add a small handful of lightly blanched Chinese greens.
Serve wontons with small bowls of soy sauce or chilli sauce for dipping.
Pork Wontons Recipe Variations
Steamed Wontons
Steam instead of deep fry to put into wonton soup.
Shrimp Wontons
Exchange the mushrooms with shrimps.
Wonton Fillings
Swap the minced pork to either chicken, duck, beef or lamb.
Cantonese Wontons
In Cantonese cuisine, shrimp filled wonton within minced pork is most commonly served with thin noodles to make wonton noodles.
It may also be consumed with red vinegar.

The soup is made from boiling shrimp shells, pork bones and dried flounder to give it a distinct taste.
Wonton is served in variety of sizes with smallest being two wonton and noodles called Sai Yung.
Sichuan Wontons
In Sichuan, semi-pentagonal wonton are known as "folded arms" since after initially folding the wonton skin into a right triangle, creating an impression of crossed arms/hands.

These are often served in a sesame paste and chili oil sauce as a dish called "red oil wonton".
Shanghai Wontons
In Shanghai and its surrounding area, wonton filling is most often made with minced meat (usually pork) and shepherd's purse served in chicken soup;
however, Shanghai cuisine makes a clear distinction between small wontons and large wontons.

The former are casually wrapped by closing the palm on a wrapper with a dab of pork filling as if crumpling a sheet of paper.
These are popular accompaniments to breakfast or brunch.

The "large" wontons are carefully wrapped (often resembling large tortellini) and a single bowl can serve as lunch or a light dinner.
They are available with a large variety of fillings.
One popular variety is "three delicacies wonton" (san xian hun tun)which contains pork, shrimp and fish as primary ingredients.
Ningbo Wontons
Ningbo Wonton has two types, steamed Wonton and Wonton soup.

Both are filled with pork and shrimp.
Jiangzhe Wontons
Jiangsu is often called "wonton".
Wonton have two types, small wonton and big wonton. Big wonton is a large ingot shape.

Generally boiled with boiled water, point lard with MSG, the soup will usually be matched with egg skin, seaweed, mustard and shrimp.
Western Wontons
wontons are served in two ways: in wonton soup (wontons in a clear broth), and as an appetizer called fried wontons.
Fried wontons are served with a meat filling, (usually pork), and eaten with duck sauce, plum sauce, sweet and sour sauce, or hot mustard.

A version of fried wontons are filled with a cream cheese and crab filling; these are called crab rangoon.

Another version of fried wontons are filled with a mixture of cream cheese, green onions, soy sauce and garlic.
These are best when eaten with sweet and sour sauce. Compared to the Far East versions, fried wontons are eaten dry.

Wonton strips, deep-fried strips made from wonton wrappers and served with hot mustard and/or dipping sauce.
Thailand Wontons
Wonton soup called kiao nam. The soup is made with chicken stock and the wontons made with a pork filling.
The soup is very famous in Thailand.
Recommended Celebrity Cookbooks
This post contains affiliate links. If you use these links to buy something we may earn a commission. Thanks.
Nutrition Information
Yield
10
Serving Size
1
Amount Per ServingCalories 173Total Fat 10gSaturated Fat 3gTrans Fat 0gUnsaturated Fat 5gCholesterol 67mgSodium 350mgCarbohydrates 8gFibre 0gSugar 1gProtein 13g