How to Make Wontons: Step by Step Guide for Beginners
Wontons are a classic Chinese dumpling, filled with a mixture of meat and spices.
Wontons can be the star of the show or part of a larger meal.
Treat them right using our lists of sauces, dips and simple yet scrumptious side dishes!
These delicious appetisers are surprisingly easy to make, using just a few simple ingredients and tools.
Learn how to make the perfect wonton with this step by step guide!
This is a basic Wonton recipe for Chinese wontons using your choice of minced pork, chicken, duck, beef or lamb.
You could serve these by themselves simply drizzled with a good sauce or marinade as a canape.
There is just something about biting into the crispy wrapper to reveal a savoury, flavourful filling.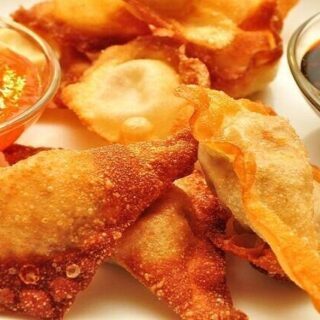 Recipe For Wontons
Yield: 10 Wontons

Prep Time: 20 minutes

Cook Time: 5 minutes

Total Time: 25 minutes

These Chinese Won Tons are so easy to make.
They have awesome authentic flavours especially when served with a good dipping sauce.
This recipe for Wontons will create the perfect entree for your home made chinese meal.
Ingredients
10 Wonton wrappers
300 grams minced pork, chicken, duck, beef or lamb
30 grams mushrooms
1 onion
1 x 70 gram egg
½ cup fried egg noodles
1 tsp salt
pepper
1 tsp soy sauce
Instructions
Hard boil the egg, let cool and chop into smallish pieces. Add to a mixing bowl.
Break rice noodles up and cook. Add to the mixing bowl.
Chop mushrooms into smallish pieces. Add to the mixing bowl.
Chop onion into smallish pieces. Add to the mixing bowl.
Add minced meat, soy sauce, salt and a pinch of pepper to the mixing bowl.
Mix all ingredients evenly, using your hands.
Wrap the Wontons.
Before you begin wrapping, have a small bowl of water ready.

Hold the wonton wrapper in one hand and dip your finger into the water to wet the edges of the wrapper.

Then fold one corner of the wrapper over to the opposite side, forming a triangle shape.

Press down on the sides of triangle to seal tightly.
Firmly pinch together two corners at the center and continue to pinch along both sides until you form a pleated wonton shape.
Boil or Fry the Wontons.
After wrapping the wontons, it's time to get them ready for eating. You can either boil or fry the wontons.
To boil your wontons, bring a pot of water to a low simmer then carefully place them in the water.
Give the pot a gentle stir to make sure they are cooked evenly and don't stick together.
Boil them until they are cooked through and float to the top - usually between 2 and 4 minutes depending on their size.

For fried wontons, use vegetable or sunflower oil in a deep pot or wok over medium-high heat and cook for 2-3 minutes per side until golden brown and crisp.
Enjoy Your Homemade Wontons!
Now it's time to enjoy your delicious, homemade wontons! Serve them as a side dish or as an appetizer with dipping sauces like chili oil, soy sauce,
or sweet and sour sauce.
If you have leftovers store them in the refrigerator for up to 2 days.
Reheat by either boiling in water for a few minutes or in the microwave on high heat. Enjoy!
Notes
What Sauces To Serve With Wontons
Hot chili oil;
Hot chili oil is a classic condiment that pairs perfectly with wontons.

The strong salty and spicy flavour of the hot chili oil complements the mild flavour of the noodles in won tons, as well as balances out their flavour profile.

Serve this as a dip or sprinkle it over your won tons before digging in for an unbeatable combination of flavours.
Vinegar;
Both rice vinegar and black vinegar, is a great condiment to have on hand for serving won tons.

A dab of either one gives a nice tartness that cuts through the mellow flavors of the dumpling and provides some extra zing to each bite.

Serve these vinegars with teaspoons so diners can get just the right amount for their own palate preferences.
Chilis in Soy Sauce;
Chilis in soy sauce is one of the most common ways to serve wontons and gives them an unbeatably delicious accent when mixed together with other ingredients such as spring or green onions, garlic or bean sprouts.

All items you can add to your dipping sauce!

Combine chilis in soy sauce with sesame oil and stir until everything is fully incorporated, then serve up the delicious dipping sauce with wontons on the side!
Hoisin Sauce;
Hoisin sauce has been long loved by those who love eating Asian food due to its deep sweet aroma and subtle spiciness which makes it an ideal accompaniment to all types of won tons!

Preparing this isn't difficult — all you have to do is mix together hoisin sauce with minced garlic, ginger paste, and sesame seed oil for that unrivaled sweetness that can't be found elsewhere!
Sweet & Sour Sauce;
Sweet & sour sauce makes a great accompaniment to wontons because of its tangy taste and fruity aroma which will make your mouth water after every bite!

You can either buy pre-made sweet & sour sauces from the supermarket or whip up your own by mixing lime juice, lemon juice, sugar syrup, crushed pineapple chunks (optional), tomato ketchup or tomato paste in a bowl.

Then serve it as dip along with your won ton dishes!
Sriracha Hot Chili Garlic Sauce;
Sriracha hot chili garlic sauce may not be everyone's cup of tea but certainly adds some much-needed spice punch when eaten alongside Chinese cuisine like wontons!

And while sriracha may appear too fiery at first glance, you can always adjust its spicy kick depending on how much heat you can take.
Just remember not to add too much since too much sodium will ruin your meal altogether!
Ginger Dipping Sauce;
Ginger dipping sauces bring out both sweet and tangy notes when eaten beside called wontons making it another great option when enjoying this popular Chinese delicacy!

To make this delicious mixture just combine ginger powder (or freshly mashed ginger) along with minced garlic clove(s), finely diced spring onions(optional), white vinegar plus five spoons of honey into a bowl.
Then mix everything until they are blended together evenly.

Voila, you now have yourself a delicious homemade dipping sauce ready for serving up right away alongside steaming hot wontons.
5 Delicious Side Dishes to Serve With Wontons

Want to serve up a delicious meal that includes wontons?
The perfect accompaniments can take this classic dish from good to exceptional—without breaking the bank or taking too long in the kitchen.
With these easy yet flavourful side dishes, your wontons will be the star of the show.

Chinese Bok Choy with Garlic;
This classic Chinese side dish is the perfect partner to wontons.

Start by heating some garlic and oil in a wok.
Then add in some bok choy and stir fry until it begins to soften.

To finish off, season with soy sauce, white pepper and sugar for a delicious, fragrant flavour that pairs perfectly with wontons.
Sweet and Sour Stir-Fried Noodles;
Sweet and sour stir-fried noodles are a great pairing with wontons.

To make this tasty dish, sauté garlic, ginger, and onion in some oil.
Then add in some cooked noodles along with the sweet and sour sauce.
Heat through until everything is combined before adding in some chopped spring onions for extra flavour.

Serve immediately for an enjoyable meal!
Fried Rice with Edamame and Ginger;
Fried rice is a classic side dish and perfect to serve with wontons.

To make this tasty dish, heat some oil in a pan and add in cooked rice, edamame, garlic and ginger.
Stir-fry everything together until the ingredients are combined then season with salt and pepper to taste.
Add a dash of soy sauce for some extra flavour and you're all set!

Serve immediately to enjoy.
Stir-Fried Bell Peppers and Onions;
If you want something a bit lighter, stir-fried bell peppers and onions could be the perfect side dish to serve with wontons.

Start by heating some oil in a large skillet. Add a mix of green, red and yellow capsicum/bell peppers along with onion wedges.
Stir-fry for about 5 to 7 minutes until everything is tender.

Season with salt and pepper and enjoy!
Spicy Cucumber Salad with Sesame Oil;
This cooling cucumber salad is the perfect accompaniment to wonton dishes such as dumplings or noodles.

Thinly slice a cucumber into rounds and place them in a bowl.
Drizzle sesame oil over the top, along with some brown sugar, rice vinegar, and chili sauce for a hit of heat.

Mix everything together and serve cold or at room temperature.
FAQ
How to eat wonton

Wontons can be eaten in a variety of ways, including boiled or fried.
Fried wontons are great for an appetizer or snack, and can be served with sweet chili sauce, soy sauce, or your favourite dipping sauce.

Boiled wontons are great for soups, especially hot and sour soup. For both fried and boiled wontons, you can also add them to salads or noodle dishes for extra flavour.

Are wontons the same as dumplings

No, wontons are not the same as dumplings.
Wontons are usually small pockets of dough filled with seasoned meat or vegetables making them similar to ravioli, while dumplings are usually steamed flour dough stuffed with minced pork, chicken, or vegetables.

Dumpling wrappers have a thicker consistency than wonton wrappers, while their fillings also tend to be heartier.

Are wonton wrappers the same as dumpling wrappers

Yes, wonton and dumpling wrappers are essentially the same thing.
They are both made with wheat flour, salt, and water and made into thin sheets that can be used as a wrapper for various fillings.

The only difference is that wonton wrappers tend to be a little thinner than dumpling wrappers.

Are wonton wrappers gluten free

Yes, wonton wrappers are usually gluten free.
Most store-bought wonton wrappers are made from wheat starch and tapioca flour, both of which are gluten free ingredients.

To be sure, you should check the label before purchasing.

Are wontons healthy

Wontons can be a healthy choice, depending on the ingredients and how they are prepared.
Many wonton recipes include lean proteins such as shrimp, pork, or chicken, and vegetables like cabbage or mushrooms.

They can also be boiled or steamed instead of fried for less calories and fat.
Recommended Celebrity Cookbooks
This post contains affiliate links. If you use these links to buy something we may earn a commission. Thanks.
Nutrition Information
Yield 10 Serving Size 1
Amount Per ServingCalories 173Total Fat 10gSaturated Fat 3gTrans Fat 0gUnsaturated Fat 5gCholesterol 67mgSodium 350mgCarbohydrates 8gFibre 0gSugar 1gProtein 13g