An Indian Classic dish that is loved by many. This butter chicken is spiced, creamy and absolutely mouthwatering.
Butter chicken is a classic Indian curry dish similar to tikka masala.
See here how to make butter chicken with that buttery gravy sauce with cream and spices that make it silky smooth and rich in flavour.
This version is perfect for a low-carb, keto diet meal.
Butter chicken, or Murgh Makhani, is an Indian dish of chicken served in a mild gravy of tomatoes, butter, cream and spices.
It was invented in Delhi, India in a restaurant called Moti Mahal as a way to use unsold Tandoori chicken.


Yield: Yield: 1 Serve
Butter Chicken Recipe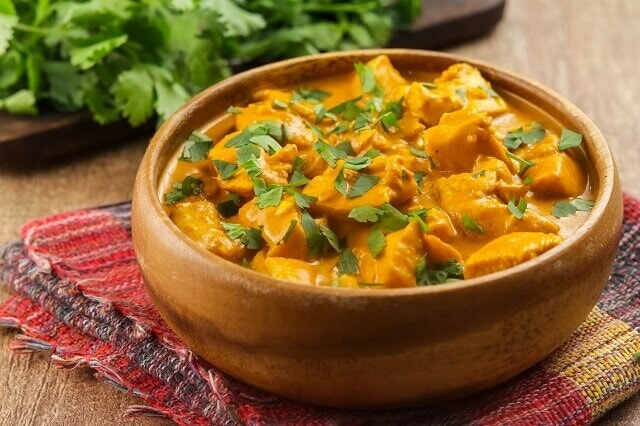 This butter chicken recipe is one of the easiest Indian curries to make.
The Butter Chicken Sauce is so good that you will want it on tap!

Plus, it's healthy and delicious and is the perfect recipe when you need a quick, creamy Indian butter chicken.
This version is keto diet suitable, low carb friendly and gluten free.

Prep Time 10 minutes

Cook Time 10 minutes

Total Time 20 minutes
Ingredients
100g Chicken breast, diced
10g minced Garlic
10g minced Green onions/Shallots
5g minced Ginger
2 tsp Curry Powder
2 tsp Tomato Paste
1 Tbsp Butter
2 Tbsp Heavy Cream
½ cup Chicken Stock
Fresh Cilantro for garnish
Instructions
Melt butter in a pan.
Add ginger, garlic and shallots. Saute until aromatic.
Add tomato paste and curry powder. Bake for about a minute.
Add chicken stock and bring to a simmer.
Add chicken pieces and simmer for 10 minutes.
Add heavy cream and simmer until thick.
Top with fresh cilantro.
Notes
Is cilantro and coriander the same?
Cilantro is a herb that is used in many different cuisines around the world and has a very distinct taste.

However;
While both cilantro and coriander come from the same plant, they have different uses and tastes.
Cilantro is the the leaves and stems of the coriander plant.
When the plant flowers and turns seed, the seeds are called coriander seeds.

Due to their different taste profiles, cilantro and coriander cannot be used interchangeably.
What to serve with butter chicken
Cauliflower Rice;
If you want to keep your meal keto friendly, you can serve your butter chicken over cauliflower rice.
Rice with butter chicken;
Butter chicken with Basmati rice is probably the most popular side dish to serve with your Butter Chicken.
90 Second Keto Bread;
Keeping your meal keto friendly, another flatbread you can serve your butter chicken with is keto bread instead of naan bread.
Butter chicken with naan;
Naan is a flatbread cooked in a tandoor oven to give it that unique texture and smoky flavour.

In most cases, it's served plain with the butter chicken and is perfect for mopping up or dipping in your sauce.
Recipe Variations
Butter chicken with potato;
Dice ½ cup potato to a Large dice cut size and add when simmering chicken.
For a lighter version;
For a slightly lighter version substitute heavy cream with 1 Tbsp light cream + 1 Tbsp milk.
Recommended Celebrity Cookbooks
This post contains affiliate links. If you use these links to buy something we may earn a commission. Thanks.
Nutrition Information
Yield
1
Serving Size
1
Amount Per ServingCalories 488Total Fat 28gSaturated Fat 16gTrans Fat 1gUnsaturated Fat 10gCholesterol 153mgSodium 364mgCarbohydrates 22gFibre 5gSugar 8gProtein 38g

"These values are automatically calculated and offered for guidance only. Their accuracy is not guaranteed."