This chocolate peanut butter keto Mug Cake is not too peanut buttery, but just enough.
It's full of chocolate flavour and has a great texture.
Another sweet tooth craving of yours will be satisfied with this delectable mug cake.
A gluten free, keto compliant mug cake with coconut flour, chocolate chips and peanut butter are mostly everyone's favourite.
Who doesn't love chocolate and peanut butter anyway? So combining them is always a good idea!


Yield: Yield: 1 Serve
Peanut Butter Mug Cake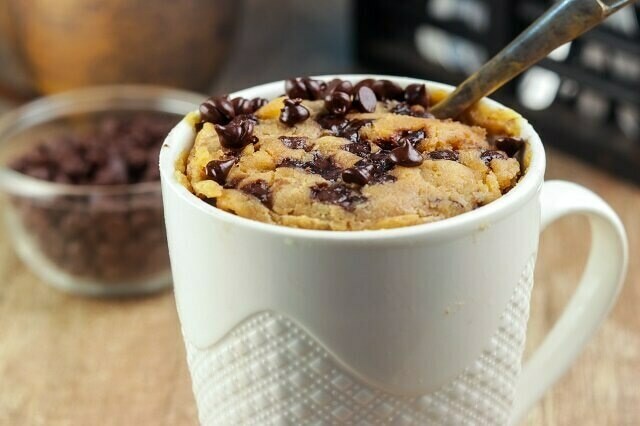 This Healthy Keto Chocolate Peanut Mug Cake with coconut flour is healthier, gluten free and keto-friendly.
It tastes of chocolate and peanut butter, with melty chocolate chips throughout.

It also is ready in a flash to satisfy your need for a sweet fix almost instantly.

Prep Time 1 minute

Cook Time 2 minutes

Total Time 2 minutes
Ingredients
1 Tbsp sugar-free Peanut Butter
1 Tbsp Coconut Oil
1 Tbsp Coconut Flour
1 Egg
1 tsp Vanilla Extract
2 Tbsp Heavy Cream
¼ tsp Baking Powder
1 Tbsp sugar-free Chocolate Chips
Instructions
Whisk all ingredients in a microwave-safe mug.
Set for 60-90 seconds in the microwave.
Notes
A few tips for making this easy keto mug cake recipe:
Peanut butter tends to thicken cake batters the longer it sits, so you need to work quickly on this one, getting it into the mugs or ramekins as soon as it's all mixed together.
This keto chocolate dessert will rise quite high during cooking before sinking back down.
You should use a microwave-safe mug that can hold at least 1½ cups/12 oz of liquid.
Baking In The Oven

If you don't have a microwave or prefer not to use one, you can also bake in the oven.

There are 2 options for baking your keto mug cake:

Bake in a Mug.
Prepare the mug cake batter as usual and bake it in the oven at 180℃ (350°F) until baked through.

The baking time will vary depending on the shape of your mug and thickness of the walls.
It could be anywhere from 20-40 minutes.

So check frequently. Insert a toothpick in the centre and when it comes out no longer with wet batter on it.
Moist crumbs is perfect, as you also don't want to overbake the mug cake.
Bake as Muffins.
A much faster way to bake this peanut butter cake is as muffins.

Divide the batter into 2-3 lined muffin cavities and bake at 180℃ (350°F) for about 12-15 minutes.
Toppings for your keto mug cake
Keto Whipped Cream – Make it with or without sweetener.
White Chocolate – For topping I recommend sugar-free white chocolate chips, which are sweetened.
Chopped Nuts – Any kind of keto nuts will work, such as walnuts, pecans, or almonds. You can also stir them into the batter.
Keto Vanilla Ice Cream – Just a spoon on top, this is one of my favourite toppings!
Peanut Butter Drizzle – Microwave some peanut butter with a bit of coconut oil, then drizzle over the cake.
Berries – Chopped strawberries, raspberries, blueberries, or blackberries are all keto friendly.
Keto Mug Cake recipe Variations
Substitute the peanut butter;
Replace the peanut butter with any other seed or nut butter (like almond), it is even paleo-friendly.
Add Vanilla;
Try adding a couple drops of vanilla extract for a richer flavour.
Keto mug cake with almond flour;
The 1 Tablespoon of Coconut flour can be substituted with 3 Tbsp Almond flour.
Recommended Celebrity Cookbooks
This post contains affiliate links. If you use these links to buy something we may earn a commission. Thanks.
Nutrition Information
Yield
1
Serving Size
1
Amount Per ServingCalories 651Total Fat 52gSaturated Fat 27gTrans Fat 0gUnsaturated Fat 20gCholesterol 220mgSodium 358mgCarbohydrates 6gFibre 2.4gSugar 17gProtein 17g

"These values are automatically calculated and offered for guidance only. Their accuracy is not guaranteed."