This Cheeseburger Salad has all the delicious flavours of a juicy burger, but in a low carb salad version.
Perfectly seasoned mince/ground beef, sharp cheddar cheese and tomatoes, drizzled with your own delicious homemade cheeseburger salad dressing.
One of the fastest salads to prepare on a busy night is this cheeseburger salad.
This makes a fantastic light meal or appetiser and is not heavy to consume.
It's a cheeseburger salad bowl that is so crisp and refreshing everyone will love it.
If you love cheeseburgers, you'll definitely love this salad version too!
There's some good recipe variations for you to try along with a handful of serving suggestions.
This is another one that fits in to the ketogenic and gluten free diets.


Yield: Yield: 1 serve
Cheeseburger Salad Recipe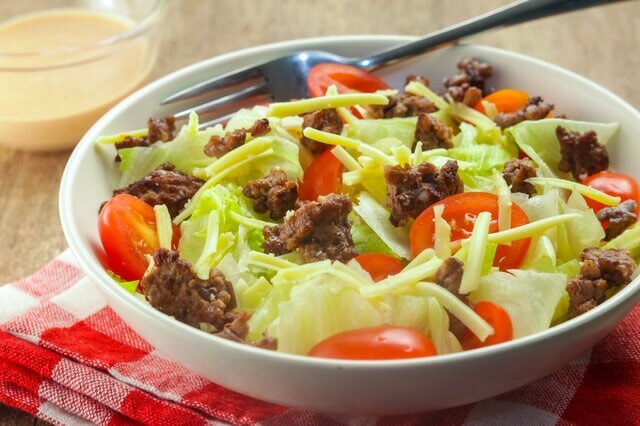 This cheeseburger salad recipe is the perfect option if you are in a hurry but still want to prepare something delicious to eat.

Create your own crunchy and fresh, low carb cheeseburger salad bowl now.

Prep Time 10 minutes

Cook Time 12 minutes

Total Time 22 minutes
Ingredients
100g beef mince
Salt and pepper to taste
1 cup Iceberg Lettuce, shredded
2 Tbsp grated Cheese
6 Cherry Tomatoes, halved
Cheeseburger salad dressing ingredients
1½ Tbsp Mayonnaise
1 Tbsp sugar-free Tomato Ketchup
½ tsp Liquid Smoke
Instructions
Sear Beef in a pan over medium heat.
Break the beef apart as it cooks, until the meat is well browned and no longer pink inside.
Season with salt and pepper to taste.
In a bowl, toss lettuce, cherry tomatoes, cheese, and cooked mince.
Stir together ingredients for the cheeseburger salad dressing and drizzle over salad.
Notes
Remember to use fresh salad ingredients for the best results.

What To Serve With Cheeseburger Salad

Here's some simple ideas for serving your salad.
Cheeseburger Tortilla Wrap

Make your salad as per the recipe and roll the whole lot up in your favourite flat-bread.
You could even add salsa sauce to the flat-bread.

Lettuce Wraps

Instead of chopping the lettuce, you can serve all the ingredients rolled up in leaves of iceberg or romaine to make a lettuce wrap bar.

Barbecued Cheeseburger Salad

This salad also makes a fantastic fresh barbecue side-dish by cooking the meat on your hotplate and build your salad in front of all your guests.

Cheeseburger Salad Main Meal

Serve on a large plate for lunch or light dinner with both tasty sausage patties and this tasty sausage patties.
These three go very well together.
Recipe Variations
Add some diced onions and garlic to the mince/ground beef. It adds a ton of yummy flavour to your meat.
You can also add a little bit of mustard to the dressing mix for an extra kick, if you like.
Cheeseburger Salad Recipes

The following recipe ideas are all based on using the recipe above.

Vegetarian Cheeseburger Salad

Use meaty portobella mushrooms instead of ground beef.
Dice 1 cup of mushrooms then fry off. They will reduce to about ½ cup.
Let cool before folding through.
Substitute the cheddar cheese with your favourite plant-based cheese from your supermarket.
In the dressind, substitute the mayonnaise for this avocado hummus.

Cheeseburger pasta Salad

Cook ½ cup macaroni elbows to Al dente.
Let cool.
Toss through with the other salad ingredients.

Bacon Cheeseburger Salad

Dice 1 bacon rasher and quick fry until crunchy.
Let cool.
Toss through with the mince and other salad ingredients.

Mexican Cheeseburger Salad

Add 2 tsp taco seasoning when seasoning the mince.
Use a good salsa sauceinstead of tomato ketchup in the dressing.
Recommended Celebrity Cookbooks
This post contains affiliate links. If you use these links to buy something we may earn a commission. Thanks.
Nutrition Information
Yield
1
Serving Size
1
Amount Per ServingCalories 563Total Fat 38gSaturated Fat 12gTrans Fat 1gUnsaturated Fat 23gCholesterol 112mgSodium 777mgCarbohydrates 24gFibre 2gSugar 20gProtein 32g

"These values are automatically calculated and offered for guidance only. Their accuracy is not guaranteed."