Want to make your own homemade mayonnaise that is both delicious and easy to prepare? Look no further—this step-by-step guide will help you whip up a rich and creamy mayonnaise in no time.
The Ultimate Mayonnaise Recipe You Will Love
Mayonnaise is a creamy sauce made from oil, lemon or vinegar and egg yolks.
Depending on the recipe, various herbs, spices, and condiments can be added for flavour.
This condiment is an incredibly versatile product that can be used to enhance many dishes with its creamy texture and delicious taste.
Mayonnaise is widely used in salads, sandwiches, burgers or as a dip or topping for other foods.
Making your own mayonnaise at home offers many advantages. By making it yourself, you can control what goes into it, so you know exactly what is in it. Plus, you can choose which flavours to add, like a squeeze of lemon juice or your favourite spices, to create the perfect condiment for your favourite recipes.
Furthermore, homemade mayonnaise tastes much better than store-bought varieties and can be prepared ahead of time for those last-minute meals.
Is mayonnaise good for health?
The main ingredients in mayonnaise are egg yolks and oil, so it contains healthy unsaturated fats that can help reduce cholesterol levels.
Additionally, the egg yolks contain essential nutrients such as zinc, selenium, phosphorus, and vitamins B6 and B12 which are beneficial to our health. However, mayonnaise is rich in calories so should be enjoyed in moderate amounts.


Yield: 400 ml
The Easiest Way to Make Homemade Mayonnaise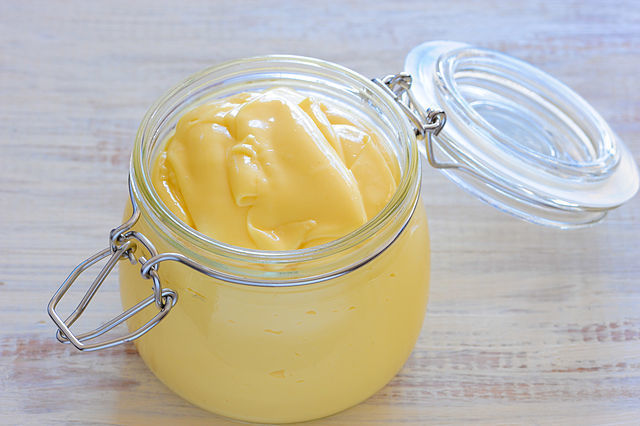 Get delicious homemade mayo in minutes by following this easy recipe! Learn the quickest and simplest way to make mayonnaise right at home.

Prep Time 5 minutes

Additional Time 5 minutes

Total Time 10 minutes
Ingredients
½ tsp salt
2 egg yolks
¼ tsp pepper
1½ cups olive oil (Mild)
¼ tsp mustard
4 Tbsp vinegar or lemon juice
Instructions
Mix the dry ingredients in a bowl.
Separate the eggs.
Whisk egg yolks, mustard and vinegar in a medium bowl.
Using an electric whisk, add oil, first drop by drop, then in a slow, steady stream.
(If mixture curdles or splits, add a little hot water and beat vigorously.)
Add salt and white pepper to taste.
Notes
Test out the Flavour and Texture of your Mayo.
After you have finished making your mayonnaise, it is important to test the flavour and texture to make sure that it meets your expectations.

Start by tasting the sauce and then adjust any of the ingredients in the recipe if you feel like something is missing.

To check for desired consistency, take a spoonful of your mayo and drop it onto the surface of the mixture.
If it holds its shape and does not spread out too quickly, then you have achieved a perfect mayo consistency!

Important!
Your Mayo should not be made in large quantities, for the oil separates from the remainder of the ingredients if it is allowed to stand too long. (see Emulsify)
If it is thoroughly beaten and kept extremely cold, it may perhaps keep for a week, but keeping it longer than that is not advisable.

5 Creative Mayonnaise Recipe Variations to Try

Unlock the full potential of mayonnaise by trying these 5 delicious recipe variations. Unlock your inner chef with these easy to follow ideas!

Thinner Mayonnaise
Before serving, it may be thinned by beating either light Cream or sour cream into it.
Fluffier Mayonnaise
It may be made fluffy and light and its quantity may be increased by beating Whipped Cream into it.
Garlic Mayonnaise
Add a clove of finely chopped garlic to step one for this creamy Spanish inspired mayonnaise.
Use with anything from roast veggies to a tasty sandwich.
Herb Mayonnaise
Stir a tablespoon of fresh chopped herbs through the finished mayonnaise.
Choose basil, dill, parsley or any other choice of herb.
Chilli Mayonnaise
Substitute a tablespoon of olive oil for a tablespoon of chilli oil to create a spicy mayonnaise.
This is ideal to serve with wedges or chicken skewers.
10 Surprisingly Yummy Uses for Mayonnaise

Spice up your diet with these 10 yummy ways to use mayo in the kitchen.
There's something for everyone in this creamy collection of recipes!

Avocado Toast;
One of the most popular modern breakfast dishes is Avocado Toast and it's more delicious with a dollop of Mayonnaise.

Simply spread some extra mayo on top of your avocado toast to get the creamy flavour you crave!
Zesty Tacos;
A dollop of mayo adds extra zing to tacos and other Mexican food dishes. Try some mayonnaise in place of sour cream to give your tacos a unique, tangy taste.
Buffalo Cauliflower Bites;
Discover a whole new world of spice with this delicious appetizer.

Mix your favorite hot sauce with light mayonnaise for an added creamy factor and coat cauliflower bites for an amazingly flavour-packed snack!
Potato Salad;
No summer picnic is complete without potato salad, plus light mayo offers great health benefits compared to other condiments like dairy-based dressings like ranch dressing or sour cream.
Egg Salad Sandwich;
Transform plain egg salad sandwiches from boring to bursting with flavour by swapping out traditional salad dressings for lighter mayonnaise instead!
Baked Veggies;
For an added kick, spritz up you roasted vegetables by adding light mayo just before they enter the oven and they will come out extra crispy, yet flavourful!
Fish Sticks;
Is there anything better than cereal-crusted/crumbed fish sticks?
Not really—especially when these are dipped into a mixture of light mayonnaise and fresh lemon juice!

The perfect balance of crunchy, tart, and creamy all in one bite.
Macaroni Salad;
If you're looking for an easy side dish that's full of flavor then try mixing elbow pasta, diced chicken or ham and plenty of light mayonnaise with celery seed as well as celery pieces — it's excellent for potlucks too!
Vegetable Sandwiches;
Give veggie sandwiches a makeover with light mayonnaise instead of cheese slices or high fat spreads like butter or margarine; this simple ingredient can transform boring lunch menus into exciting fare no one will be able to resist!
Chocolate Cake Fudge Cupcakes;
Yes it's true: the combination between chocolate cake batter and light Mayonnaise is delightfully tasty!

Just add 1/3 cup Mayo gently onto your batter mix until smooth & creamy before spooning into cupcake cases & bake away!
Deliciously decadent fudgy cupcakes achieved––Enjoy!
Recommended Celebrity Cookbooks
This post contains affiliate links. If you use these links to buy something we may earn a commission. Thanks.
Nutrition Information
Yield
1
Serving Size
1
Amount Per ServingCalories 2988Total Fat 333gSaturated Fat 48gTrans Fat 0gUnsaturated Fat 276gCholesterol 369mgSodium 1202mgCarbohydrates 2gFibre 0gSugar 0gProtein 6g