The Best Classic BBQ Sauce recipe ever! Not too sweet, not too spicy and guaranteed to please every time.
It goes well on anything that comes off the barbecue, your hamburger, on top of a pizza and is also great for smoked meats.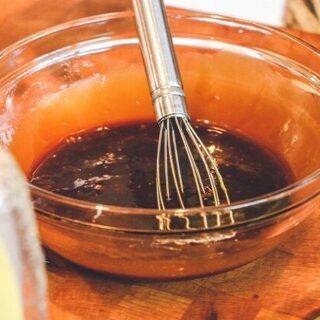 How To Make Classic BBQ Sauce
Yield: Yield: 250 ml

Prep Time: 15 minutes

Cook Time: 1 hour

Additional Time: 1 hour

Total Time: 2 hours 15 minutes

How To Make Classic BBQ Sauce from scratch
This classic bbq sauce recipe creates a well balanced, rich & smooth sauce with some sweet, a bit of heat and just a touch of smoky flavour.
Ingredients
2 Tbsp tomato paste (30 ml)
1 Tbsp white vinegar (15 ml)
1 Tbsp soy sauce (15 ml)
1 tsp Worcestershire sauce (5 ml)
1 dash hot Tabasco sauce
1 Tbsp honey (15 ml)
1 Tbsp dark brown sugar (15 ml)
1 Tbsp molasses (15 ml)
1 tsp mustard powder (5 ml)
1 tsp garlic powder (5 ml)
1 tsp onion powder (5 ml)
1 tsp salt (5 ml)
1 tsp mixed herbs (5 ml)
½ cup water (125 ml)
Instructions
Combine all the ingredients in a saucepan.
Whisk thoroughly or combine with a hand-held blender to ensure there are no lumps.
Simmer over low heat while stirring frequently for 1 hour (this pasteurizes the sauce).
Cool for at least 1 hour before transferring to an airtight container.
Refrigerate.
Notes
Store for up to 1 month in the refrigerator.

Classic BBQ Sauce Uses
Brush this flavourful barbecue sauce onto chicken, steaks, ribs, lamb chops or pork chops for the last few minutes on the barbecue or in the pan.
Classic BBQ Sauce is delicious as a dip for your chips, a topping for your burger or a marinade for your meat.
Recommended Celebrity Cookbooks
This post contains affiliate links. If you use these links to buy something we may earn a commission. Thanks.
Nutrition Information
Yield 1 Serving Size 1
Amount Per ServingCalories 236Total Fat 1gSaturated Fat 0gTrans Fat 0gUnsaturated Fat 1gCholesterol 0mgSodium 3316mgCarbohydrates 56gFibre 2gSugar 48gProtein 4g