Easy as traditional boil up recipe NZ style, with pork bones, dumplings and lashings of both root and leafy vegetables.
Create a hearty and warming meal that is healthy, easy to make and delicious to eat.
Dumplings, also known as "doughboys", usually accompany the boil up to soak up the soupy goodness of what some do call pork bones soup.
What is a Boil Up?
A boil-up is a a one pot meal where starchy vegetables such as sweet potato, potatoes, greens such as puha, watercress or cabbage leaves, are boiled together with meaty pork bones.
It is a traditional way of cooking most commonly associated with the Maori people of New Zealand.
The end result is similar in texture to a thick soup or a thin stew.
Try this delicious and healthy one pot meal, you can whip up and let the stockpot do all the hard work!
You can make it the day ahead because it's even better the second or third day re-heated.


Yield: Yield: 6 Serves
Boil Up Recipe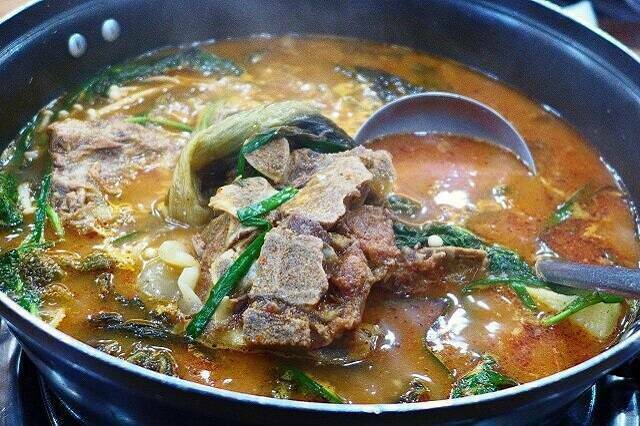 Enjoy traditional Māori kai (food) using this hearty Boil Up recipe.
Create a healthy and warming meal made with inexpensive cuts of meat, starchy vegetables and leafy greens.

Prep Time 25 minutes

Cook Time 2 hours 15 minutes

Total Time 2 hours 40 minutes
Ingredients
NZ Boil Up Ingredients

1kg meaty pork bones
1 bacon hock
4 medium-sized potatoes
1 medium onion
2 large kumara
½ pumpkin
4 cabbage leaves
1 large bunch watercress
½ tsp salt

Boil Up Doughboys Ingredients

1 cup self raising flour
¼ tsp salt
¼ cup water
Instructions
NZ Boil Up Instructions
Peel and dice potatoes, pumpkin and kumara into 2cm cubes.
Wash and roughly chop the watercress and cabbage.
Slice onion and place with pork bones and hock in a large stockpot.
Pour in just enough water to cover bones and hock, season with salt and then gently simmer for 1½ hours.
Skim off any fat from top and remove bones, scraping off any remaining meat off the bones back in to the pot.
Peel the hock, chop the meat then add it in.
Add all root vegetables vegies to pot and simmer a further 20 minutes.
Add all green vegetables vegies to pot and cover.
Boil Up Doughboys Instructions
Lightly season the flour with salt.
Gradually add water to form a dough.
Break off small bits of dough and form 2-3cm balls.
Finish It Off
Place doughboys on top of boil-up, cover and cook for about 10-15 minutes.
Don't lift lid while cooking. Larger doughboys will take a bit longer.
Notes
When shopping, try to get the freshest and best quality produce and ingredients you can.

This pork bones soup is one of those dishes that seem to taste even better on the second or third cook.

What To Eat With Boil Up

Here's some ideas on serving your meal and what to eat with your boil-up.

Serve your boil up in soup bowls with buttered bread on the side.
Serve your hot boil up in large bowls with dollops of butter placed on top.
Let the butter melt through and enjoy.
Serve over mashed potatoes.
Goes great on a bed of steamed rice.
Serve Cheese scones on the side instead of doughboys.
Boil up ingredient Substitutions

For the ingredients, they are easily found at your local fruit and vegie market and butcher.
If you are having a hard time finding particular ingredients, then here are some substitution ideas.

Kumara;
Kumara is simply the Maori word for (Purple)sweet potato. You can replace with any root vegetable you like.
Pork bones;
Pork chops or Pork ribs, such as spareribs are a good substitute for this recipe.
You can substitute with most kinds of meaty bones including beef, lamb, mutton or goat.
Bacon hock;
Smokey bacon or pork neck can be a substitute for bacon hock in this recipe.
Watercress;
Substitutes for Watercress could be Puha, Bok Choy, Spinach, Silverbeet, Kale or Nasturtium Leaves.
For a healthier Maori Boil Up

This recipe is already healthy but you can always;

Lower Sodium
Eliminate salt from boil up ingredients.
Add more vegetables such as sliced carrots.
Recommended Celebrity Cookbooks
This post contains affiliate links. If you use these links to buy something we may earn a commission. Thanks.
Nutrition Information
Yield
6
Serving Size
1
Amount Per ServingCalories 621Total Fat 24gSaturated Fat 8gTrans Fat 0gUnsaturated Fat 13gCholesterol 149mgSodium 689mgCarbohydrates 48gFibre 5gSugar 5gProtein 51g