The aroma and satisfying texture of these soft and crunchy, cheesy breadsticks with parsley and garlic definitely doesn't disappoint.
They are so flavourful and delicious eaten both hot or cold.
Create a batch of these irresistible bread sticks from scratch to serve alongside your next meal.
These easy-to-make, easy-to-bake bread sticks will be the new snack or side plate that you'll fall in love with!
Part of the secret to this is combining the mozzarella to the dough, it really really does make a difference.
In essence you are making a fat head dough using almond flour.
The great thing about this cheesy mozzarella dough is that there's absolutely no grain or wheat at all.
It is made with 5 simple ingredients and is naturally gluten-free and keto friendly.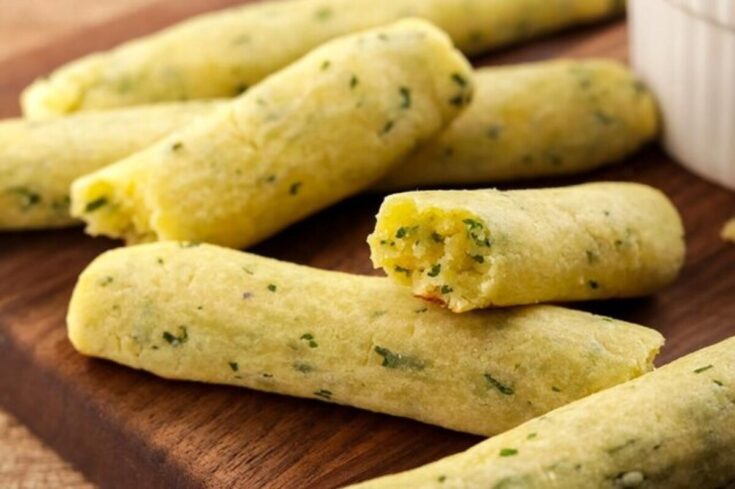 Yield: 4 bread sticks
Recipe For Breadsticks
Prep Time: 10 minutes

Cook Time: 6 minutes

Total Time: 6 minutes

Breadsticks are delicious snacks that are perfect for parties and picnics.
They're also great for kids' lunches and school dinners.

This recipe for breadsticks shows how to make bread sticks at home.
Ingredients
½ cup shredded Mozzarella
½ cup Almond Flour
1 tsp minced Garlic
1 Tbsp chopped Parsley
1 Egg Yolk
Instructions
Blend all the ingredients together in a bowl.
Lightly knead the mixture into a smooth dough.
Divide the dough into even-sized balls then roll each out into sticks.
Put the sticks on a baking sheet lined with parchment paper.
Bake for 6-8 minutes at 200℃ (400℉)
Notes
Shaping
I usually split the dough into pieces and shape each one individually into a strip,

When shaping the strips, their size and how long or thick they are is totally up to you.
Just make sure the strips of dough are as equal as possible in size so that they bake evenly.

How To Use Breadsticks

Serve these breadsticks alongside your favourite soups, salads, roasts and any other meal, try serving them at your next barbecue!

You can also use them as appetisers or finger food at parties!
For example this Avocado Hummus makes a great dip for your cheesy bread sticks.

They are perfect to be taken as a picnic food or used as a lunchbox filler, or just as a weekend snack food.
Recommended Celebrity Cookbooks
This post contains affiliate links. If you use these links to buy something we may earn a commission. Thanks.
Nutrition Information
Yield
4
Serving Size
1
Amount Per ServingCalories 129Total Fat 10gSaturated Fat 2gTrans Fat 0gUnsaturated Fat 7gCholesterol 53mgSodium 76mgCarbohydrates 4gFibre 2gSugar 1gProtein 6g

"These values are automatically calculated and offered for guidance only. Their accuracy is not guaranteed."