The aroma and satisfying texture of these soft and crunchy, cheesy breadsticks with parsley and garlic definitely doesn't disappoint.
They are so flavourful and delicious eaten both hot or cold.
Create a batch of these irresistible bread sticks from scratch to serve alongside your next meal.
These easy-to-make, easy-to-bake bread sticks will be the new snack or side plate that you'll fall in love with!
Part of the secret to this is combining the mozzarella to the dough, it really really does make a difference.
In essence you are making a fat head dough using almond flour.
The great thing about this cheesy mozzarella dough is that there's absolutely no grain or wheat at all.
It is made with 5 simple ingredients and is naturally gluten-free and keto friendly.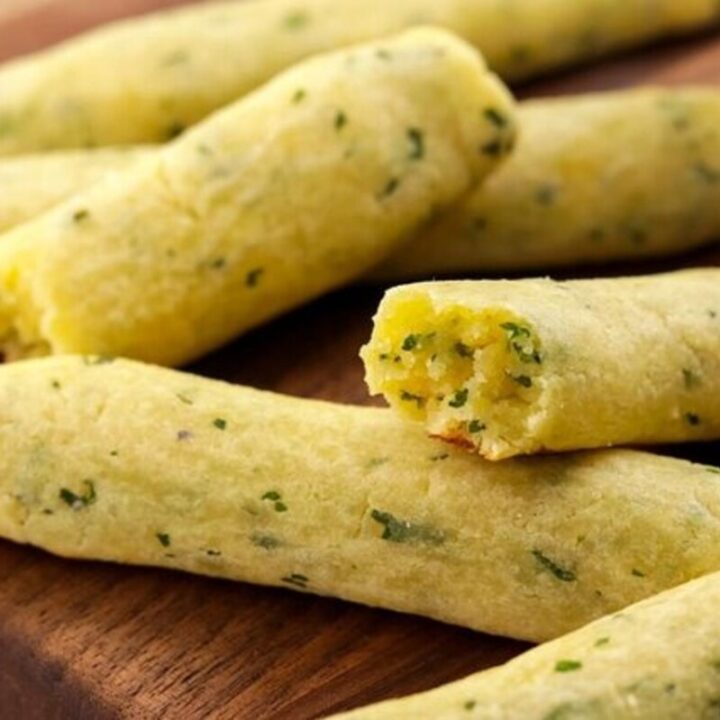 Recipe For Breadsticks
Yield: 4 bread sticks

Prep Time: 10 minutes

Cook Time: 6 minutes

Total Time: 6 minutes

Breadsticks are delicious snacks that are perfect for parties and picnics.
They're also great for kids' lunches and school dinners.

This recipe for breadsticks shows how to make bread sticks at home.
Ingredients
½ cup shredded Mozzarella
½ cup Almond Flour
1 tsp minced Garlic
1 Tbsp chopped Parsley
1 Egg Yolk
Instructions
Blend all the ingredients together in a bowl.
Lightly knead the mixture into a smooth dough.
Divide the dough into even-sized balls then roll each out into sticks.
Put the sticks on a baking sheet lined with parchment paper.
Bake for 6-8 minutes at 200℃ (400℉)
Notes
Shaping your breadsticks;
I usually split the dough into pieces and shape each one individually into a strip,

When shaping the strips, their size and how long or thick they are is totally up to you.
Just make sure the strips of dough are as equal as possible in size so that they bake evenly.

Creative Ways to Use Breadsticks

From crunchy appetisers to decadent desserts, breadsticks can be used for a variety of creative dishes.
Here are some ideas to inspire you: use garlic breadsticks as a crust for pizza or make other savoury foods,

Bruschetta;
This classic Italian dish is a delicious way to use breadsticks!
Preparing bruschetta by lightly toasting the bread and topping it with fresh tomatoes, garlic, basil and olive oil makes for a yummy appetiser or snack.
Other delicious toppings for your bruschetta could include cheese, sliced meats, vegies and even pesto sauce.

You can also melt some cheese onto the breadsticks before adding your toppings for an extra cheesy finish!
Grilled Cheese;
Breadsticks are great to use instead of traditional slices of white or wheat bread when creating grilled/broiled cheese toasties!
Here you'll want to toast the sticks rather than just dipping them in butter, so that they stay crispy while providing a good base for melty cheese-filled deliciousness.
Add any other ingredients you'd like such as sliced tomato, diced onion, vegies or bacon bits.

A fun variation is to make it two stories tall—toast two sets of five (or however many fit in your pan) sticks side by side and insert the cheesy filling between them!
Breadstick Pizza;
To make something more substantial out of your breadstick bites, use them to create a mini pizza pie!

Spread spicy tomato sauce on each halved stick.
If you'd like anything else on top (ham, salami, peppers, olives, etc.) now is the time add those as well.
Then sprinkle some mozzarella cheese on top before popping it into the oven until it's nice and bubbly.

This would make a great party appetizer as well because it only takes about 10 minutes from start to finish once all your ingredients are prepared.
French Toast Sticks;
Savoury French toast sticks are made with breadsticks sliced in half lengthways and soaked in egg, milk, salt and pepper, then pan-fried until golden.

See scrummy french toast for the recipe.
Dip these golden crunchy 'sticks' into this luscious butter sauce with ease - it'll be sure hit at family movie night!
.
Or you could fry up your cheesy mozzarella sticks in crumbled breadcrumbs to create an updated classic.
However if you want even more flavour, try wrapping wrapping cooked bacon around your skinny Italian style, eggy breadsticks instead!
Cheesy Dippers & Spreads;
Crispy golden brown breadsticks can become an irresistible finger food when dipped into warm melted cheese spread!.
Partially slice through your breadsticks lengthways and fill with tomato relish, then serve up these delectable snacks together with warm cheese spread for dipping.

These are the perfect treat for summer BBQs or get togethers.
Spaghetti enfolders;
Another exciting way to spruce up regular spaghetti is by using spoonfuls of cooked noodles enclosed inside two thinner slices of buttered Italian style breadsticks held together by toothpicks.
truly delightful dish that will keep everyone satisfied at dinnertime!
With its crunchy exterior coating smooth al dente pasta inside; this is one outstanding main course

It can also be modified one step further by pan frying the outside edges so that melted butter seeps into its golden crevices which gives great depth flavour every bite each time.
What To Eat With Breadsticks

Breadsticks can be enjoyed as an appetizer or a side dish with a variety of meals.
They can also be served alongside salads, soups, stews, BBQ dishes, pasta dishes, and more.

Cocktail Sauce;
A classic accompaniment to breadsticks is a creamy sauce.

This bright, delicious tomato-based sauce often features garlic and various herbs, making it a perfect pairing for the soft interior and crisp exterior of the breadstick.
Alfredo Sauce;
A creamy alternative to marinara, alfredo sauce makes an ideal dip for breadsticks – rich enough that its flavour stands out but light enough that it won't overpower the delicate flavours of the sticks themselves.

It also pairs excellently with other ingredients like spinach and mushrooms for a unique culinary experience you won't find with any other food.
Cheese Dip;
Cheese dipping sauces are a must-have any time you have breadsticks.
Whether you prefer melted cheese or something cool and creamy from a can, there's nothing quite like dipping your favourite type of stick in it and savouring the incredible flavour combination!
Pesto;
Pesto adds an intense depth of flavor to your dish — not to mention tons of healthy nutrients!
The nutty taste blended with fresh basil makes pesto especially good when used as a dip for plain or cheesy breadsticks alike.
Hummus;Avocado Hummus is another incredibly versatile dipping sauce option.
You could even try mixing it up with tahini or adding some diced tomatoes or olives on top for a truly out-of-this world experience!
Garlic Aioli;
Garlic aioli brings an added zing to your otherwise simple meal spread; its spicy zininess has no equal when it comes to pairing with warm, crunchy breadsticks!

Just be sure not to skimp on quality – as we all know, some store-bought varieties simply don't compare in terms of taste.
Billot Envy (homemade butter blend);
One lesser known condiment perfect alongside warm breadsticks is Billot Envy, which is a homemade butter blend including garlic, parsley, Worcestershire and chili flakes — creating an addictive combination that will turn even ordinary bread into liquid gold!
Recommended Celebrity Cookbooks
This post contains affiliate links. If you use these links to buy something we may earn a commission. Thanks.
Nutrition Information
Yield 4 Serving Size 1
Amount Per ServingCalories 129Total Fat 10gSaturated Fat 2gTrans Fat 0gUnsaturated Fat 7gCholesterol 53mgSodium 76mgCarbohydrates 4gFibre 2gSugar 1gProtein 6g

"These values are automatically calculated and offered for guidance only. Their accuracy is not guaranteed."