If you're looking for a delicious and easy-to-make meal, look no further than Chicken Adobo.
This classic Filipino dish is a favourite among many, and with this ultimate guide, you'll learn how to make it like a pro.
From the ingredients you'll need to the step-by-step instructions, get ready to enjoy a flavourful and satisfying meal!
Chicken adobo is an easy Filipino recipe that takes less than 30 minutes to create.
These chicken thighs are so juicy and tender because they are seared and simmered in a delicious brown sauce over low heat.
The soy and vinegar sauce with black peppercorns, bay leaves and garlic give this dish its signature savoury tangy taste.
Now, one more thing.
I've added Coconut cream to the sauce that brings it a certain silkiness and a hint of elegance that makes it creamier and richer in taste.
This dish is traditionally enjoyed with steamed rice for lunch or dinner, but it can also be served for breakfast with garlic fried rice and sunny-side-up eggs.


Yield: 1 Serve
Chicken Adobo Recipe Filipino Style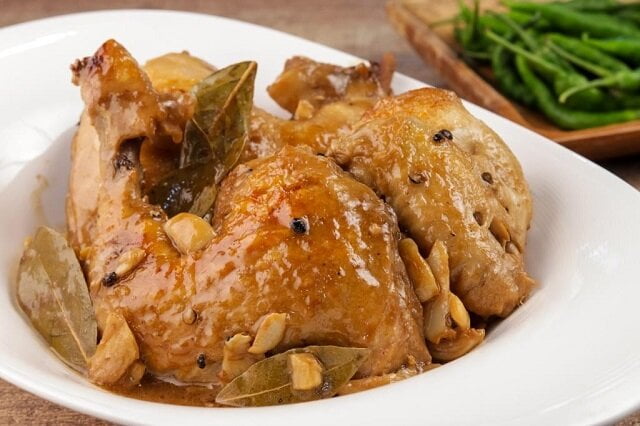 Chicken Adobo is a beloved dish in the Philippines, known for its savoury and tangy flavour.
The traditional recipe involves simmering chicken in a mixture of soy sauce, vinegar, garlic, and black peppercorns.

However, there are many variations of this dish, including this one that incorporates coconut cream for a creamier texture and richer flavour.

Served with steamed rice and leafy greens, this homemade Chicken Adobo is sure to be a crowd-pleaser.

Prep Time: 5 minutes

Cook Time: 25 minutes

Total Time: 30 minutes
Ingredients
150g Chicken Thighs or Legs
2 cloves Garlic, crushed
1 tsp Black Peppercorns
1 pc dried Bay Leaf
1 Tbsp Coconut vinegar
2 tsp low-sodium Soy Sauce
1.5 cups Chicken Stock
1.5 Tbsp Coconut Cream
1 tsp Olive Oil
Instructions
Heat olive oil in a braising pan.
Add chicken and sear until brown on both sides.
Add stock, vinegar, soy sauce, bay leaf, garlic, black peppercorns.
Simmer for 20-25 minutes.
Reduce pan juices and stir in coconut cream.
Season as needed with salt.
Notes
Tips for perfecting your Chicken Adobo.

To take your Chicken Adobo to the next level, try these tips:
Marinate the chicken overnight for extra flavour, use bone-in chicken for a richer taste, and add a splash of coconut milk for a creamy twist.

You can also experiment with different types of vinegar and soy sauce to find your preferred flavour profile.
Don't be afraid to make it your own and enjoy the delicious results!

The Best Side Dishes to Serve with Chicken Adobo.

Looking for the perfect side dishes to complement your Chicken Adobo?
Check out our top picks for delicious and easy-to-make sides!

Rice.
Rice is a staple in Filipino cuisine and is the perfect accompaniment to Chicken Adobo.
The savoury sauce of the adobo pairs well with the fluffy texture of rice, making it a satisfying and filling meal.
Vegetables.
Adding vegetables to your Chicken Adobo dish not only adds colour and nutrition, but also balances out the flavours.
Some popular vegetable options include green beans, bok choy, and carrots, Here is some tasty vegetable recipes you can serve as a side dish.
Pickled Vegetables.
Pickled vegetables, such as pickled papaya or pickled cucumber, are a common side dish in Filipino cuisine.
The tangy and slightly sweet flavour of the pickled vegetables complements the rich and savoury taste of the adobo.
Cauliflower cheese.
Cauliflower cheese a popular side dish in many countries.
The cheesy, savoury flavour and light texture of the cauliflower cheese pairs well with the savoury flavour of the adobo.
Salad.
A fresh and light salad can be a refreshing addition to your Chicken Adobo meal.
A simple salad of mixed greens, tomatoes, and cucumbers dressed with a vinaigrette can provide a nice contrast to the rich and bold flavours of the adobo. Here are some refreshing salad recipes for you to try.
Garlic Fried Rice.
Garlic fried rice, also known as "sinangag," is a popular Filipino breakfast dish that can also be served as a side dish.
The fragrant and savory flavour of the garlic fried rice complements the bold flavours of the adobo.
Soup.
A warm and comforting soup, such as chicken noodle soup or miso soup, can be a great addition to your Chicken Adobo meal.
The soup can help balance out the richness of the adobo and provide a comforting and satisfying meal.
Here are some more easy soup ideas worth considering.
8 Variations of Chicken Adobo You Need to Try.

Spice up your dinner routine with these 8 delicious variations of the classic Filipino dish, Chicken Adobo.

Spicy Chicken Adobo.
Add some heat to your adobo by adding chili peppers or hot sauce.
Pineapple Chicken Adobo.
Sweet and tangy, this version includes pineapple chunks for a tropical twist.
Adobo Flakes.
Shredded chicken adobo that is fried until crispy, perfect for breakfast or as a topping for rice bowls.
Adobo Fried Rice.
Leftover adobo can be transformed into a delicious fried rice dish with the addition of rice, eggs, and vegetables.
Adobo Tacos.
Fill your tacos with shredded chicken adobo, lettuce, tomatoes, and cheese for a fusion of Filipino and Mexican flavours.
Adobo Chicken Skewers.
Marinate chicken in adobo sauce and grill on skewers for a tasty and easy-to-eat dish.
Adobo Chicken Wings.
Coat chicken wings in adobo sauce and bake or fry for a flavourful Appetiser or snack.
Adobo Chicken Salad.
Mix shredded chicken adobo with greens, tomatoes, and a vinaigrette dressing for a refreshing and healthy salad option.
Nutrition Information:
Yield: 1 Serving Size: 1
Amount Per Serving:Calories: 640Total Fat: 36gSaturated Fat: 14gTrans Fat: 0gUnsaturated Fat: 22gCholesterol: 203mgSodium: 1127mgCarbohydrates: 35gFibre: 1gSugar: 22gProtein: 46g

"These values are automatically calculated and offered for guidance only. Their accuracy is not guaranteed."