This recipe for chop suey creates an excellent light meal. It's full of flavour, is healthy and I'm sure your family will love you for it.
It is a variation on the classic Chinese Chop Suey recipe.
The recipe uses beef, but chicken or any other meat, or no meat at all also works just fine.
Cooking for a crowd? Just multiply by 10, 20. 30 or however many you're feeding.
It is very adaptable and easy. Make it your own and create your own signature dish.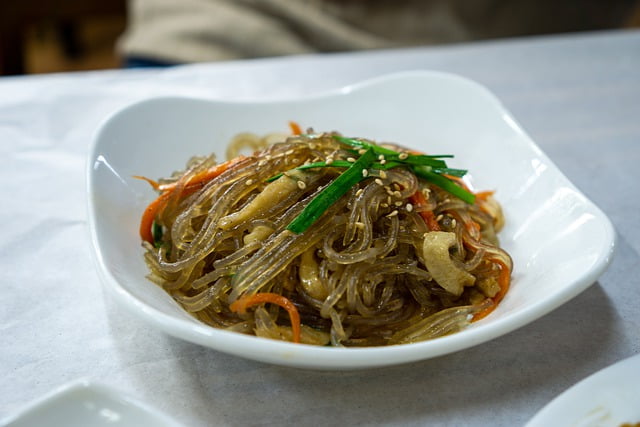 Yield: 1 Serve
Samoan Chop Suey
Prep Time: 30 minutes

Cook Time: 15 minutes

Total Time: 45 minutes

Samoan chop suey also goes by the name "Sapasui".
Sapasui consists of meat (chicken, beef or pork), and quickly seared vegetables such as carrots, brocoli and green beans that are sautéed in a sauce made of soy sauce, garlic and ginger.
It's cheap, delicious and fast to prepare.
Ingredients
125 g vermicelli noodles
1 tbsp oil
1 onion, finely chopped
2 cloves garlic, finely chopped
2 tsp fresh ginger, grated
500 g beef, stir-fry cut
1 carrot
1 head broccoli
150 grams green beans
2 tbsp soy sauce
2 tbsp lemon juice
½ cup corriander, chopped roughly
Instructions
Tenderise your meat. (Optional)
Sprinkle1½ tsp baking soda (bi-carbonate soda) on your beef cuts.
Toss with fingers trying to lightly coat everything, leave for 30 minutes.
Rinse and pat off excess water.
Finely chop the carrot (Julienne Cut).
Cut the broccoli into bite-size pieces.
Slice the green beans into 5-7 cm (2-3 inch) lengths.
Place the vermicelli in a large bowl and add hot water until just covered. Soak for 10-15 minutes or until the noodles have expanded.
Heat the oil in a large pot, add the onion and cook until softened.
Add garlic and ginger and cook briefly.
Add the beef and cook until it is just done.
Drain the vermicelli over a bowl, saving ½ cup of the soaking liquid.
Add the vermicelli and ½ cup of soaking liquid to the beef mix.
Add the vegetables, soy sauce and and lemon juice, then simmer for a couple of minutes.
Stir the corriander and simmer for a further two minutes.
Be careful not to over stir, otherwise the vermicelli will become mushy.
Notes
What To Eat With Chop Suey
Recipe Variations and Substitutions

It is possible to vary the meats and vegetables or even create a vegetarian version if you wish, all you really need is a bit of creativity.
So feel free to mix it up.
You can easily substitute the beef for chicken, lamb, pork, tofu, eggs or shrimp.

Try swapping the carrot for red or green capsicum/bell pepper.
Other vegetable ideas for your dish could be spring onions, sliced button mushrooms, Asparagus Spears, pumpkin and chopped up leafy greens like bok choy.

This Sapasui recipe contains a bit of soy sauce, which means that it contains sodium.
For those who wish, it is possible to prepare it with a low-sodium soy sauce.
Recommended Celebrity Cookbooks
This post contains affiliate links. If you use these links to buy something we may earn a commission. Thanks.
Nutrition Information
Yield
1
Serving Size
1
Amount Per ServingCalories 1403Total Fat 70gSaturated Fat 15gTrans Fat 1gUnsaturated Fat 47gCholesterol 193mgSodium 3237mgCarbohydrates 118gFibre 30gSugar 25gProtein 87g

"These values are automatically calculated and offered for guidance only. Their accuracy is not guaranteed."