Learn how to make Samoan Chop Suey at home with this easy-to-follow guide! Impress your friends and family while savouring the taste of Samoa!
A Taste of Samoa: How to Make Samoan Chop Suey
Craving a home-cooked Samoan dish? Look no further than this easy and delicious recipe for Samoan Chop Suey!
This classic dish is packed with flavour, and perfect for an all-in-one meal the whole family will love.
Follow this guide to replicate this traditional Samoan staple in your own kitchen.
What is Samoan Chop Suey
Samoan Chop Suey is a popular and tasty one-pot dish that originated in Samoa, made with a combination of different vegetables, protein sources like meat, seafood or eggs and seasonings.
The dish is often served as a comfort food for lunch or dinner with plenty of rice on the side – perfect for crispy sunny weather days!
What is Samoan chop suey made of?
Samoan chop suey is usually made with a combination of chopped vegetables such as carrots, onions, celery, cabbage, and bell peppers;
meat or seafood like chicken or shrimp; cooked eggs; and seasonings like salt and black pepper.
The dish can also be flavoured with coconut milk for an extra touch of sweetness.
It can be served on its own or over rice for a complete meal.
How did chop suey get to Samoa?
Samoan chop suey has a long and interesting history.
The dish is thought to have been brought by Chinese merchants in the 19th century and adapted to local ingredients and tastes.
Its name comes from the Chinese term "cha-sui" which translates roughly to "oddly mixed pieces", an apt description for this stir fry dish!
Over time, Samoan chop suey has become a beloved dinner staple in many households.
Are Samoan chop suey and Sapasui the same?
Although Samoan chop suey also goes by the name Sapasui, there are a couple of minor differences.
Both dishes use Chinese-style stir fry with locally sourced ingredients, so there are similarities.
Samoan chop suey is prepared more like a casserole as opposed to sapasui which is cooked in a wok for a shorter period of time.
Additionally, Samoan chop suey may contain prawns and caramelized onion while sapasui does not.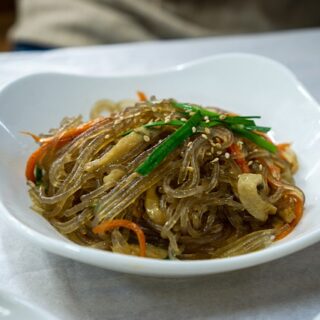 Samoan Chop Suey Recipe
Yield: 1 Serve

Prep Time: 30 minutes

Cook Time: 15 minutes

Total Time: 45 minutes

Discover a delicious and authentic Samoan take on chop suey with our easy-to-follow recipe!
Our fusion of traditional Samoan flavours pairs perfectly with a number of suggested side-dishes.

So enjoy the taste of Samoa in your own home!
Ingredients
125 g vermicelli noodles
1 tbsp oil
1 onion, finely chopped
2 cloves garlic, finely chopped
2 tsp fresh ginger, grated
500 g beef, stir-fry cut
1 carrot
1 head broccoli
150 grams green beans
2 tbsp soy sauce
2 tbsp lemon juice
½ cup corriander, chopped roughly
Instructions
Tenderise your meat. (Optional)
Sprinkle1½ tsp baking soda (bi-carbonate soda) on your beef cuts.
Toss with fingers trying to lightly coat everything, leave for 30 minutes.
Rinse and pat off excess water.
Finely chop the carrot (Julienne Cut).
Cut the broccoli into bite-size pieces.
Slice the green beans into 5-7 cm (2-3 inch) lengths.
Place the vermicelli in a large bowl and add hot water until just covered. Soak for 10-15 minutes or until the noodles have expanded.
Heat the oil in a large pot, add the onion and cook until softened.
Add garlic and ginger and cook briefly.
Add the beef and cook until it is just done.
Drain the vermicelli over a bowl, saving ½ cup of the soaking liquid.
Add the vermicelli and ½ cup of soaking liquid to the beef mix.
Add the vegetables, soy sauce and and lemon juice, then simmer for a couple of minutes.
Stir the corriander and simmer for a further two minutes.
Be careful not to over stir, otherwise the vermicelli will become mushy.
Notes
What To Eat With Samoan Chop Suey
White rice;Samoan Chop Suey is a delicious and flavorful traditional dish that is usually served as a side dish with rice.
Rice helps to balance out the flavours in Samoan Chop Suey, while also providing an extra level of heartiness.

The combination of protein and starch create a balanced meal that can satisfy everyone's hunger.
Potato Salad;
A good potato salad pairs well with this dish.

Adding potato salad to the dish adds a unique flavour and texture to the meal. Its creamy and crunchy elements add an extra layer of flavour that compliments the savoury flavour of the chop suey perfectly.
Cold rice salad;
A side dish of cold rice salad is great alongside your chop suey.

Cold rice salad is the perfect pairing with Chop Suey because it adds a cool, light and refreshing element to contrast the savoury and hearty flavours in the dish.
The mild yet distinct taste of cold rice salad brings balance to this classic Samoan meal
90 second microwave bread;
Serve with this pancake style 90 second microwave bread.
Chop Suey is a traditional dish that pairs beautifully with 90 second microwave bread.

The fluffy and light texture of the bread adds a delicious contrast to the hearty and savoury flavour of the Sapasui.
It is an ideal match for both flavour and texture plus it's also great for mopping up that sauce.
Samoan Coconut Rice;
Samoan coconut rice is an absolute staple side dish for Samoan Chop Suey and it's a great way to add a pop of flavour to the dish.

It's made with coconut milk, jasmine rice and hints of turmeric and curry powder, so it makes for a nice yellow hue with a delicious flavour.
Cucumber Salad;
Cucumber salad is another classic side dish when it comes to Samoan cuisine and goes especially well with Samoan Chop Suey.

It contains cucumbers, green onions, lemon juice, garlic salt and sugar for an added flavour kick in every bite.
Baked Plantains/Plantain Fritters;
Baked plantains make for a sweet contrast when dining on savory meals such as Samoan Chop Suey.
They go together in harmony like peaches & cream! Plus they are super easy to make.

Just cut a few plantains into slices and place them onto parchment paper lined baking sheets then bake at 220°C (425°F) until browned (this should take roughly 20-30 minutes).
Coleslaw;
Coleslaw makes for another excellent side dish when having your Sapasui.
It helps add some extra crunchiness due to its cabbage content plus its tangy taste also provides additional balance for this savoury meal too!

All you have to do is mix shredded cabbage/carrots together in a bowl then add mayo or yoghurt based dressing and voila - you got yourself some tasty coleslaw!
Fruit Salad;
This dish is often served with a side of fruit salad for added sweetness and a pop of vibrant colour.

The fruit salad's flavour helps to cut through the savoury flavours of the dish and its natural acidity helps to balance the overall flavour profile.

Eating fruit helps provide additional sources of vitamins and minerals that may not be found in traditional Samoan Chop Suey ingredients, as well as dietary fibre for improved digestion.
Tropical Smoothie Bowl;
This addition will help end your dining experience on a sweet high note.

Enjoy fresh fruits blended together in creamy smoothies accompanied by crunchy toppings such as granola and coconut flakes.
Due to how filling these smoothie bowls are their desired reputation as "meal replacement" options are quite deserved!
Toast points;
Toast points, which are slices of toast cut into triangle shapes, are a popular side dish for Samoan Chop Suey.
They provide a crunchy texture and soak up the sauce from the dish, making them an ideal accompaniment to this savoury one-pot meal.
Garnishes;
This step isn't necessary but adding a sprinkle of sesame seeds or green onions brings visual interest as well as flavour enhancement.
This is good, especially if you have picky eaters who need something extra to make them feel special!
Chop Suey Recipe Variations and Substitutions

It is possible to vary the meats and vegetables or even create a vegetarian version if you wish, all you really need is a bit of creativity.
So feel free to mix it up.

Meat Substitutions;
You can easily substitute the beef for chicken, lamb, pork, tofu, eggs or shrimp.
Vegetable Substitutions;
Try swapping the carrot for red or green capsicum/bell pepper.
Or adding extra vegetables like spring onions, sliced button mushrooms, Asparagus Spears, pumpkin and chopped up leafy greens like bok choy will really brighten up your Samoan Chop Suey and increase its nutrient content significantly!

When cooking them in the dish they should be added after your protein has been cooked so that they sweeten and survive from becoming overcooked and mushy.
Lower the sodium;
This Sapasui recipe contains a bit of soy sauce, which means that it contains sodium.
For those who wish, it is possible to prepare it with a low-sodium soy sauce.
Add To The Meat;
Samoan Chop Suey typically starts with a meat base, whether it be beef, pork, poultry, or fish.
To amp up the flavour of your dish and make it more substantial start by browning a few pieces of bacon and set aside to cool before adding.

Then add to your chosen meat along with the chopped onion and garlic.
Cook until golden brown before adding in the other ingredients.
Rice;
Rice is typically served as an accompaniment to Samoan Chop Suey but some variations rely on it much more heavily.
Adding cooked rice to the mixture will absorb all of the delectable sauces and incorporate its light flavor into each bite.

You can opt for white rice or brown, whichever you prefer!
Sauces;
The best part about Samoan chop suey is that you can control just how saucy you want this dish to be by incorporating several different varieties of sauces into it.

For sweetness try adding in oyster sauce.
For tartness use some tomato paste plus vinegar.
For saltiness add in fish sauce or soy sauce, for richness hoisin sauce works great too!

Just remember to balance out the flavours when adding these ingredients because you don't want any single one dominating what you've made!
Nuts & Spices;
Nuts are also a great way to give texture to your finished product while spices like chilli powder or paprika add an extra kick!

Want something even heartier? Add a handful of crushed macadamia nuts right at the end!
These little touches really take the dish to another level so don't skimp on this step either if you can help it!
How To Make 5 Ingredient Samoan Chop Suey

Enjoy the bright flavours of the Pacific Islands with this simple and flavourful five-ingredient Samoan Chop Suey recipe.
Quick, easy, and deliciously mouthwatering!

Ingredients
Packet of Vermicelli Noodles
Onion
Garlic
Ginger
Mushroom Soy Sauce
Instructions
Peel & slice onion & garlic
Add oil to the electric fry pan or pot
Cut meat into bite size cubes, add & stir fry with onion & garlic
Peel & crush ginger
Add ginger and enough Mushroom soy sauce to cover the meat then stir & leave to cook for a few minutes
Soak vermicelli in COLD water to soften & then trim with scissors.
Add Vermicelli and 1 or 2 cups of water
Cover and leave to cook for 5-6 mins
Stir and serve!
Recommended Celebrity Cookbooks
This post contains affiliate links. If you use these links to buy something we may earn a commission. Thanks.
Nutrition Information
Yield 1 Serving Size 1
Amount Per ServingCalories 1403Total Fat 70gSaturated Fat 15gTrans Fat 1gUnsaturated Fat 47gCholesterol 193mgSodium 3237mgCarbohydrates 118gFibre 30gSugar 25gProtein 87g

"These values are automatically calculated and offered for guidance only. Their accuracy is not guaranteed."