« Back to Glossary Index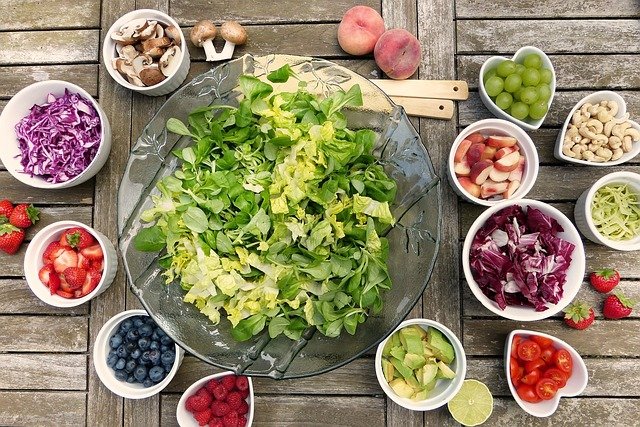 What is a Salad
So much variety of salads and ingredients exists amongst salad recipes that it is somewhat difficult to give a comprehensive definition of this class of foods.
In general, however, the definition of salads may be considered as a dish of vegetables, sometimes cooked and usually chopped or sliced.
Salads can sometimes be mixed with fruit or with cooked and chopped cold meat, fish, etc., and generally served with a dressing.
For the most part, salads take their name from their main ingredient, for example, chicken salad, tomato salad, pineapple salad, etc.
Just what place salads have in the meal depends on the salad itself?
A high-protein salad, such as crayfish salad, should take the place of the meat course. A light salad of vegetables or fruits may be used as an additional course.
Importance of Salads
Salads are often considered to be a dish of little importance; that is, something that may be left out or added to a meal without affecting it to any great extent.
While this may be the case in a meal that is composed of a sufficient variety of foods, salads have a definite place in meals as they are planned in the majority of households.
There is no more effective nor appetizing way in which to include vitamins and nutrients in a meal than in the serving of salads.
In addition, salads make a strong appeal to the appetite and at the same time are beneficial so far as the health of the family is concerned.
Salad Types
A salad can be a composed salad (with the ingredients specifically arranged on the serving dish) or a tossed salad (with the ingredients placed in a bowl and mixed,
often with salad dressing).
An antipasto plate, the first dish of a formal Italian meal, is similar to a composed salad, and has vegetables, cheese, and meat.
Bound salads

Bound salads are assembled with thick sauces such as mayonnaise.
A serving of a bound salad will hold its shape when placed on a plate with a scoop.

Examples of bound salad include;

Tuna salad
Chicken salad
Egg salad
Coleslaw

Some bound salads are used as sandwich fillings.
Some pasta salads, e.g. macaroni salad, are bound salads. They are popular at picnics and barbecues.

Chef Salad

A Chef's Salad is essentially a salad consisting of hard-boiled eggs, a variety of julienne meats (such as ham, turkey, chicken or roast beef), tomatoes, cucumbers and cheese.
These are all served on a bed of lettuce or other leafy greens.
They typically use a creamy Ranch or Blue Cheese dressing.

Chef Salads usually include the following ingredients:

Lettuce
Hard Boiled Eggs
Cucumber
Tomatoes
Cheddar
Swiss
Ham
Turkey
Croutons

Dessert salads

Dessert salads rarely include leafy greens and are often sweet.
Common variants are made with gelatin, custard or whipped cream
Examples of dessert salads would be

Trifle
Jelly (jello) salad
Pistachio salad
Ambrosia
Fruit salad

Dinner salads

Main course salads, known as dinner salads usually contain small pieces of poultry, egg, seafood, or steak.

Examples of dinner salads would be;

Chef salad
Chinese chicken salad

A wide variety of cheeses are used in dinner salads, including;

Blue cheese (traditional for a Cobb salad)
Swiss, Cheddar, Jack, and Provolone (for Chef and Cobb salads)

Fruit salads

As their name indicates, fruit salads have fruits as their main ingredients.
They are popular as appetizer salads, as desserts salads, or as part of combination luncheon plates.

They are often served with a scoop of cottage cheese or other mild-tasting protein food such as natural yoghurt.

Green salad

A green salad, or green leaf salad, another name for garden salad, is most often composed of leafy vegetables such as lettuce varieties, watercress, spinach, kale or rocket (arugula).

If non-greens make up a large portion of the salad it may instead be called a vegetable salad.
Common raw vegetables used in a green salad for garnish include;

Cucumbers
Peppers
Tomatoes
Onions
Carrots
Celery
Radishes
Mushrooms
Avocado
Olives
Artichoke hearts
Parsley
Garden beets
Green beans

Nuts, berries, seeds, lentils, and flowers are used but are less common.

Hard-boiled eggs, bacon, shrimp, and cheeses may be used as garnishes, but large amounts of animal-based foods would be more likely in a dinner salad.

Pasta Salad

A pasta salad is a salad having any of various pastas as the base.

It is almost always chilled, and most often tossed in a vinegar, oil, or mayonnaise-based dressing.
It is typically served as an appetiser, a side dish or a main course.

Pasta salad is often regarded as a spring or summer dish when hosting a barbecue, but it can be served any time of year.
A prime example of a pasta salad would be;

Vegetable Salads

Vegetables salads are salads whose main ingredients are vegetables other than lettuce of other leafy greens.

Some vegetables are used raw, such as celery, cucumber, radishes, tomatoes, and green peppers.
Some are cooked or blanched then chilled before adding to the salad, such as artichokes, green beans beets and asparagus.
Examples of vegetable salads would be;

Wedge salad

A wedge salad is a green salad made from a head of lettuce, often iceberg, either halved or quartered, with other ingredients on top.

A classic and simple wedge salad is crisp and refreshing.

For example it could be a cold wedge of iceberg lettuce topped with a homemade creamy blue cheese dressing, bacon crumbles, diced tomato and chives.
This makes a perfect side dish for any meal or as a lunch!
Salad Ingredients
One of the advantages of salads is that the ingredients from which they can be made are large in number.
In fact, almost any cooked or raw fruit or vegetable, or any meat, poultry, or fish, whether cooked expressly for this purpose or left over from a previous meal, may be used as salad ingredients.
Canned ingredients of these varieties may also be used to advantage for salads during the winter when fresh foods are unavailable.
The idea that such foods cannot be used is wrong.
As far as meats are concerned as an ingredient of salads, they are not used so extensively in salads as are fruits and vegetables.
Often, however, veal or pork may be used to increase the quantity of material needed to make certain salads, such as chicken salad.
Canned fish or fish freshly cooked makes appetizing salads, and if there is not a sufficient quantity of one kind on hand, another may be added without impairing the quality of the salad.
As has already been stated, almost any vegetable, raw, canned, or freshly cooked, can be used in the making of salads.
In addition, these vegetables may be combined in almost any way.
Small amounts of two, three, four, or more vegetables may be combined with an appetizing salad dressing and served as a luncheon or dinner salad.
If no definite recipe is followed but whatever material that happens to be on hand is utilized, the result is not only an appetizing salad, but a saving of vegetables that might otherwise be wasted.
Fruits, both canned and raw, are largely used in the making of salads.
As with vegetables, almost any combination of them makes a delicious salad when served with the proper dressing.
Thus, a slice of pineapple, a canned peach or two, or a few spoonfuls of cherries may be added to grapefruit, oranges, bananas, or whatever fruit is available and served with the salad dressing that is preferred.
Vegetables are seldom used with fruits, celery and cherry tomatoes being the only one's that is ever used in this way.
On the other hand, nuts are often used with fruits, vegetables, meats, poultry and fish in the making of salads and any variety may be utilized.
Best Salad Recipes
Salads are healthy, satisfying meals on their own or perfect accompaniments to main dishes.
Whatever sort of salad you're after, we've got a great selection of salad recipes guaranteed to please.
« Cooking Definitions