What makes this bacon and broccoli salad a great option for lunch is that aside from very easy to prepare, you can be creative in making it.
This Southern-style broccoli salad with bacon, cheddar and crunchy almonds is ideal for a picnic or BBQ.
If you want a salad that is extra tasty, keto-diet friendly and gluten free, this is the one for you.
Just a few ingredients needed to make this perfect salad and there's heaps of variations.
Just chill it first before serving for the ultimate eating experience.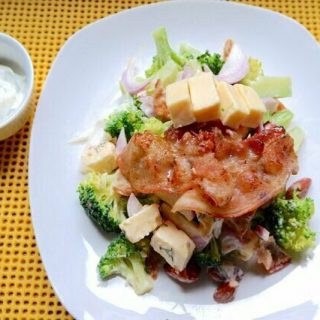 Broccoli Salad Recipe With Bacon
Yield: Yield: 1 Serve

Prep Time: 30 minutes

Cook Time: 10 minutes

Total Time: 40 minutes

Broccoli salad recipe with bacon.
You'll want to take this with broccoli, bacon and cheese to all your summer gatherings.
This is a recipe that can be made year round.

As this salad is loaded with flavour and texture, it makes it the perfect make-ahead side for a summer BBQ.
Any leftovers will keep for up to 3 days. To make it a meal, add slices of grilled chicken.
Ingredients
1 cup Broccoli
2 Bacon rashers
2 Tbsp Cheddar Cheese, in cubes
1 Tbsp Red Onions, sliced
1 Tbsp whole Almonds
2 Tbsp Ranch dressing
Instructions
Prepare the broccoli (see notes below), then Blanch or steam and drain.
Place the blanched broccoli in a large mixing bowl.
Chop and Cook the bacon (see notes below), then add to the mixing bowl.
Add the cheddar cheese.
Add the red onions (see notes below), then add to the mixing bowl.
Add the almonds.
Lastly, add the ranch dressing.
Toss the salad with dressing until well combined. Serve.
Notes
Toast your almonds
To go the extra mile, we definitely recommend toasting your own almonds.
Not only does it give them a better texture, but it amplifies the flavour ten-fold.

Preparing your broccoli
Separate the broccoli crowns from their thick stem. Remove the woodiest part of the stem — usually 1/2-inch from the bottom and discard.
Chop the remaining part of the stem into bite-size chunks.
Snap the florets from the broccoli crown and pull them apart so that they are bite-size.
Rinse and blanch or steam
Cooking Your Bacon

For this salad, we like to use our oven to cook the bacon. Baking bacon is hands-off and results in crisp bacon slices, perfect for this salad.
Bake bacon slices in a 200℃/400℉ oven until crisp, 12 to 18 minutes.

Preparing your onion

This tones the raw onion flavour a little.

Add onion to a small bowl and cover with warm water.
Leave for 10 minutes then drain.
What To Serve With Broccoli Salad
Spinach Salad Recipes With Bacon

Using the recipe above, you can use these ideas to jazz it up and make this recipe your own.

Spinach Salad With Feta Cheese and Bacon

Make your own spinach, feta cheese and bacon salad.
Simply toss through diced feta cheese.

Bacon Salad with Chilli

Toss a bit of chopped fresh chilli through this salad.

Bacon Salad with Tomatoes

For flavour and presentation, different-coloured cherry tomatoes are a really nice addition too.

Bacon and Spinach Salad and Cranberries

For a slight flavour variation, substitute the almonds with dried cranberries.

Chicken and Bacon Salad

Create your own chicken and bacon salad.
For a different flavour and texture, halve the bacon and replace with cooked shredded chicken.

Cauliflower and Bacon Salad

Substitute the Broccoli with cauliflower florets.

Jamie Oliver Style Dressing

Start by peeling some ginger and grating it into a bowl.
Now stir in some sesame oil, along with olive oil, soy sauce, and lime juice.
Add a drizzle of balsamic vinegar.
Whisk the dressing together. Easy!
Recommended Celebrity Cookbooks
This post contains affiliate links. If you use these links to buy something we may earn a commission. Thanks.
Nutrition Information
Yield 1 Serving Size 1
Amount Per ServingCalories 411Total Fat 32gSaturated Fat 8gTrans Fat 0gUnsaturated Fat 21gCholesterol 46mgSodium 865mgCarbohydrates 17gFibre 6gSugar 5gProtein 17g

"These values are automatically calculated and offered for guidance only. Their accuracy is not guaranteed."