You will definitely love this keto chocolate mousse recipe, especially if you're a chocolate lover.
Whenever you have sweet cravings, this choco mousse is a great go-to dessert.
Just a few ingredients needed to make this perfect keto, gluten free, diet chocolate mousse.
Just chill it first before serving for the ultimate eating experience.
This keto chocolate mousse will quickly become your new favourite keto dessert recipe.
So light and fluffy, not too rich, and perfectly sweetened.
The low carb chocolate mousse is also gluten-free, no-bake, and vegetarian.
A 5 minute dessert that is a no cook recipe that's made easily with a mixer or you can beat it by hand.
When you're craving something easy and full of flavour no-cook keto mousse hits the spot!


Yield: Yield: 1 Serve
Keto chocolate mousse recipe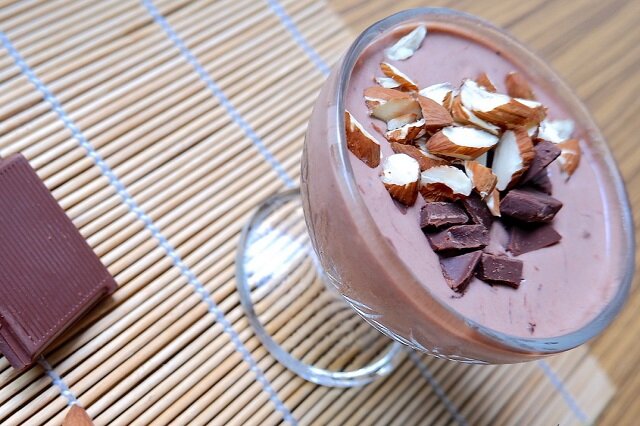 This keto chocolate mousse recipe uses just four ingredients and comes together in no time at all, and what's more, it's to die for.

This vegetarian, egg-free mousse is also great if you're not on keto;
just sub the Stevia for sugar and you have a perfectly scrumptious dessert for when you're craving something sweet but don't want to go to the fuss of baking.

Prep Time 5 minutes

Total Time 5 minutes
Ingredients
½ cup Thickened/Whipping Cream
1 tsp - 1 Tbsp Stevia, depends on your preference
1 tsp Cocoa powder, unsweetened
2 Tbsp Chocolate Chips, unsweetened
Instructions
Place the cream and stevia into a large mixing bowl and use a whisk or handheld electric mixer to beat until light and fluffy.
Add the cocoa powder.
Combine the mixture using a spatula.
Lastly, add the chocolate chips. Fold in until well combined. Chill the mousse for 1 hour.
Serve in a small cup or bowl and top it with chopped chocolates.
Notes
Important:
For making classic whipped cream you beat just until soft peaks form.
To get a mousse-like consistency, you continue to beat the cream for about a minute longer until you end up with "stiff peaks."
Mousse is formed by beating in the air bubbles that give this delicious keto chocolate dessert it's light and fluffy texture.

It's best to use Dutch-processed cocoa powder in this recipe.
It will say on the ingredients "treated with alkali."
This cocoa powder is darker, milder, and less acidic than natural cocoa powder.

Keto chocolate mousse serving suggestions
Raspberries:
Top with fresh raspberries, and chocolate shavings.
Unsweetened Coconut:
Try topping your keto chocolate mousse with some shredded coconut.
Strawberries:
Top your mousse with strawberry slices to give chocolate covered strawberries a run for their money!
Keto chocolate mousse recipe Variations
Sea Salt:
If you're a fan of sweet and salty treats, try topping your mousse with a sprinkle of coarse sea salt.
Recommended Celebrity Cookbooks
This post contains affiliate links. If you use these links to buy something we may earn a commission. Thanks.
Nutrition Information
Yield
1
Serving Size
1
Amount Per ServingCalories 516Total Fat 50gSaturated Fat 31gTrans Fat 1gUnsaturated Fat 15gCholesterol 134mgSodium 35mgCarbohydrates 32gFibre 2gSugar 15gProtein 5g

"These values are automatically calculated and offered for guidance only. Their accuracy is not guaranteed."