This recipe for omelette will create your basic fluffy breakfast treat, then we transform it and show you how to make an omelette with fillings.
OK, this omelette begs to be eaten!
For a decadent weekend breakfast use this basic recipe and transform it into something special.
It can be filled with cheese, mushroom, bacon, spinach, tomato, ham or charge it up by adding leftover cooked vegetables.
It's all covered here.
This is a classic and versatile favourite, so let's go.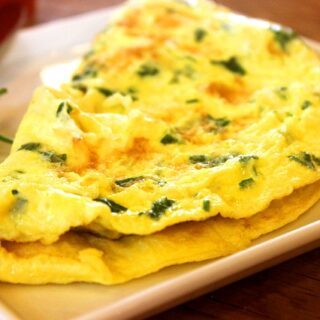 Recipe For Best Omelette
Yield: Yield: 1 Serve

Prep Time: 5 minutes

Cook Time: 5 minutes

Additional Time: 5 minutes

Total Time: 15 minutes

How to make an omelette with this recipe for the best omelette.
Master this basic recipe, then add the filling of your choice.

This is not only great for breakfast, but for lunch, brunch and dinner as well.

Fantastic for breakfast, omelettes also make the perfect too-tired-to-cook weeknight meal and is a great way to include eggs in your diet..
Ingredients
2 Eggs
1 Tbsp Milk
2 tsp Butter
Salt
White Pepper
Parsley
Instructions
Crack the eggs into a mixing bowl and beat them until they turn a pale yellow colour.
Add the milk to the eggs and season to taste with salt and white pepper.
Whisk vigorously, you need to beat as much air as possible into the eggs.
Heat your Frying pan over medium-low heat.
Add the butter and let it melt.
When the butter in the pan is hot enough to make a drop of water hiss, pour in the eggs. Important - Don't stir!
Let the eggs cook for up to a minute or until the bottom starts to set.
With a heat-resistant rubber Spatula, gently push one edge of the egg into the center of the pan, while tilting the pan to allow the still liquid egg to flow in underneath.
Repeat with the other edges, until there's no liquid left.
Your eggs should now resemble a bright yellow pancake, which should easily slide around on the nonstick surface.
If it sticks at all, loosen it with your spatula.
Now gently flip the egg pancake over, using your spatula to ease it over if necessary.
Cook for another few seconds, or until there is no uncooked egg left.
If you're adding any other ingredients, now's the time to do it. (See filling suggestions below.)
Spoon your filling across the center of the egg in straight line.
With your spatula, lift one edge of the egg and fold it across and over, so that the edges line up.
Cook for another minute or so, but don't overcook or allow the egg to turn brown.
If necessary, you can flip the entire omelette over to cook the top for 30 seconds or so. Just don't let it get brown.
Gently transfer the finished omelette to a plate.
Garnish with chopped parsley and serve.
Notes
Best Pan For Omelette

The best pan for omelette cooking should;

You should always make an omelette in a nonstick pan.
The best choice for a 2-egg omelette is an 8-inch Omelette Pan, especially when you're first learning.
But any nonstick sauté pan will do as long as it's round with sloped sides and between 6 inches and 10 inches in diameter.
Don't try to make a 3-egg omelette in a smaller pan.
Once you've mastered the technique, you can move up to a 3-egg omelette, but you'll want to use a 10-inch omelette pan.
What To Eat With Omelette

Here are a few serving suggestions on what to eat with your omelette.

Serve over fresh 90 second microwave bread.
Buttered fluffy scones with gravy on the side are very tasty.
Hash browns are a good side dish.
Create a shaved ham filled omelette and dollop a couple of tablespoons of cocktail sauce on the top.
I know it may sound a bit odd, but the pairing is great.
Grilled tomato always goes well with a cheese omelette.
A couple of serves of french toast on the side is perfect,
How To Make An Omelette With Fillings

So you want to make an omelette with fillings.
Here's what you need to know;

Always prepare filling first.
Omelettes cook so quickly, any fillings should be ready to go before starting the eggs.
Follow steps 1 to 10 in the above omelette recipe.
Then when the eggs are almost set on the surface but still look moist, slide the spatula under one side of the omelette and fold over in half to create a semi-circle.
Add your fillings like cheese, ham or mushroom, before folding the omelette in half and only sprinkle them over one side of the omelette.
Then flip the unfilled side over onto the filled half.
Let the folded omelette cook for a further minute (less if you like the centre soft and a little runny, or more if you like it cooked through), then slide it out of the pan and onto a plate.
Serve and eat immediately.
7 Omelette Fillings

Want to know what to put in an omelette.
Here is our list of favourite filling ideas;

Omelette with mushrooms

Saute ⅓ cup of chopped mushrooms to add as your filling for omelette with mushrooms.

Omelette with spinach

Blanch ⅓ cup of roughly chopped spinach to add as your filling for omelette with spinach.

Omelette with cheese

Grate ⅓ cup of mozzarella cheese to add as your filling for omelette with cheese.

Omelette with bacon

Fold ⅓ cup chopped, cooked bacon in for your omelette with bacon.

Ham omelette

Use ⅓ cup of ripped up shaved ham to create your ham omelette.

Tomato omelette

Chop up ⅓ cup of cherry tomatoes to add to your tomato omelette.

Vegetable omelette

Add a ⅓ cup mix of diced leftover cooked vegetables.
Roasted gives a lovely flavour to your vegetable omelette, but steamed with a bit of salt and pepper is good too.
9 Mixed Fillings For Omelette

Of course you can mix and match your omelette fillings and combine them.
Here are a few ideas;

Ham and cheese.
Cheese and tomato.
Spinach and mushroom.
Cheese and mushroom.
Ham cheese and tomato.
Bacon and cheese.
Vegetable and Ham
Vegetable and Bacon
Bacon, cheese and tomato.
Is Omelette Healthy
Are omelettes healthy? Yes.
Omelettes are a good part of a balanced diet.
They are mainly composed of eggs which are rich in protein, vitamins, and minerals.

When people wonder if omelettes are healthy, they may be concerned about two things: calories and cholesterol.

7 Ways to Make a Healthier Omelette

Omelettes consist mainly of eggs and whatever you put in them.
You can make it a bit healthier if you make them in the following ways.

Choose eggs that come from free-range chickens.
These chickens produce eggs that have lower cholesterol and saturated fat, but higher omega-3 fatty acids and vitamins.
Cook using healthy oils than processed oils.
Use Olive oil or spray instead of butter.
You can also try cooking with less oil, or even better use a non stick pan.
Adding vegetables, such as capsicum, zucchini, tomatoes, onions, and mushrooms to add flavour and nutritional value to your omelette.
Use a low fat cheese or less cheese to cut down on fat and calories intake.
Use lean meats such as ham or chicken.
Using in small servings will help to reduce fat and calories in your omelette.
Use lite milk instead of full cream to reduce fat and calories.
Eliminate the salt.
Recommended Celebrity Cookbooks
This post contains affiliate links. If you use these links to buy something we may earn a commission. Thanks.
Nutrition Information
Yield 1 Serving Size 1
Amount Per ServingCalories 227Total Fat 18gSaturated Fat 8gTrans Fat 0gUnsaturated Fat 8gCholesterol 394mgSodium 794mgCarbohydrates 3gFibre 1gSugar 0gProtein 14g