Create a quick meal packed with protein using our fluffy scrambled eggs recipe.
Who doesn't love perfect fluffy, moist, flavourful and evenly cooked scrambled eggs.
The children will love them for breakfast, brunch or any light meal and they will love you for cooking it for them.
We show you how to make scrambled eggs with cheese along with 24 other international variations along with how to cook scrambled eggs in microwave.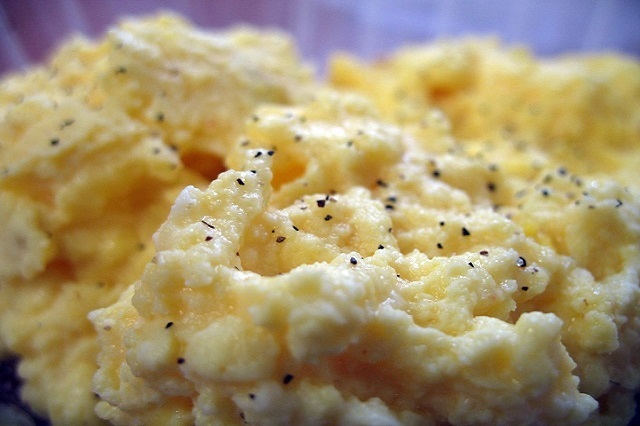 Yield: Yield: 1 Large Serve
How To Make Scrambled Eggs
Prep Time: 5 minutes

Cook Time: 5 minutes

Total Time: 10 minutes

Treat yourself using our scrambled eggs recipe for breakfast. They're quick and easy to make.

If you've ever had trouble making perfect scrambled eggs, here's your secret weapon to making this your signature breakfast dish!
Ingredients
2 eggs
2 tbsp milk
2 tsp butter
salt to taste
black pepper to taste
Instructions
Crack eggs into a mixing bowl.
Add the milk and salt.
Using a whisk or fork, whisk the mixture until foamy.
Melt the butter in a frying pan on medium heat.
Pour egg mixture into frying pan.
Stir mixture with spatula to break up the egg as it cooks and allow more liquid to touch the hot pan.
Stirring rapidly will create small curds, while slower stirring will create larger curds.
Cook until just before you feel that they are done, since the eggs will continue to cook after being removed from the pan.
The eggs are done when the sheen disappears; stop cooking just before this happens.
Transfer to a plate.
Season with black pepper.
Serve
Notes
Important
Black pepper will burn and become bitter if seasoned before cooking.
To make perfect scrambled eggs, you want to whip a lot of air into the eggs.
Scrambled Eggs Serving Suggestions
Serve over buttered toast with vegemite or Marmite.
Goes great with grilled/broiled tomatoes.
Ideal with bacon.
Turn it into a big breakfast and have scrambled eggs, sausages, bacon, mushrooms, tomatoes and hash browns.
Scrambled Egg Recipe Variations
Scrambled Eggs With Cheese

Low Sodium
For a low sodium version, omit salt and use unsalted butter.
Scrambled Eggs Li'l Mitch
Add ½ tsp each of crushed garlic and onion to your plain scrambled egg mixture.

Caution: Little Mitch says it will make you fart like a scrub horse. 🤣
Creamier Scrambled Eggs
Sour cream or thickened cream may be used in place of milk for a creamier and richer version.
Savoury Scrambled Eggs
Cook ⅓ cup of diced cooked meats like bacon or sausage and add egg mixture.
Scrambled Eggs With Vegetables
Cook ⅓ cup of chopped vegetables like mushrooms or capsicum for a couple of minutes before adding the egg mixture.
American style;
In American style the eggs are scooped in towards the middle of the pan as they set, giving larger curds.
English style;
In English style the scrambled eggs are stirred very thoroughly during cooking to give a soft, fine texture.
Escoffier
The classic French cooking method of using a double boiler as the heating source, which does not need adjustment as the direct heating method would.
The eggs are directly placed in the cooker and mixed during the heating and not before.

Cooking by this method prevents the eggs from browning while being cooked and gives aerated and creamy scrambled eggs.
This method was used in the "old classical kitchen" and guarantees the eggs are always cooked perfectly.

It is, however, more time-consuming than the modern skillet method, taking up to 40 minutes to ensure perfect quality.Escoffier.
Buttered Eggs;
Typically English dish, often mentioned in 19th and early 20th century literature; additional butter is melted and stirred into the egg mixture before cooking.
Egg bhurji;
Indian variant of scrambled eggs. Additions include onions, green chili, chopped ginger, turmeric powder and chopped tomatoes.
Sprinkled with chopped green coriander and eaten with roti. Another variant of egg bhurji is the Parsi akuri.
Nigerian fried eggs;
Cook the scrambled eggs mixture to the point of being heavily crisp, as the mai shai do.
Eggs frizzle;
Scrambled egg dish made with chipped beef "frizzled" in butter before eggs are added to the pan and scrambled.

To make a variation called "Eggs a la Caracas" the beef is frizzled with tomatoes, spices and grated cheese.
Migas;
A Tex-Mex dish (not to be confused with the Iberian dish of the same name) consisting of scrambled eggs augmented with strips of corn tortilla, to which vegetables and meat may be added.
Onions and scrambled eggs;
Another variant of scrambled eggs eaten in the Philippines.

The onions are either fried first then the egg mixture is poured over them to cook, or the onions are mixed with the egg mixture and then poured over the pan.
Parrot eggs ("Perico" in Spanish);
Is a dish in Venezuelan cuisine and Colombian cuisine prepared with scrambled eggs, butter, sautéed diced onions, and tomatoes.
White cheese is also sometimes used.
Poqui poqui;
A Filipino dish consisting of grilled eggplants with sauteed garlic, tomatoes, and shallots and scrambled eggs.
Scotch woodcock;
British variant of scrambled eggs, served over toast that has been spread with Gentleman's Relish.
Scrambled eggs à l'arlésienne;
With zucchini (courgette) pulp and a concentrated garlic-flavoured tomato fondue served in hollowed-out courgettes and sprinkled with Parmesan cheese.
Scrambled eggs à l'américaine;
With pan-fried smoked bacon, garnished with slices of broiled bacon and small grilled tomato halves.
Scrambled eggs with digüeñes;
A variation from Chilean cuisine in which the eggs are fried together with the native fungus Cyttaria espinosae, or sometimes spinach.
Scrambled eggs with sucuk or pastırma; sucuklu yumurta and pastırmalı yumurta respectively;
Scrambled eggs are mixed with Turkish beef sausages, or dried cured beef.
It is cooked in a sahan (a shallow dish) with butter or olive oil.
Some tomato can be added.
In Turkey and Egypt it is eaten regularly for breakfast.
Soy scrambled eggs;
Mixed with soy sauce and often eaten with congee.
Stir-fried tomato and scrambled eggs;
A very common main course in China.
It is inexpensive and quickly and easily prepared, and so is a favourite among teens and university students.
This is also eaten in the Philippines.
How To Make Scrambled Eggs In Microwave

Scrambled eggs can be made in the microwave.

Whisk eggs, milk, and a pinch of salt and pepper in microwave-safe bowl.
Stir in shredded cheese.
Cover with plastic wrap, venting one corner.
Microwave on Medium High (70% power) for about 1-1/2 minutes, stirring several times during cooking.
Let stand for 1 minute before serving.
Recommended Products
This post contains affiliate links. If you use these links to buy something we may earn a commission. Thanks.
Nutrition Information
Yield
1
Serving Size
1
Amount Per Serving Calories 232Total Fat 18gSaturated Fat 8gTrans Fat 0gUnsaturated Fat 8gCholesterol 395mgSodium 801mgCarbohydrates 4gFibre 1gSugar 0gProtein 14g