How to make a full English breakfast of bacon, eggs, sausages, tomatoes, mushrooms and baked beans together with toast.
This English breakfast recipe is for making a slightly healthier version of an English breakfast, with the emphasis on grilling/broiling and poaching rather than frying.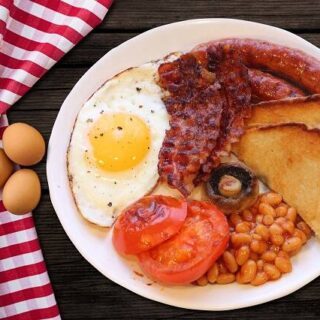 How To Make A Full English Breakfast
Yield: Yield: 4 Big Breakfasts.

Prep Time: 15 minutes

Cook Time: 20 minutes

Total Time: 35 minutes

This hearty traditional english breakfast is great for breakfast, brunch, lunch or dinner.
Bacon, sausages, eggs, tomatoes, mushrooms, toast, and beans all on one plate, this is a meal that's very easy and quick to prepare, cook and clean up.
Ingredients
4 rashers of bacon
4 eggs
4 pork sausages
4 medium sized tomatoes
400 grams mushrooms
8 slices of bread
500 grams baked beans
Instructions
Halve the tomatoes across ways and set aside.
Slice mushrooms and set aside.
Heat the grill to a medium heat, and cook the sausages under it, turning frequently.
Cover the base of a frying pan with about 1cm of water, and bring to a boil.
When it is boiling, carefully break the eggs into it.
Once the eggs are in the pan, wait a few moments for the water to heat up again, then turn the heat down to a very very gently simmer.
To ensure the tops of the eggs are cooked, spoon water from around the edge of the pan over the top of the eggs a few times during cooking.
When cooked, the egg white should be soft but cooked through and the yolk still runny.
Put the halved tomatoes under the grill with the sausages.
Heat the baked beans in a pan and heat through over a medium heat.
Heat up a very small amount of oil in another pan, and fry the mushrooms until they are soft.
Put the bacon under the grill along with the sausages and tomatoes.
Cook on one side for about 2 minutes, then turn once and repeat. Cook longer if crispier bacon is preferred.
Whilst cooking the bacon, use a toaster or grill to toast the bread until golden.
Notes
Full English Breakfast Recipe Variations
You can always cook this in the more traditional english breakfast way by shallow frying everything.
This could also include frying the bread in some of the sausage and bacon fat.
Substitute the toast with English muffins
Slice and cook black pudding as an addition.
For an extra bit of healthy use dark rye bread instead of white.
Full English Breakfast Serving Suggestions
Serve the eggs, bacon, mushrooms, sausage, tomato and beans onto piping hot plates, either with the toast, on a separate plate or a toast rack.
Serve with butter and jam for the toast, and hot tea with milk.
Makes a fantastic breakfast, brunch, lunch or dinner.
Invite your friends and family over for a breakfast barbecue.
Recommended Celebrity Cookbooks
This post contains affiliate links. If you use these links to buy something we may earn a commission. Thanks.
Nutrition Information
Yield 4 Serving Size 1
Amount Per ServingCalories 573Total Fat 21gSaturated Fat 7gTrans Fat 0gUnsaturated Fat 13gCholesterol 226mgSodium 1338mgCarbohydrates 68gFibre 10gSugar 19gProtein 32g