There's nothing more classic for breakfast or brunch than Eggs Benedict. This Eggs Benedict recipe includes the Hollondaise sauce which is so easy to make.
Our list of 15 exciting eggs benedict variations will have you trying all sorts of flavours.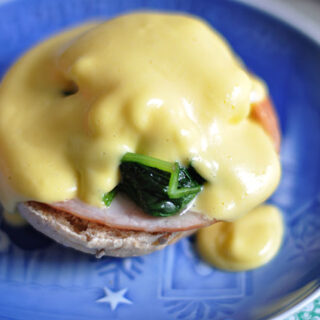 How To Make Eggs Benedict
Yield: Yield: 1 Large Serve

Prep Time: 10 minutes

Cook Time: 10 minutes

Total Time: 20 minutes

Eggs Benedict is the perfect weekend breakfast. Homemade hollandaise sauce is much easier to prepare than you may think and beats any kind of shop-bought variety.

There's nothing more classic for breakfast or brunch than Eggs Benedict. This Eggs Benedict recipe includes the Hollondaise sauce which is so easy to make.
Ingredients
4 slices Bacon
2 Eggs
2 Tbsp. Milk
1 Tbsp. chopped Parsley
Salt
Black pepper
1/4 cup Butter, melted
1 Tbsp. cold Water
2-3 tsp. Lemon juice
Cayenne pepper
Instructions
Eggs;
Separate eggs. Set yolks aside.
Mix egg whites with milk and parsley, then add salt and pepper. Beat with a fork until slightly bubbly. Set aside.
Cook bacon on medium-high heat in a large, nonstick frypan and set on paper towels or napkins to drain.
Pour off all but 1-2 tablespoons fat from the frypan.
Turn heat down to medium-low and add egg whites.
Hollandaise sauce;
As egg whites cook, mix egg yolks with water in double boiler on medium to medium-high heat. Water should simmer, not boil.
Stir constantly with a fork until yolks increase in size and thickness and turn a pale, opaque yellow.
Remove from heat and slowly stir in melted butter.
Add lemon juice and salt and cayenne pepper to taste.
Notes
Important!
Egg whites usually cook in the same amount of time as the sauce, but keep an eye on them.
Remove them to a separate plate if they finish cooking before the sauce is done.
The amount of butter in this recipe is less than in standard recipes for Hollandaise sauce.
This is the smallest amount that still produces an acceptable sauce.

If fat is not a concern, however, increase the amount to 1/3 or 1/2 cup.
Eggs Benedict Serving Suggestions
Place cooked egg whites on a plate, top with bacon, then cover with Hollandaise sauce.
Serve over toasted English muffin
Serve with warm crusty bread for dipping in the sauce.
15 Eggs Benedict Variations

Explore our eggs benedict variations list.

Simple;
Use ham instead of bacon
Eggs Blackstone;
Uses streaky bacon and adds a tomato slice.
Eggs Blanchard;
Use Béchamel sauce instead of Hollandaise.
Eggs Florentine;
Substitute spinach for the bacon or add it underneath.
Eggs Mornay;
Use Mornay (cheese) sauce instead of the Hollandaise.
Eggs Trivette;
Add Creole mustard to the Hollandaise and a topping of crayfish.
Eggs Omar (also known as a steak benedict);
Substitutes a small steak in place of the bacon.
Eggs Atlantic, Eggs Hemingway or Eggs Norvégienne.
Also known as Eggs Royale and Eggs Montreal in New Zealand;

Substitute salmon or smoked salmon for the bacon.
Huevos Benedictos;
Swap sliced avocado and/or Mexican chorizo for the bacon, and is topped with both a salsa (such as salsa roja or salsa brava) and hollandaise sauce.
Irish Benedict;
Replace the bacon with corned beef
Eggs Cochon;
Replaces the bacon with pulled pork and served over a plain scone.
Eggs McD;
Use hash browns in place of bacon.
California Benedict;
Use avocados pureed with lemon juice instead of the Hollandaise, and sliced tomato for the bacon.
Avocado Toast Benedict;
Exchange sliced avocado for the bacon and serve over toast.
Recommended Celebrity Cookbooks
This post contains affiliate links. If you use these links to buy something we may earn a commission. Thanks.
Nutrition Information
Yield 1 Serving Size 1
Amount Per ServingCalories 799Total Fat 73gSaturated Fat 38gTrans Fat 2gUnsaturated Fat 30gCholesterol 542mgSodium 1890mgCarbohydrates 7gFibre 1gSugar 1gProtein 30g