The Traditional Recipe for ANZAC Biscuits
Whip up your own batch of traditional ANZAC biscuits using our original recipe, which has been passed down through generations!
Anzac Biscuits are a fun, simple and delicious biscuit to make and eat.
They are great as a snack, morning or afternoon tea or as a lunchbox filler.
With this guide you'll discover their historical background, as well as an easy recipe for making authentic Anzac biscuits at home!
Anzac biscuits are a classic sweet treat in Australia and New Zealand, ever popular since they were first cooked up to send to soldiers fighting in World War I.
They consist of rolled oats, flour, and golden syrup held together with butter and sugar, sometimes with the addition of nuts or chocolate chips.
These crunchy anzac biscuits without coconut have a steep history in both New Zealand & Australian tradition.
If you are looking for a chewier biscuit try our Chewy Anzac Biscuits Recipe for a softer version.
Today, they are still very popular, where they are eaten as both a snack and a dessert.
The History of Anzac Biscuits: What You Need to Know
Anzac biscuits have a long and rich history, dating back to World War I.
Originally known as "Soldier's Biscuits," they were made with ingredients that could be stored for long periods of time and not spoil.
Simple ingredients such as oats, flour, sugar, butter and golden syrup (or molasses)—and sent to Australian and Kiwi soldiers fighting overseas.
As the biscuits don't use egg, they can travel well – meaning they soon became an essential part of any care package sent to soldiers!
Anzac Biscuits & WWI Soldiers
The history of Anzac biscuits dates back to World War I, when wives and other family members from Australia and New Zealand would bake these sweet treats for their loved ones fighting in the war.
The name was derived from the acronym for 'Australian And New Zealand Army Corps' which helped identify where a care package of food came from.
Often, the biscuits were preferred by soldiers over more perishable goods due to their long shelf-life as they didn't contain any eggs or dairy products.
Regional Variations of the Recipe
Anzac biscuits have been adapted throughout the years, with different variations of the recipe depending on where it is made.
In New Zealand, golden syrup is typically used as the sweet ingredient instead of corn syrup or honey, while Australians tend to use a combination of both.
Coconut and oats also feature heavily in many versions of Anzac biscuit recipes regardless of region, giving them their signature texture.
Traditional Ingredients Used in Anzac Biscuits
Traditional Anzac biscuits are made using a combination of rolled oats, plain flour, sugar, butter, golden syrup or honey, baking soda and boiling water.
The traditional recipe was designed to be hard and crunchy when cooked, due to the lack of fresh ingredients which were scarce during World War One – making them both widely accessible and long-lasting for the soldiers.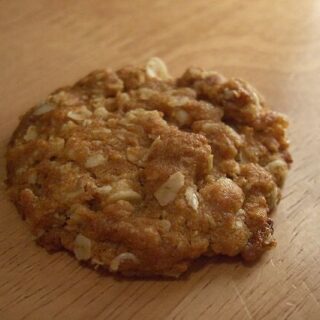 Traditional ANZAC Biscuits Recipe
Yield: Yield: 20 Biscuits

Prep Time: 20 minutes

Cook Time: 18 minutes

Additional Time: 5 minutes

Total Time: 43 minutes

Making traditional Anzac biscuits is easier than you'd expect - just follow this pre-1920 recipe!
All you need are some simple ingredients and a bit of effort, and in no time you'll have delicious homemade Anzac biscuits.

This version of the recipe skips the coconut, reduces the sugar and makes for a much healthier version than modern recipes.
Ingredients
2 cups rolled oats
1 cup plain flour
½ cup granulated sugar
125g butter
1 Tbsp golden syrup
1 tsp. bicarbonate of soda
2 Tbsp boiling water
Instructions
Pre heat oven to 160°C (320°F)
Line two baking trays with baking paper.
Put the oats, flour and sugar into a large bowl and mix well.
Melt the butter in a large pan over medium heat, dip tablespoon in hot water and then use to measure the golden syrup, stir till dissolved and just coming to the boil.
Remove from heat source don't allow it to cool.
Stir the bicarbonate of soda with the measured boiling water until its dissolved then add to the pan of hot melted butter and golden syrup.
Stir until it 'froths up'- immediately add to the dry ingredients and mix all together.
Taking teaspoons or a flat dessert spoon of the mixture - place it in your hand, bring together by rolling into a ball, place 5 cm apart on the baking sheet (they will spread).
The biscuits need to be flattened slightly - use the base of a glass or, press down with a fork dipped in a little flour (this will stop it sticking).
Bake in oven for 15 - 18 minutes until golden (they will still be soft)
Leave the biscuits on the trays for 5 minutes before transferring them to a cooling rack.
Notes
What Causes Soft Anzac Biscuits?

Soft Anzac biscuits are usually a result of overworking the dough or using too much liquid in the recipe.
Additionally, not allowing your biscuits to cool completely before eating can also cause them to be soft.

When baking your Anzac biscuits, make sure you follow the recipe closely and allow plenty of time for cooling before enjoying!

Are Anzac Biscuits Fattening?

An anzac biscuit is traditionally made with rolled oats, flour, some form of fat (butter or margarine in the traditional version), and sometimes coconut among other ingredients.
While they don't contain a large amount of sugar, they certainly aren't 'low calorie' or particularly healthy.

Therefore it is likely that consuming them regularly might contribute to weight gain as part of a calorie-dense diet.

How Long Do Anzac Biscuits Last?

Anzac biscuits can last several weeks when stored properly. Store the biscuit in an airtight container at room temperature.
Ensure that the container is kept at a cool and dry place to help preserve the quality of the biscuit.

Avoid keeping the biscuits in direct sunlight or areas of excessively hot or cold temperatures as this may cause them to spoil more quickly.

What Do Anzac Biscuits Taste Like?

Anzac biscuits have a crunchy texture and oat flavour that comes from rolled oats, sugar and other pantry ingredients like flour, butter and golden syrup.
The biscuits are lightly sweetened with just the right hint of caramel.

What Causes Traditional Anzac Biscuits to Fall Apart?

What could be causing traditional Anzac biscuits to crumble?
Incorrect oven temperature, baking too long or not long enough, overworking the dough, or insufficient binding ingredients such as golden syrup or butter could all be factors.

Be sure to use the right ingredients and proper amounts when making your Anzac biscuits, and then mix them together thoroughly.
Lastly, for best results let the finished Anzac biscuits cool completely on a wire rack before serving or storing.

5 Tips For Perfectly Cooked ANZAC Biscuits Every Time

Baking ANZAC biscuits can sometimes be a challenge, but with just a few simple tips and tricks, you too can create perfect cookies every time.
From finding the right ingredients to understanding the importance of timing and temperature, we've got all the advice you need to make delicious ANZAC biscuits.

Start with high-quality ingredients.
When baking ANZAC biscuits, the quality of your ingredients makes all the difference.
Opt for high-quality butter, oats and golden syrup to ensure your cookies have the perfect flavour, texture and consistency.

If possible, purchase jumbo or rolled oats – these are larger grains that give your ANZAC biscuits a more robust and hearty flavour.
Preheat your oven correctly.
To start off on the right foot and ensure that your cookies don't burn or come out too dry, it's essential to preheat your oven correctly.
Set your oven to the appropriate temperature and then wait for 10 minutes before adding your ANZAC biscuits to the tray.

This will help keep everything even, no matter how hot or cold spots may be in your oven.
Measure out your ingredients accurately.
Making sure that all of your ingredients are measured out accurately is essential to creating the perfect ANZAC biscuit.

This includes using the right type of flour, checking to make sure the baking soda is freshly opened and soft, and making sure that your oats have the correct texture.

All of these components must come together in order to achieve a biscuit with just the right crunch on the outside and softness on the inside.
Use the right baking tray and parchment paper or grease it well before baking.
It is important to use the correct baking tray and parchment paper or grease it well before popping your ANZAC biscuits in.
This will ensure that your biscuits bake evenly and don't stick to the bottom of the tray.

The thickness of the biscuit will determine how long it needs to be cooked for; if they are thicker make sure you cook them for a little longer!
Just remember to keep an eye on them as they cook so they don't burn.
Don't overmix the dough for light and crunchy results.
The key to perfectly cooked ANZAC biscuits is not to overmix the dough.
Mixing it too much may give you a tough, chewy texture which won't be as pleasant as one that is light and crunchy.

Make sure that all the ingredients have been combined thoroughly but not too much; this way, you can guarantee your ANZACs will be mouth-wateringly delicious!
Recommended Celebrity Cookbooks
This post contains affiliate links. If you use these links to buy something we may earn a commission. Thanks.
Nutrition Information
Yield 20 Serving Size 1
Amount Per ServingCalories 120Total Fat 6gSaturated Fat 3gTrans Fat 0gUnsaturated Fat 2gCholesterol 13mgSodium 42mgCarbohydrates 16gFibre 1gSugar 6gProtein 2g