This is the most amazing easy chocolate chip cookies recipe!
These chocolate chip biscuits are crisp on the outside yet soft and chewy in the middle with chocolate chips spread throughout.
Great for the lunchbox and perfect with a glass of milk.


Yield: Yield: 56 Biscuits
Easy Choc Chip Cookies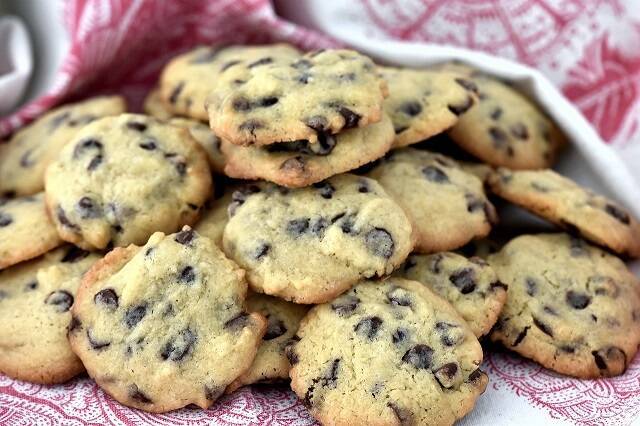 This recipe for easy choc chip cookies creates a warm bite of bliss, this chewy choc-chip sensation is quick, easy and always a hit!
These chocolate chip biscuits are crisp on the outside yet soft and chewy in the middle with chocolate chips spread throughout.

Prep Time: 25 minutes

Cook Time: 12 minutes

Total Time: 37 minutes
Ingredients
225 grams butter
¾ cup granulated white sugar
¾ cup packed brown sugar
¼ tsp vanilla extract
2 large eggs
2¼ cups plain flour
1 teaspoon baking soda
1 teaspoon salt
2 cups semi-sweet chocolate chips
Instructions
Preheat oven to 210°C (375°F), or 195°C (350°F) if you want chewy biscuits.
Cream butter, granulated sugar, and brown sugar in a large mixer bowl.
Add eggs one at a time, beating until fully incorporated.
Add vanilla extract and beat in.
In a small bowl, sift together the dry ingredients (except chocolate).
Add to the wet mixture in two parts and fold until combined. If you beat this too long, you may get some gluten formation which will change the cookie texture.
Stir in chocolate chips.
Drop by rounded tablespoons onto un greased baking sheets. There should be enough fat in the biscuit dough to prevent sticking, but using baking paper may help further if desired.
Bake in the preheated oven for 10 to 12 minutes or until golden brown, cooking times may vary.
Let stand for about 1 minute and remove from hot baking sheet to cool on a wire rack.
Notes
Chocolate Chip Cookies Recipe Variations
The proportion of granulated to brown sugar may be adjusted to suit taste.
Adjust amounts accordingly;
More brown sugar will result in a chewier biscuit.

More white sugar will result in a crunchier biscuit.
Add 150g chopped unsalted peanuts when stirring in chocolate chips.
Nutrition Information:
Yield: 56 Serving Size: 1
Amount Per Serving:Calories: 99Total Fat: 5gSaturated Fat: 3gTrans Fat: 0gUnsaturated Fat: 2gCholesterol: 15mgSodium: 90mgCarbohydrates: 13gFibre: 1gSugar: 8gProtein: 1g