These melt in the mouth chocolate biscuits cookies are so simple, the 4 ingredient recipe makes it easy to learn how to make chocolate biscuits to perfection.
With 2 more ingredients you have your icing/frosting for the top.
This is the perfect jumping off point for teaching your children baking.
If you love chocolate biscuits you will be sure to enjoy this recipe which has a double dose of chocolate!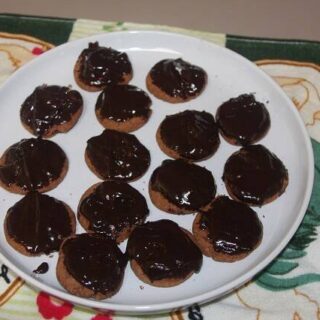 Chocolate Biscuits Recipe
Yield: 24

Prep Time: 15 minutes

Cook Time: 15 minutes

Total Time: 30 minutes

An easy to make chocolate biscuit recipe with double chocolate that only takes 30 minutes to whip up.

Anything with chocolate in it has to be a winner, right?
These chocolate biscuits are the perfect treat for any chocoholic!
Ingredients
Chocolate Biscuits Ingredients

100 g (½ cup) butter room temperature
50 g (¼ cup) caster sugar
125 g (1 cup) Self raising flour
15 g (1/8 cup) cocoa powder

Ingredients For Chocolate Icing/Frosting

250g dark cooking chocolate
250ml thickened Cream
Instructions
Easy to follow 3 Part Cooking Instructions.
Instructions For Chocolate Biscuits
Preheat your oven to 180℃ / 160℃ Fan / 350℉.
Line a baking tray with baking or parchment paper.
Start by creaning the butter and sugar together.
So in a large bowl, beat the butter and sugar together with a wooden spoon until it's well mixed and soft.
Add the flour and cocoa powder and use your spoons to mix it in, then using your hands, bring it all together in to a large, soft ball of dough.
Take small pieces of dough and roll them into 2.5cm/1 inch balls.
Place the balls of dough on your prepared baking tray.
Dip a fork in cold water and gently press down on each biscuit ball.
Bake the chocolate biscuits in the oven for 12-15 minutes until they are fully baked.
They'll still be a little soft when they come out the oven but will harder a little when they cool.
Remove them from your oven.
Allow them to cool slightly before leaving them to cool completely on a wire rack.
Once they have cooled, add your icing.
Chocolate Biscuits Icing/Frosting Instructions
Chop the chocolate and place in a mixing bowl.
In a small saucepan over medium heat, carefully heat the cream.
Bring to a Simmer, don't let it boil.
Remove from heat then pour the chocolate in and stir until smooth.
To finish
When chocolate biscuits are cool, Spread the icing/frosting on the top using a knife.
(Sort of like thickly buttering a slice of bread.).
Once it has set, they're ready to serve.
Notes
Do not overcook as they can become very dry.
Do not leave your icing sitting for too long before using.
The longer you leave it, the more it sets and will become hard to spread.

Scroll down for ingredient substitutions and recipe variations.
Recommended Celebrity Cookbooks
This post contains affiliate links. If you use these links to buy something we may earn a commission. Thanks.
Nutrition Information
Yield 24 Serving Size 1
Amount Per ServingCalories 2511Total Fat 14gSaturated Fat 6gTrans Fat 0gUnsaturated Fat 6gCholesterol 14mgSodium 42mgCarbohydrates 514gFibre 18gSugar 17gProtein 69g

"These values are automatically calculated and offered for guidance only. Their accuracy is not guaranteed."
Chocolate Biscuit Ingredient Substitutions
Self raising flour
May be substituted with plain flour and ½ teaspoon each of baking soda & baking powder.
Caster sugar
For those of you in the U.S it is actually just superfine granulated sugar and you may find it labeled as simply "Superfine".
Chocolate Biscuit Recipe Variations
After adding the icing/frosting, finish by scattering the warm chocolate icing/frosting with your choice of;

Walnuts.
Flaked almonds.
Chopped pistachios.
Bits of dried fruit.
Hundreds and Thousands.

Don't use icing
For a more plain chocolate biscuit that is still rich and chocolatey