Are you a chocolate lover who can't resist the crumbly, melt-in-your-mouth goodness of a chocolate biscuit?
Look no further! In this ultimate guide, we have curated the best chocolate biscuit recipes that will satisfy your sweet tooth and leave you craving for more.
Indulge in the rich and intense flavours of chocolate as you embark on a delightful baking adventure.
From classic chocolate chip biscuits to decadent double chocolate cookies, we have a recipe for every chocolate enthusiast out there.
Our handpicked selection features recipes that are easy to follow, with step-by-step instructions and helpful tips to ensure baking success. Whether you're a beginner in the kitchen or a seasoned baker, you'll find something here to tantalize your taste buds.
Unleash your creativity and customize your chocolate biscuits with additional ingredients like nuts, marshmallows, or even a sprinkle of sea salt for an extra indulgent treat.
Harness the power of chocolate to create mouthwatering desserts that are guaranteed to impress your family and friends.
Get ready to satisfy your chocolate cravings with our ultimate guide to the best chocolate biscuit recipes. Let the baking begin!
The History of Chocolate Biscuits
Chocolate biscuits have a fascinating history that dates back centuries.
It is believed that the first chocolate biscuits were created in Europe during the 17th century.
Back then, chocolate was a luxury ingredient only accessible to the elite, making chocolate biscuits a delicacy enjoyed by the upper class.
Over time, as chocolate became more widely available, chocolate biscuits gained popularity and became a beloved treat for people of all walks of life.
Popular Types of Chocolate Biscuits
There are countless variations of chocolate biscuits, each with its own unique taste and texture.
Let's explore some of the most popular types that have stood the test of time:
Chocolate Chip Biscuits

The classic chocolate chip biscuit is a timeless favourite.
The combination of buttery dough and chunks of chocolate creates a heavenly treat that is hard to resist.
These keto chocolate chip cookies are another popular option.

Double Chocolate Cookies

For the ultimate chocolate lover, double chocolate cookies are a dream come true.
These cookies are loaded with cocoa powder and chocolate chips, resulting in an intensely rich and fudgy delight.

Chocolate Shortbread

Shortbread biscuits made with chocolate are a delightful twist on the traditional Scottish treat. The buttery, crumbly texture paired with a hint of chocolate creates a heavenly combination.
Ingredients and Tools Needed for Making Chocolate Biscuits
Before diving into the world of chocolate biscuit baking, it's important to gather all the necessary ingredients and tools.
Here's a list of what you'll need:
Ingredients:

butter
caster sugar
Self raising flour
cocoa powder
dark cooking chocolate
thickened cream

Tools:

Mixing bowls
Whisk or electric mixer
Measuring cups and spoons
Baking sheets
Parchment paper or silicone baking mats
Wire rack for cooling
Make sure to have everything prepared and within reach before you start baking to ensure a smooth and enjoyable process.
Tips for Perfecting Your Chocolate Biscuit Recipe
Creating the perfect chocolate biscuits requires a balance of technique and attention to detail.
Here are some tips to help you achieve biscuit perfection:
Room Temperature Ingredients:

Make sure the butter and eggs are at room temperature before starting.
This allows for better mixing and ensures a smoother texture.

Measuring Accurately:

Use measuring cups and spoons to ensure accurate measurements of both dry and liquid ingredients.
Baking is a science, and precise measurements are crucial for consistent results.

Don't Overmix:

When combining the dry and wet ingredients, mix only until just combined.
Overmixing can result in tough biscuits.

Chill the Dough:

If the dough is too soft, refrigerate it for 30 minutes to an hour before baking.
Chilled dough holds its shape better during baking.

Quality Chocolate:

Use high-quality chocolate for the best flavour.
The better the chocolate, the better the biscuits will taste.
Yield: 24
Step-by-Step Guide to Making Chocolate Biscuits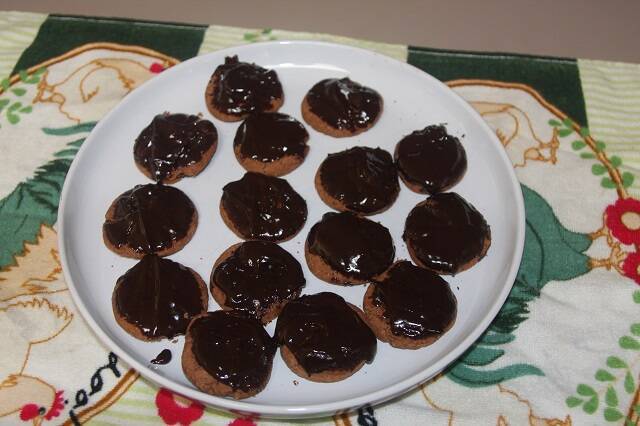 Learn how to make delicious, chewy chocolate biscuits with this step-by-step guide.
This recipe is easy to follow and uses simple ingredients that you probably already have in your kitchen.
The biscuits are perfect for a snack, dessert, or coffee break.
Ingredients
Chocolate Biscuits Ingredients
100 g (½ cup) butter room temperature
50 g (¼ cup) caster sugar
125 g (1 cup) Self raising flour
15 g (1/8 cup) cocoa powder
Ingredients For Chocolate Icing/Frosting
250g dark cooking chocolate
250ml thickened Cream
Instructions
Instructions For Chocolate Biscuits
Preheat your oven to 180℃ / 160℃ Fan / 350℉.
Line a baking tray with baking or parchment paper.
Start by creaming the butter and sugar together.
So in a large bowl, beat the butter and sugar together with a wooden spoon until it's well mixed and soft.
Add the flour and cocoa powder and use your spoons to mix it in, then using your hands, bring it all together in to a large, soft ball of dough.
Take small pieces of dough and roll them into 2.5cm/1 inch balls.
Place the balls of dough on your prepared baking tray.
Dip a fork in cold water and gently press down on each biscuit ball.
Bake the chocolate biscuits in the oven for 12-15 minutes until they are fully baked.
They'll still be a little soft when they come out the oven but will harder a little when they cool.
Remove them from your oven.
Allow them to cool slightly before leaving them to cool completely on a wire rack.
Once they have cooled, add your icing.
Chocolate Biscuits Icing/Frosting Instructions
Chop the chocolate and place in a mixing bowl.
In a small saucepan over medium heat, carefully heat the cream.
Bring to a Simmer, don't let it boil.
Remove from heat then pour the chocolate in and stir until smooth.
To finish
When chocolate biscuits are cool, Spread the icing/frosting on the top using a knife.
(Sort of like thickly buttering a slice of bread.).
Once it has set, they're ready to serve.
Notes
Do not overcook as they can become very dry.
Do not leave your icing sitting for too long before using.
The longer you leave it, the more it sets and will become hard to spread.
Variations and Additions to Chocolate Biscuit Recipes

Once you've mastered the basic chocolate biscuit recipe, it's time to get creative and experiment with different flavours and additions.
Here are some ideas to inspire your culinary creativity:
Nutty Delights:
Add chopped nuts like almonds, walnuts, or pecans to the dough for an extra crunch and flavour.
Marshmallow Surprise:
Press a marshmallow into the center of each biscuit before baking for a gooey surprise in every bite.
Sea Salt Sprinkle:
Sprinkle a pinch of sea salt on top of each biscuit before baking for a sweet and salty combination that is simply irresistible.

Feel free to mix and match these variations to create your own unique chocolate biscuit masterpiece.

Gluten-Free and Vegan Chocolate Biscuit Options

For those with dietary restrictions, there's no need to miss out on the joy of chocolate biscuits.
Here are some options for gluten-free and vegan chocolate biscuits:
Gluten-Free:
Replace the all-purpose flour with a gluten-free flour blend or almond flour.
Make sure to check that all other ingredients are also gluten-free.
Vegan:
Substitute the butter with coconut oil or vegan margarine, and the eggs with a flax egg or applesauce.
Use dairy-free chocolate chips or chunks to keep the biscuits vegan-friendly.
Serving and Storing Chocolate Biscuits

Chocolate biscuits are best enjoyed fresh out of the oven, but they can also be stored for later indulgence.
Here are some tips for serving and storing your chocolate biscuits:
Serving Suggestions:
Serve the biscuits with a glass of cold milk or a hot cup of tea for a classic pairing.

They also make a delightful addition to ice cream sundaes or as a base for cheesecake crusts.
Storing:
Store the biscuits in an airtight container at room temperature for up to a week.

To keep them fresh for longer, you can freeze the biscuits for up to three months.
Place them in a freezer-safe container or bag, separating layers with parchment paper to prevent sticking.
Conclusion and Final Thoughts on Chocolate Biscuits

In conclusion, chocolate biscuits are a delightful treat that brings joy to chocolate lovers everywhere.
With this ultimate guide to the best chocolate biscuit recipes, you have everything you need to embark on a delicious baking adventure.

From classic favourites to creative variations, the possibilities are endless.
So go ahead, unleash your creativity in the kitchen, and indulge in the heavenly flavours of chocolate.
Whether you're baking for yourself or sharing with loved ones, these chocolate biscuits are guaranteed to satisfy your cravings and leave you wanting more.
Happy baking!
Recommended Celebrity Cookbooks
This post contains affiliate links. If you use these links to buy something we may earn a commission. Thanks.
Nutrition Information
Yield
24
Serving Size
1
Amount Per Serving
Calories

2511
Total Fat

14g
Saturated Fat

6g
Trans Fat

0g
Unsaturated Fat

6g
Cholesterol

14mg
Sodium

42mg
Carbohydrates

514g
Fibre

18g
Sugar

17g
Protein

69g
"These values are automatically calculated and offered for guidance only. Their accuracy is not guaranteed."