Butter prawns is a popular seafood dish made with delicious butter sauce.
This dish consists of jumbo shrimp/prawns that are cooked to perfection in a butter sauce.
The result is succulent and flavourful prawns that pair perfectly with your favourite sides.
This Asian inspired butter prawns recipe takes only 15 minutes from start to finish!
All it takes is one pot, it's loaded with rich flavours, and is bound to be a crowd pleaser!
It's an easy, lip-smacking meal that can be prepped and cooked quickly, making it great for weeknight meals or special occasions alike.
Only a few ingredients are needed for this meal and can be whipped up in a matter of minutes.
Butter, hoisin, black peppercorns, ginger and prawns is a classic combination of flavours.
The hoisin sauce is a great accompaniment to butter prawns.
The sweet and savoury flavours of the hoisin sauce contrast perfectly with the richness of the butter, creating a truly mouth-watering dish that is sure to please even the most discerning palate.
This is truly, a delectable dish that will keep you wanting for more.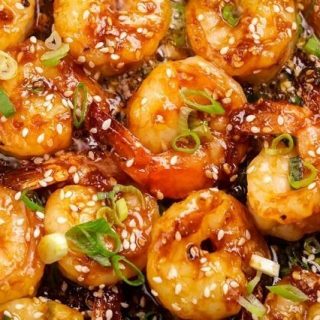 Butter Prawns Recipe
Yield: Yield: 1 Serve

Prep Time: 10 minutes

Cook Time: 2 minutes

Total Time: 12 minutes

Trying to make a delicious yet simple seafood dish? Look no further, this buttered prawns recipe is the perfect solution!
With just a few ingredients and minimal time, you can quickly make this delicious seafood dish that everyone in the family will enjoy.

It's perfect on its own, on skewers, and over rice or quinoa as a light comfort meal.
Ingredients
100g Prawns, peeled and deveined
1 Tbsp Butter
1 tsp cracked Black Peppercorns
1 tsp Ginger, minced
1 Tbsp Hoisin Sauce
1½ tsp Sesame Seeds
Spring onions for garnish
Instructions
Devein and wash prawns.
Prepare Frypan and heat up, put in butter.
Add ginger and black pepper. Sauté until aromatic.
Add prawns and stir for 1-2 minutes.
Stir in hoisin sauce.
Serve.
Notes
Can Butter Prawns Be Refrigerated and Reheated

Yes, butter prawns can be refrigerated and reheated for later consumption.
However, you should always make sure to store the cooked prawns in an airtight container and consume them within 2-3 days.
For best results, reheat the prawns in a microwave or in a skillet with a bit of oil until heated through.

Can Cooked Prawns Be Frozen and Reheated

It is safe to freeze cooked prawns. Properly stored, cooked prawns will last for up to three months in the freezer.
To reheat frozen cooked prawns, thaw them overnight in the refrigerator and then reheat in a skillet or microwave until heated through.

What To Eat With Butter Prawns

Butter prawns pair perfectly with a variety of side dishes.
You can serve it over steamed rice or with a side of roasted vegetables like carrots, potatoes, and zucchini for an easy one-dish meal.

If you want something a bit heartier, try serving your butter prawns with grilled fish, polenta or sautéed greens.
Enjoy your butter prawns alone, in a sandwich or wrap, or tossed into a salad - the possibilities are endless!

Serving with a side of Breakfast rice or any number of tasty salads will compliment your prawn dish.

Rice is another good pairing with this seafood dish, simply serve over a cooked aromatic rice, basmati or jasmine rice is my number one choice.

Sliding on to bamboo skewers or toothpick creates one of those Appetisers that everyone will love.

Buttered prawns are great served with a side of your favourite vegetables or other seafood to complete the meal.
Some popular sides include steamed vegetables, cooked rice, mashed potatoes, grilled asparagus, and roasted cauliflower.
Another option is to toss them with some cooked pasta for an easy and delicious dinner!

Top with sesame seeds and spring onions to serve or garnish with cashews for additional texture and protein.

Buttered Prawns Variations

It's easy to adapt this buttered prawns recipe to include a variety of ingredients - from vegetables and herbs, to spices and sauces.

You can even play around with your seafood and substitute the prawns with shrimp or marinate the prawns with lemonade for 30 minutes.

To create your own variation of the recipe, consider adding diced onions, crushed garlic, capsicum/bell peppers, chilli flakes, curry powder or Italian Seasoning.

You can also experiment with different types of butter such as drawn butter sauce, clarified butter (Ghee), miso-butter or garlic-avocado oil.

Finally, perhaps finish off your dish with a generous squeeze of lemon juice for a zesty burst of flavour!
Recommended Celebrity Cookbooks
This post contains affiliate links. If you use these links to buy something we may earn a commission. Thanks.
Nutrition Information
Yield 1 Serving Size 1
Amount Per ServingCalories 292Total Fat 16gSaturated Fat 8gTrans Fat 1gUnsaturated Fat 6gCholesterol 242mgSodium 1300mgCarbohydrates 13gFibre 2gSugar 5gProtein 25g