How to make Hoisin Butter Prawns.
Butter, hoisin, black peppercorns, ginger and prawns is a classic combination of flavours.
Hoisin sauce is a thick, dark, fragrant and flavorful sauce that is commonly used as a dipping sauce, a glaze for meats and added to stir fries.
It balances both sweet, tangy and salty flavours and contributes an intense element of deliciousness to whatever food it's added to.
Only a few ingredients are needed for this meal and can be whipped up in a matter of minutes.
This is a truly, a delectable, keto diet and gluten free dish that will keep you wanting for more.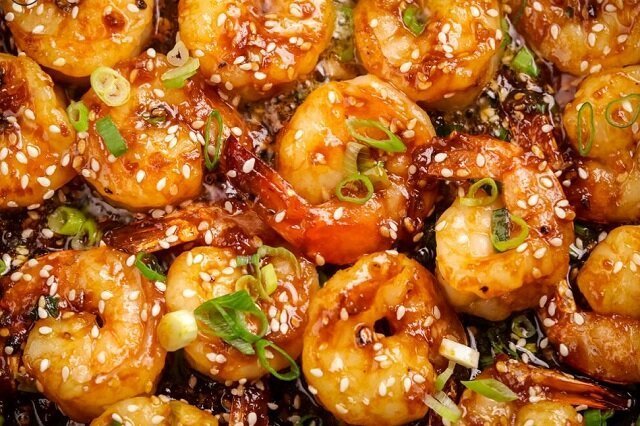 Yield: Yield: 1 Serve
Butter Prawns Recipe
Prep Time: 10 minutes

Cook Time: 2 minutes

Total Time: 12 minutes

This Asian inspired Butter Prawns recipe takes less than 15 minutes from start to finish!
All it takes is one pot, it's loaded with rich flavours, and is bound to be a crowd pleaser!

It's perfect on its own, on skewers, and over rice or quinoa as a light comfort meal.
Ingredients
100g Prawns, peeled and deveined
1 Tbsp Butter
1 tsp cracked Black Peppercorns
1 tsp Ginger, minced
1 Tbsp Hoisin Sauce
1½ tsp Sesame Seeds
Spring onions for garnish
Instructions
Devein and wash prawns.
Prepare Frypan and heat up, put in butter.
Add ginger and black pepper. Sauté until aromatic.
Add prawns and stir for 1-2 minutes.
Stir in hoisin sauce.
Serve.
Notes
Butter Prawns Recipe Variations
You can substitute the prawns with shrimp.
Marinate prawns with lemonade for 30 minutes.
Add ¼ tsp crushed garlic for a stronger garlicky flavour.
Recommended Celebrity Cookbooks
This post contains affiliate links. If you use these links to buy something we may earn a commission. Thanks.
Nutrition Information
Yield
1
Serving Size
1
Amount Per ServingCalories 292Total Fat 16gSaturated Fat 8gTrans Fat 1gUnsaturated Fat 6gCholesterol 242mgSodium 1300mgCarbohydrates 13gFibre 2gSugar 5gProtein 25g
Butter Prawns Serving Suggestions
Top with sesame seeds and spring onions to serve.
You can arnish with cashews for additional texture and protein.
Serve with a side of Breakfast rice and any number of plain Salads.
Slide on to bamboo skewers, it is one of those Appetisers that everyone will love.
Serve over an aromatic Rice, basmati or jasmine rice is my number one choice.