Angels on Horseback are so easy and simple to make.
Imagine delicious juicy marinated oysters wrapped in crunchy bacon and served hot.
Create an awesome hot appetiser or savoury made of bacon wrapped oysters.
These oysters with bacon are a luxurious party nibble or finger food and are low carb, keto friendly and gluten free.
Your oysters wrapped in bacon can be grilled in your oven indoors or cooked on the barbecue outdoors.
See the variations to make Devils on horseback or a spicy caramelised version Angels on horseback.
Prepare them in advance and grill/broil just before serving.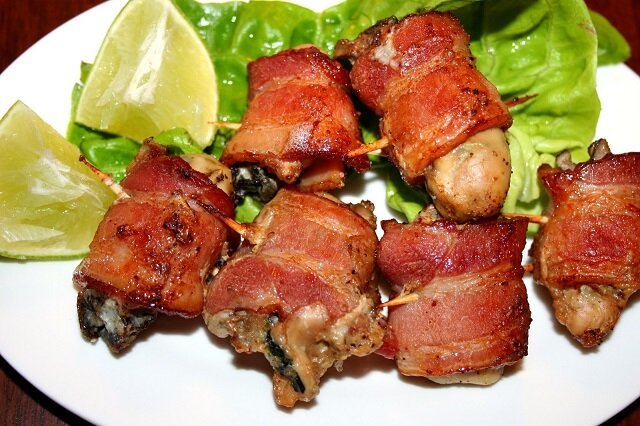 Yield: Yield: 12 Serves
Angels on Horseback Recipe
Prep Time: 10 minutes

Cook Time: 10 minutes

Additional Time: 1 hour

Total Time: 1 hour 20 minutes

This Angels on Horseback recipe makes a delicious appetiser or finger food for your next party or bbq.

Give these marinated oysters wrapped in bacon a try.
If you are an oyster lover, you will not be disappointed.
Ingredients
½ cup dry white wine
1 clove garlic, chopped
salt & pepper to taste
12 shucked oysters
6 slices lean bacon
Instructions
Mix the wine, garlic, salt and pepper together in a glass bowl. Add the oysters and marinate 10 to 20 minutes.
Cook the bacon slices on medium low heat in a large frying pan, until only about halfway cooked, but not crispy.
Pre-cook the bacon a bit or else when you cook them with the oysters the oysters will be overcooked by the time the bacon is crispy.
Set the bacon aside to cool.
Pre heat your grill/broiler, get it good and hot while you wrap the oysters.
Cut each bacon slice in half and wrap each oyster with a piece of bacon, securing with a thick toothpick or small skewer. (see notes below).
Grill / broil, turning on both sides until the bacon is crisp.
Notes
Important

The wooden skewers need to soak in water for a good hour beforehand, this will help to prevent them from burning while cooking.

There's no need to skewer them before you cook them, this would be my preferred method.
As long as you place them on the baking tray seam side down they will stay in tight little rolls when they cook and the seam will fuse together.

Cooking Options

You may also cook these "angels" on an outdoor Barbecue hotplate or in a frying pan.

Scroll down for the best oysters to use, serving suggestions and variations of Angels on Horseback.
Recommended Celebrity Cookbooks
This post contains affiliate links. If you use these links to buy something we may earn a commission. Thanks.
Nutrition Information
Yield
12
Serving Size
1
Amount Per ServingCalories 76Total Fat 3gSaturated Fat 1gTrans Fat 0gUnsaturated Fat 2gCholesterol 31mgSodium 175mgCarbohydrates 3gFibre 0gSugar 0gProtein 7g

"These values are automatically calculated and offered for guidance only. Their accuracy is not guaranteed."
Best Oysters For Angels on horseback
Basically you want oysters of a size that you'd eat raw—this is supposed to be a one-bite dish, after all.
If you're using pre-shucked oysters for this, just look for the small ones.
Canned oysters are fine. Drain the oysters well and pat dry on paper towels.
Angels on Horseback Serving Suggestions
As soon as they come off the heat, squirt with the lemon or lime juice and serve hot as a fingerfood at your next gathering.
Serve with this this seafood cocktail sauce as a dipping sauce.
They are often served on toast points, which are crustless triangles of buttered and toasted bread.
You can make these delightful and delicious bite-size nibbles as some decadent finger-food on rounds of bread fried in butter.
These go great alongside roast poultry and a good bacon salad.
Spicy Angels on horseback;
For an extra hot, caramelised version of these oysters with bacon you will need –
⅔ cup packed brown sugar
1 tablespoon chili powder
⅛ teaspoon cayenne pepper (or ¼ tsp for more kick)
Prepare your angels on horseback as per the main recipe, then.
In a small bowl, stir together the brown sugar, chili powder, and cayenne pepper.
Dredge the prepared wrapped oyster in the brown sugar mixture.
Grill/broil, turning on both sides until the bacon is crisp.
Devils on horseback Jamie Oliver style
Angels on horseback should not be confused with devils on horseback.
The latter dish, which is derived from the former, uses fruit, typically prunes or dates.
Devils on horseback are prunes wrapped with bacon. The prunes are normally stuffed with dried nuts or cream cheese.
They can be served hot or at room temperature as a savoury starter or appetiser.
To create your Devils on horseback you will need;
12 large prunes
Freshly brewed, strong tea
12 roasted, salted almonds
6 rashers of smoked streaky bacon
Soak your prunes in the hot tea until plump, this will take 30 minutes.
Carefully push the almond into the hole left in the prunes from the pit.
Cut each bacon slice in half and wrap each prune with a piece of bacon, securing with a thick toothpick or small skewer.
Grill/broil as described above.