Lancashire Hotpot, originating from England, is a very easy but delicious dish that consists of lamb, onions, potatoes and the cook's choice of herbs.
Perfect comfort food for the whole family all year round.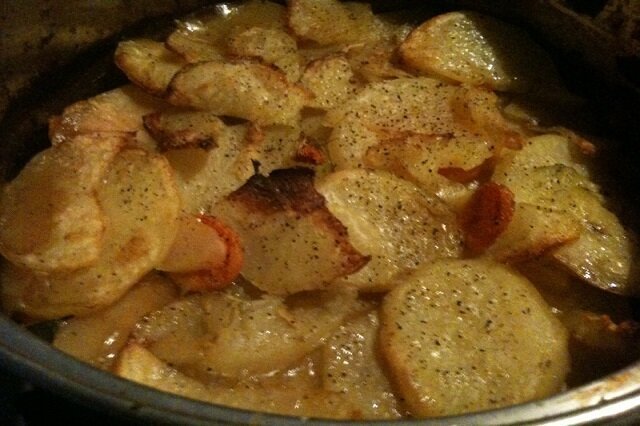 Yield: Yield: 6 Serves
How To Make Lancashire Hotpot
Prep Time: 20 minutes

Cook Time: 1 hour 30 minutes

Total Time: 1 hour 50 minutes

Traditional Lancashire Hotpot recipe, this easy take on a Lancashire lamb hotpot can be done in one pot and only uses 5 ingredients.

These good traditional British ingredients, which when put together produces the most fabulous dish.
Ingredients
900g neck of lamb or mutton
2 large potatoes
1 large or 2 small white onion(s)
Choice of mixed herbs
500 mL boiling water
Instructions
Dice the lamb and set aside.
Preheat oven to 170℃ / 325℉ / Gas Mark 3.
Slice the potatoes and dice the onions.
Add a layer of the potatoes to the bottom of a casserole dish, and cover with a handful of the diced onion.
Layer the diced lamb on top of this, sprinkling with your choice of herbs.
Repeat these layers until the dish is full. Top with a final layer of the potatoes.
Pour boiling water into the dish until filled - if more water is needed, continue to add until topped.
Cover and bake for at least one hour, though traditionally the dish was left baking all day, longer times are required for Mutton.
Turn up the oven and uncover the potatoes. Cook for a further half an hour.
This ensures they are super brown and crispy on top.
Notes
4 Lancashire Hotpot Recipe Variations
A handful of mixed vegetables such as parsnips, turnips, leek or carrots can be added to the dish.
It is worth experimenting to find out what combination of flavours you prefer.
The dish has occasionally been known to be cooked with oysters or with small birds such as quail or chicken, when they were available.
Flavour can be improved by adding a crumbled stock cube to the boiling water.
Many people like to add in small quantities of instant gravy granules to add a little more flavour to the dish.
What To Eat With Lancashire Hotpot
Serve just as it is or with extra vegetables.
This dish is great with pickled red cabbage and glazed baby carrots on the side.
A plate of buttered fresh scones goes down well with your Lancashire hotpot.
Serve over a bed of mashed potatoes.
Recommended Celebrity Cookbooks
This post contains affiliate links. If you use these links to buy something we may earn a commission. Thanks.
Nutrition Information
Yield
6
Serving Size
1
Amount Per ServingCalories 585Total Fat 35gSaturated Fat 15gTrans Fat 0gUnsaturated Fat 17gCholesterol 159mgSodium 133mgCarbohydrates 23gFibre 3gSugar 2gProtein 43g