The Ultimate Guide to Making Authentic Lancashire Hotpot
Discover the art of making a traditional Lancashire Hotpot with our ultimate guide! Learn how to prepare, layer, and bake this classic British dish
This Lancashire Hotpot is a classic casserole dish that consists of tender pieces of lamb, onions, and sliced potatoes.
The ingredients are layered and braised together in the oven and topped with a crispy, browned crust.
This hearty one-pot meal has many names––lamb hot pot, lamb casserole, even lamb stew––but whatever you call it, it's sure to be a hit with the family any time of year!
What is Lancashire Hotpot
Lancashire hotpot is an iconic English dish, with its origins in the northwest of England around Liverpool and Manchester – although its exact origin is uncertain.
It's a traditional British stew made from layers of potatoes, mutton (or lamb) and onion, topped with a pastry crust and baked in the oven.
It's said to be one of Britain's ultimate comfort foods due to its soul-warming flavour and simplicity of ingredients.


Yield: Yield: 6 Serves
Recipe For Lancashire Hotpot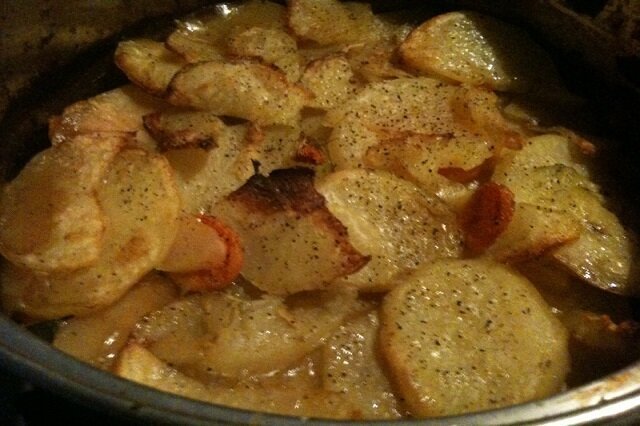 A recipe for Lancashire Hotpot that is done in one pot and only uses 5 ingredients.

Discover here, how to make the traditional British dish, Lancashire Hotpot.
This easy-to-follow guide offers all of the steps for creating this classic comfort food dish.

Prep Time 20 minutes

Cook Time 1 hour 30 minutes

Total Time 1 hour 50 minutes
Ingredients
900g neck of Lamb or mutton
2 large potatoes
1 large or 2 small white onion(s)
Choice of mixed herbs
500 mL boiling water
Instructions
Dice the lamb into 4cm/1½ inch cubes and set aside.
Chop the onions.
(Optional) Brown the meat and Caramelise the onions.
Preheat oven to 170℃ / 325℉ / Gas Mark 3.
Slice the potatoes
Add a layer of the potatoes to the bottom of a casserole dish, and sprinkle with some of the diced onion.
Layer the diced lamb on top of this, sprinkling with your choice of herbs.
Repeat these layers until the dish is full.
Top with a final layer of the potatoes.
Pour boiling water into the dish until filled - if more water is needed, continue to add until topped.
Cover and bake for at least one hour, though traditionally the dish was left baking all day, longer times are required for mutton.
Turn up the oven and uncover the potatoes. Cook for a further half an hour.
This ensures they are super brown and crispy on top.
Notes
When cooking Lancashire Hotpot, aim for a golden-brown top and a thick stew-like consistency throughout.
The potatoes should cook until they are lightly browned and tender when pricked with a fork.

If your hotpot looks dry while cooking, add more hot liquid, such as chicken or vegetable stock, to ensure an even cooking of the potatoes and the desired texture in the finished dish.

Can Lancashire Hotpot Be Made In Advance?

Yes! Lancashire hotpot is the perfect meal to make ahead of time.
The flavours of the traditional dish will only improve if you leave them to marinate overnight, so I recommend creating a hotpot in advance.

You can assemble the ingredients and store it in the refrigerator for 2-3 days before baking it.
This will help develop a fuller flavor and allow all of the flavors to combine together creating a delicious and hearty dish.

It is also a great dish for batch cooking as it freezes well, making it a great option for weekend meal preps!

Can You Freeze Lancashire Hotpot?

Yes, Lancashire hotpot can be frozen.
Once cooked, divide the hotpot into portions and store in an airtight container or freezer bag.
To defrost, place the frozen portion of hotpot onto a plate and leave in the refrigerator overnight. Reheat thoroughly before serving.

How To Reheat Lancashire Hotpot?

Reheating Lancashire Hotpot is easy.
Place the hotpot in an oven-safe dish and cover it with a lid or foil if you wish, then reheat at 180°C (350°F) for around 25 to 30 minutes.

Alternatively, the hot pot can be heated through in a pan on the stovetop or rewarmed slowly in a microwave oven.

How Long Will Lancashire Hotpot Last in the Fridge?

A cooked Lancashire hotpot can last up to 3 days in the fridge.
Make sure to store it properly and keep it tightly covered so that no air enters the dish.
It's best consumed within a day or two of cooking to ensure maximum flavour and enjoyment.

Lancashire Hotpot Recipe Variations
Add some vegetables;
A handful of mixed vegetables such as sliced parsnips, turnips, sweet potato or carrots can be added to the dish.
It is worth experimenting to find out what combination of flavours you prefer.
Play with your meat;
The dish has occasionally been known to be cooked with kidney, oysters or with small birds such as quail or chicken, when they were available.
Add some extra flavour;
Flavour can be improved by adding a stock cube to the boiling water.

Many people like to add in small quantities of instant gravy granules to add a little flavour to the dish.
What To Serve With Lancashire Hotpot

Lancashire hotpot is a delicious, comforting British dish traditionally eaten in the winter months. here's some ideas on what to serve with it.

Asparagus Rolls;
A side-plate of refreshing asparagus rolls go down well with your hotpot.

The aspararagus adds a slight tartiness to the flavours and the texture of the wholemeal bread adds to your mouthful.
Fluffy Scones;
A plate of fresh scones is great alongside your Lancashire hotpot.
They are perfect for just eating with your hotpot, but for mopping up that gravy at the end.
Mashed Potatoes;
Mashed potatoes are a must when it comes to bringing the lancashire hotpot to the next level.

Start by boiling your potatoes until they are nice and soft and then mash them up with some butter, cream, salt and pepper until they're light and creamy.

Serve your mashed potatoes in a bowl on the side of your hotpot so everyone can add as much or as little as they like.
Pickled Red Cabbage;
Pickled red cabbage is a perfect accompaniment for lancashire hotpot, its tart flavour is offset perfectly by the rich flavours in the hotpot itself.

Cooked with sugar and vinegar, this delicious pickle helps cut through the richness of the hotpot for an overall well-balanced meal.
Peas;
Peas are a delicious way to help bulk up the meal for extra servings or something for those who don't enjoy their vegetables!

Simply cook up a big batch of peas on their own with some salt and butter, or mix them up with other vegetables of your choice before serving as a tasty side dish next to your cooked-up hotpot.
Yorkshire Pudding;
A traditional English favourite that adds texture to any meal – Yorkshire pudding makes an excellent addition to Lancashire Hotpot!

A simple batter consisting of eggs, flour, milk, would make this classic dish come together in no time at all!
Serve your yorkshire puddings alongside your hotpot with lashings of gravy or just eat them plain - either way you'll love it!
Pickles;
Long slices of pickles such as gherkins offer crunch and zing to an already comforting dish like lancashire hotpot.
Plus adding acidity helps cut through some of that sinfully rich flavours throughout your potting masterpiece!

Add as much (or as little) pickles as desired. Just remember that these ingredients should be served cold from the refrigerator!
Buttered Breadcrumbs;
Buttered breadcrumbs are often added atop dishes like lancashire hotpots before baking; this helps couple in moisture while simultaneously giving it some crunch too!

Create buttered breadcrumbs simply by throwing some breadcrumbs into melted butter butter along with some parsley if preferred.
Stir everything together over low heat before ladling it atop your pot right before baking off in the oven!
Lancashire Hotpot Leftover Ideas

So you've got some leftovers. Here's some ideas on how to use them up.

Bubble and Squeak;
Bubble and squeak is a traditional English dish that uses mashed potatoes mixed together with leftover vegetables, such as cabbage, broccoli, or brussel sprouts.
Combined with some Lancashire hotpot leftovers this makes for a delicious dish full of flavour!
Pie Bases;
Lancashire hotpot leftovers can be used to create tasty pies.
Simply layer the leftovers in a pie base with some cheese and spices then top it off with pastry for a comfort food classic.
Make-ahead Macaroni Cheese;
Combining macaroni cheese with Lancashire hotpot leftovers creates an easy and tasty dinner, just toss everything together, bake in the oven until bubbling and golden brown - perfection!
Burritos or Chimichangas;
Take your leftover Lancashire hotpot mixture, add in some grated cheese and chopped chillies (if desired), wrap up in tortilla shells or crispy wonton wrappers then fry to make some delicious burritos or chimichangas.
Vegetable Fritters;
Leftover Lancashire hotpot mixture is the perfect consistency for making vegetable fritters – mix in some cornflour for thickening if needed before seasoning and then frying them off until golden and tasty.
Sausage Rolls & Pigs in Blankets;
Use your leftover Lancashire hotpot filling instead of sausage meat as you would normally do when making sausage rolls or pigs in blankets – you'll be pleasantly surprised at how good they taste!
Lattices & Timbales;
Mix through diced vegetables such as carrots, leeks, mushrooms etc into your cold Lancashire hotpot filling before pouring into buttered lattice cases or individual timbales lined with thin slices of bacon – lovely served on their own as mini dishes with salad leaves as accompaniment!
Recommended Celebrity Cookbooks
This post contains affiliate links. If you use these links to buy something we may earn a commission. Thanks.
Nutrition Information
Yield
6
Serving Size
1
Amount Per ServingCalories 585Total Fat 35gSaturated Fat 15gTrans Fat 0gUnsaturated Fat 17gCholesterol 159mgSodium 133mgCarbohydrates 23gFibre 3gSugar 2gProtein 43g