These Arancini balls are delicious, crispy, deep fried Italian balls of rice with a meat sauce and two cheese cheese filling and crunchy breadcrumb coating.
With a soft interior and crunchy outer, these balls are so tasty it is worth your time to make them.
These easy-to-make arancini balls are so versatile and great for party finger food, appetisers, and even as a main.
You can serve them on their own or stuff them with different fillings like chicken, shrimp, crab, or even!
These crisp, golden rounded nuggets exploding in flavour are typically served as a snack or street food throughout Sicily.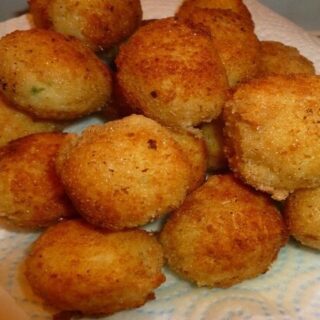 Arancini Balls Recipe
Yield: Yield: 30 small Balls

Prep Time: 30 minutes

Cook Time: 30 minutes

Total Time: 1 hour

This easy step-by-step arancini balls recipe shows you how to make arancini from scratch.

These cheesy balls of risotto with a crunchy crumb coating make an excellent finger food or light lunch with salad.
Ingredients
Risotto
1½ cups Arborio rice (uncooked)
3¼ cups cold water
2 stock cubes. (Vegetable)
1 Tbsp butter
Arancini
250 grams lean minced beef
2 or 3 eggs, whisked with a fork.
2 Tbsp melted butter
1 cup shredded cheddar cheese
½ cup Parmesan cheese, grated
Salt, Pepper to taste
Coating
Flour
Egg wash (1 egg to 1 Tbsp water)
Bread Crumbs (Plain)
Oil for deep frying
Instructions
Risotto
Put the rice in a heavy bottom saute pan, and add cold water, stock cubes, and the 1 Tbsp of butter.
Bring to a boil over high heat.
Immediately, give one stir and cover.
Turn the heat to low. (As low as possible) Leave the pan on the burner for 20 minutes without stirring or opening the pan.
After 20 minutes, open pan, and fluff rice with a fork.
Rice for this dish should be slightly sticky.
If rice is too dry or fluffy, add a tablespoon of water, and place back on low heat for a few more minutes.
When rice is thoroughly cooked and sticky, let covered pan cool to room temperature.
Cook The Meat
While rice is cooling, cook minced beef in an open Frypan until it is thoroughly cooked.
Crumble cooked minced beef finely.
Drain cooked meat in a colander and discard fat.
Combine Everything
Mix cooled rice, meat, cheeses, and melted butter.
Taste mixture and correct seasonings by adding salt and pepper to taste.
(I use a lot of pepper, some people add a little oregano here.)
Add beaten eggs, and then mix thoroughly.
You want the mixture to be about the consistency of play dough, albeit lumpy.
Mold Yor Arancini Balls
Mold the mixture into small balls, about 3cm / 1½ inches in diameter.
You will need to have wet hands to do this.
If you've ever made meatballs, the process is similar, but you kind of have to press the rice to make it hold together.
Let the finished balls sit out for 15 minutes or so to firm up.
Roll the rice balls in flour, then egg wash, then breadcrumbs.
Again, let sit out for a few minutes for the coating to firm up on the rice balls.
Preheat oil in deep fryer to 150-170℃ / 300-325℉.
Preheat oven to 180℃ / 350℉.
Fry the rice balls a few at a time, until very lightly coloured.
Place fried rice balls on a lightly greased baking tray.
When all the rice balls are fried, bake in preheated oven for 20 minutes or so.
This is to make sure that the egg is completely cooked, and to prevent salmonella poisoning.
Serve.
Notes
There is not as much work as it appears to be.
Cooking the rice is largely unattended, and a batch normally takes me an hour, once the rice is cool.

Rice balls can be refrigerated for 3 - 4 days, re-heated in the oven and served warm.
Arancini Filling Ideas

Our recipe is very versatile in the way that you can fill them with a host of fillings from mozzarella to roast vegies and various meats.
This means they can be made to suit any taste.

Here are some examples of arancini filling ideas.

Mushroom Arancini

In the risotto - substitute vegetable stock cubes for chicken.
In the Arancini - substitute the minced beef with 300 grams of diced mushrooms.
Cook in frying pan for 2-3 minutes or until softened.

Chicken Arancini

In the risotto - Use 2¼ cups cold water and 1 cup of white wine.
Also substitute the 2 vegetable stock cubes for 1 vegetable and 1 chicken.
In the Arancini - substitute the minced beef with chicken mince.
Cook through. Then add ½ tsp of crushed garlic plus ½ tsp dried mixed herbs and cook off for a further 2-3 minutes.

Ham Arancini

In the Arancini - substitute the minced beef with diced ham.
Don't bother cooking, just add when combining everything.

Seafood Arancini

In the risotto - substitute vegetable stock cubes for 1 fish and 1 chicken.
Also add 1 Tbsp lemon juice.
In the Arancini - substitute the minced beef with diced prawns or shrimp.
Do not cook. You may want to Devein and wash though.
Then saute 1 small brown onion, let cool and add when combining everything.
What To Serve With Arancini Balls

These deep fried risotto balls pair well with pretty much any Italian or Mediterranean style flavours.
They can be served as an Appetiser, Finger Food, side dish or main course and pair well with various other dishes.

Depending on what's inside them, you can serve with a dipping sauce, vegetables, salads, relish or pasta.
Here's some ideas to get you started.

What Sauce To Serve With Arancini Balls

The best dipping sauce for arancini balls really depends on ones individual taste preferences.

Here is our list of 6 popular sauces to serve with your arancini balls.

Recommended Celebrity Cookbooks
This post contains affiliate links. If you use these links to buy something we may earn a commission. Thanks.
Nutrition Information
Yield 30 Serving Size 1
Amount Per ServingCalories 106Total Fat 6gSaturated Fat 3gTrans Fat 0gUnsaturated Fat 3gCholesterol 41mgSodium 131mgCarbohydrates 8gFibre 0gSugar 0gProtein 6g