These corned beef fritters are tasty as. They make an excellent light meal or send them in the kids school lunchbox.
These simple fritters by an old friend of mine from NZ is a clever way to use up leftover corned beef.
This recipe for Corned beef fritters is a perfect way to use up that last bit of cold meat and turn it into a second meal.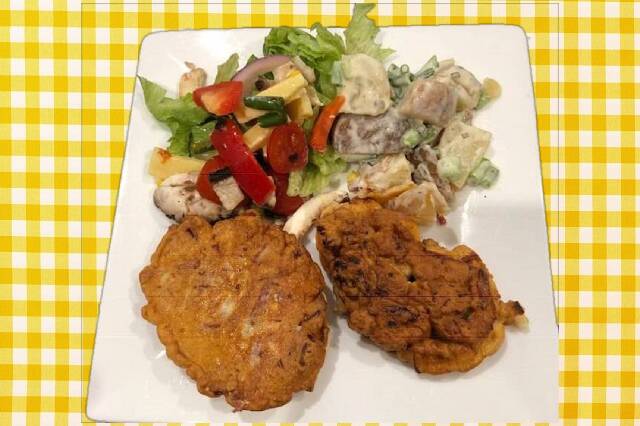 Yield: 12 Corned Beef Fritters.
How To Make Corned Beef Fritters
Prep Time: 40 minutes

Cook Time: 5 minutes

Total Time: 45 minutes

How To Make Corned Beef Fritters ➧ Our easy Corned Beef Fritters Recipe has minimal ingredients with tasty results.

Great hot or cold they make an excellent light meal or packed lunch.

Add a bit of life to your corned beef fritters using our great serving suggestions and variations.
Ingredients
1 cup plain flour
¼ tsp salt
½ tsp cracked pepper
1 egg
¾ cup milk
200g corned beef, leftovers or tinned
Oil, for shallow frying
Instructions
Mix flour, salt and pepper together in a bowl.
Stir in egg and gradually add milk until batter is smooth but not too stiff.
Stand mixture in the fridge for ½ hour.
While the batter is cooling, Chop or shred the corned beef.
Add corned beef to batter and mix well.
Heat Frypan on medium heat adding 2 Tbsp oil.
Spoon tablespoonfuls of mixture into fry pan and fry until golden on each side.
Notes
Corned Beef Fritters Serving Suggestions
Serve with a tossed salad and fresh bread
Is great with Potato Salad
On their own with a spicy dipping sauce
Serve with tomato sauce
A Saturday lunch on their own
Lunchbox idea, they are good cold
Corned Beef Fritter Recipe Variations
Add any of the following to create an even tastier corned beef fritter.

¼ cup grated cheese.
¼ cup diced onions
¼ cup frozen peas
¼ cup frozen corn
Recommended Products
This post contains affiliate links. If you use these links to buy something we may earn a commission. Thanks.
Nutrition Information
Yield
12
Serving Size
1
Amount Per Serving Calories 104Total Fat 5gSaturated Fat 1gTrans Fat 0gUnsaturated Fat 3gCholesterol 33mgSodium 225mgCarbohydrates 9gFibre 0gSugar 0gProtein 5g